Taronga Zoo Wild Rhino National Competition – 2013 Winner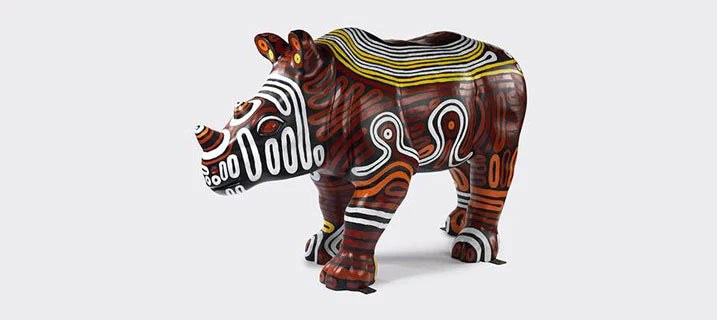 Taronga Wild! Rhinos is a Wild in Art event that will bring businesses, artists and schools together to create a spectacular world-class sculpture trail from the Sydney Harbour foreshore through the Blue Mountains to Dubbo and the Central West region of NSW.
From February – April 2014 a huge herd of wildly colourful rhino sculptures painted by artists will charge into town as part of a mass public art exhibition to help raise awareness and valuable funds for Taronga's world leading Black Rhino breeding program. Saretta Fielding's 'Ngeyn Malang' - We Together: Awabakal design has been selected as the Taronga Zoo Wild National Competition 2013 winner.
This intricate, vibrant design is representative of Aboriginal song lines (also called dream tracks), showing trade routes, walking tracks and pilgrimage. Lines throughout the work connect to circles, which mean meeting places and coming together. The work relates to the rhino's journey for survival and the people who come together to fight to save it from extinction through valuable breeding and conservation programs.