Work of Toronto artist Saretta Fielding earns national acclaim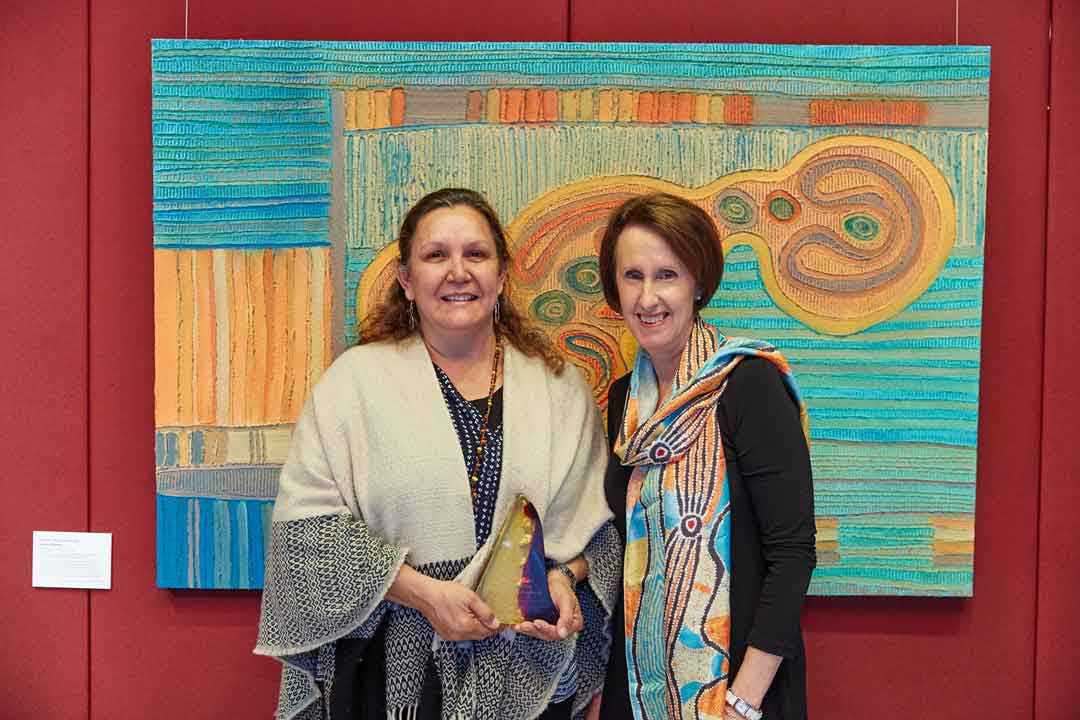 Lakes Mail 18 July 2016
By Renee Valentine
MAJOR AWARD: Toronto artist Saretta Fielding, left, and NSW Minister for Indigenous Affairs Leslie Williams with her winning piece Konara Clan. The win continues a run of success for the artist.
Saretta Fielding always had a passion for art.
But it has only been in recent years that the Toronto 51-year-old has pursued a career as an artist.
It started several years ago, when she was invited to create artworks for a local bush tucker exhibition at Honeysuckle.
Her pieces proved popular and having them appreciated by members of the community "reignited that dream and passion". 
"It just grew from there," Ms Fielding said.
She now has pieces spread throughout John Hunter Hospital, including captivating wall-sized murals, and in 2014 earned global recognition when she won a design competition for Ray Ban glasses.
Last week Ms Fielding had the honour of claiming a prestigious indigenous art prize at NSW Parliament House.
Ms Fielding was one of 20 finalists invited to Parliament  last Thursday, when she was named the major prize winner of the exhibition Our Communities.
"I'm still abuzz from winning, it just blew me away," she said. "It was fantastic to be selected and then to go down and see where the work hung in the beautiful space at Parliament House. I'm so proud."
Ms Fielding's painting Konara Clan, which was created by a mixture of sand and acrylic paint on canvas, trumped submissions nationwide.
Family has always been the focal point of her art, and it was no different for her competition-winning submission.
"Family is number one to me, and Konara Clan is close to my heart," Ms Fielding said. 
"It's about my family connections and the seasons of life together.
"It shows the patchwork woven quilt affect, where we all go off on our own journey but we always intersect."
The now full-time artist is passionate about promoting the richness and diversity of her culture through art, and believes support for indigenous Australian communities is vital for reconciliation.
"My father is Aboriginal and my mother isn't, so identity and reconciliation was something that was important to me from a young age," she said. 
"For me this is about celebrating our culture and inviting the wider community to be a part of that with us.
"When that happens it really allows people to take that journey together and have a greater understanding across cultures."
Ms Fielding turned full-time artist at the start of this year and opens Ninkinpa Studio at her Toronto home on Fridays and Saturdays each week.
The National Indigenous Art Exhibition is on at NSW Parliament Fountain Court Gallery until July 22.