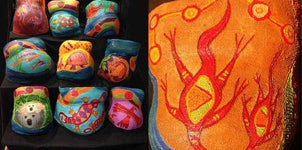 Totem Animal Range
The following is available in Cushion Covers, Greeting Cards and Canvas Prints.

Tankaan Ngatan Bobong Series - Mother and Baby

Commission by Hunter New England Local District Health - Birra Li Aboriginal Maternal and Child Health Service in 2014, these 38 week pregnant belly casts of Aboriginal women from across the Hunter Valley are displayed throughout the services facilities.
This artwork celebrates the special journey of pregnancy, birth and motherhood. Each work is depicted on a uniquely crafted belly cast provided from our beautiful pregnant mums from across the region.
The blue, aqua and green ribbon flowing around the borders of the works, representing our region and communities by symbolising both the East Coast and the Hunter River.
Each artworks central figure is of an Australian native wildlife Mother and Baby. These animals, birds and fish are representative of the totems of Aboriginal tribes and passed down to babies at birth.