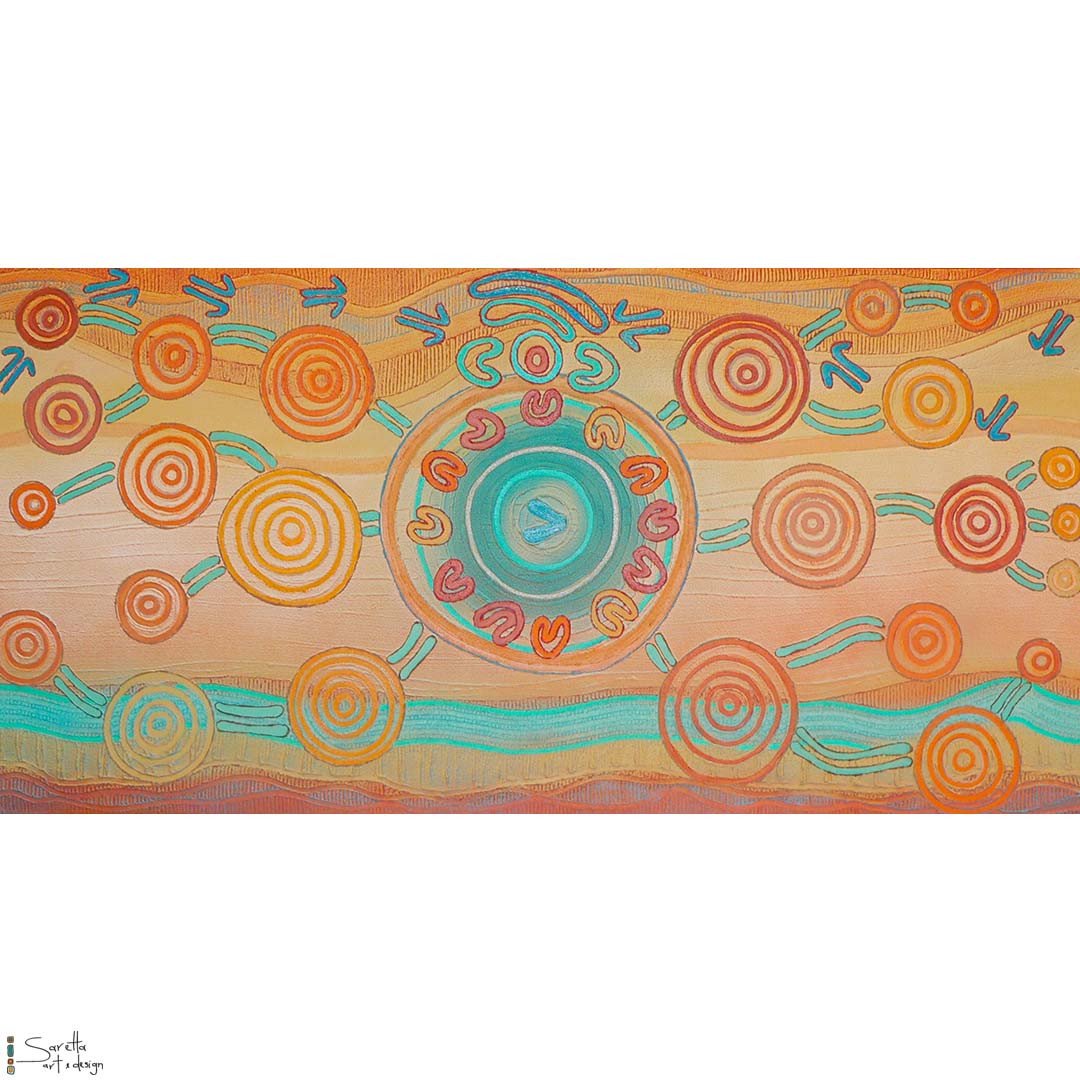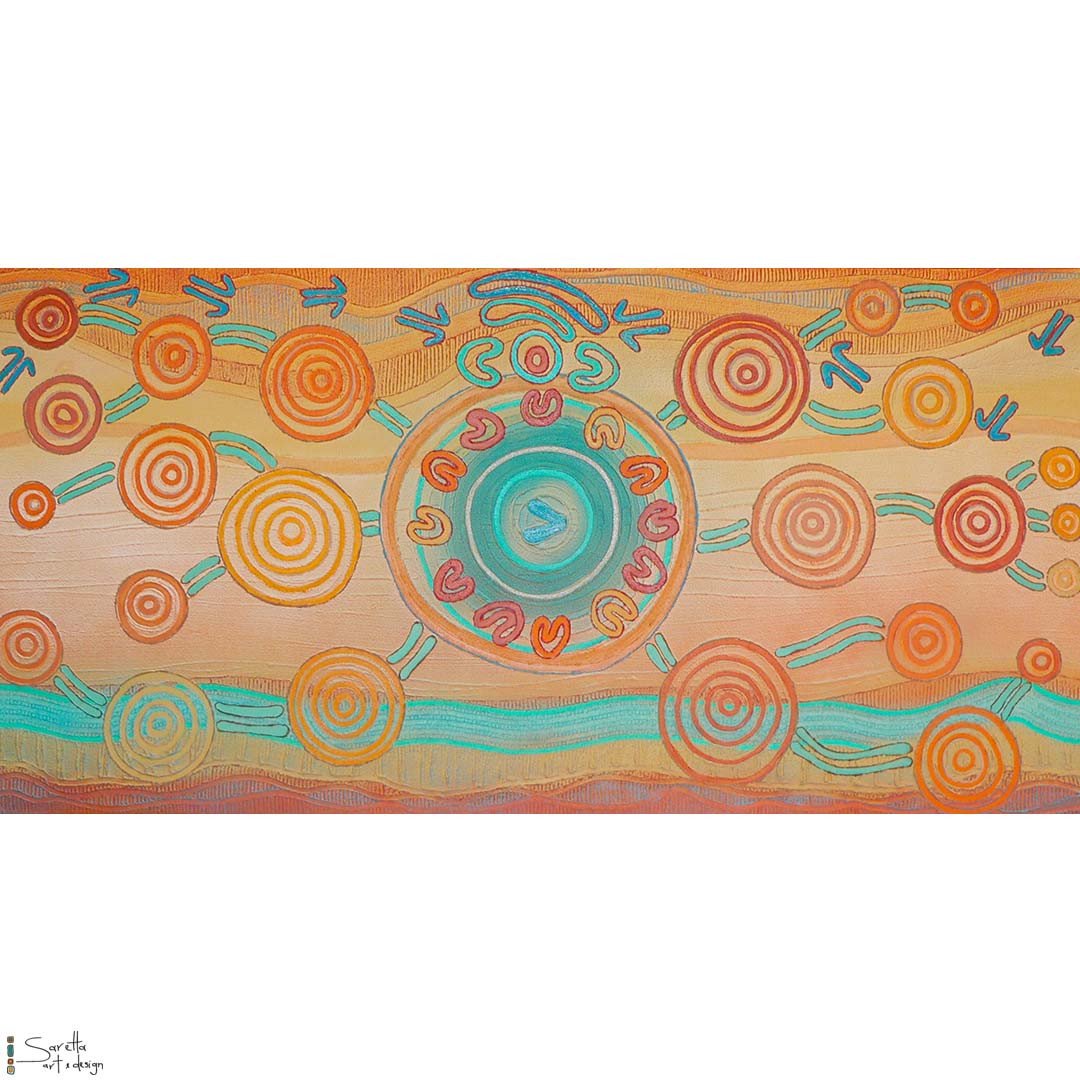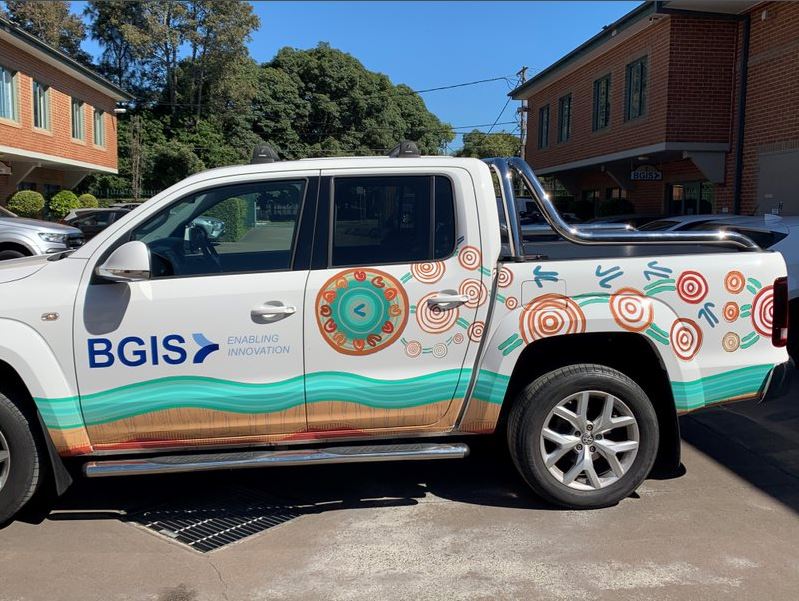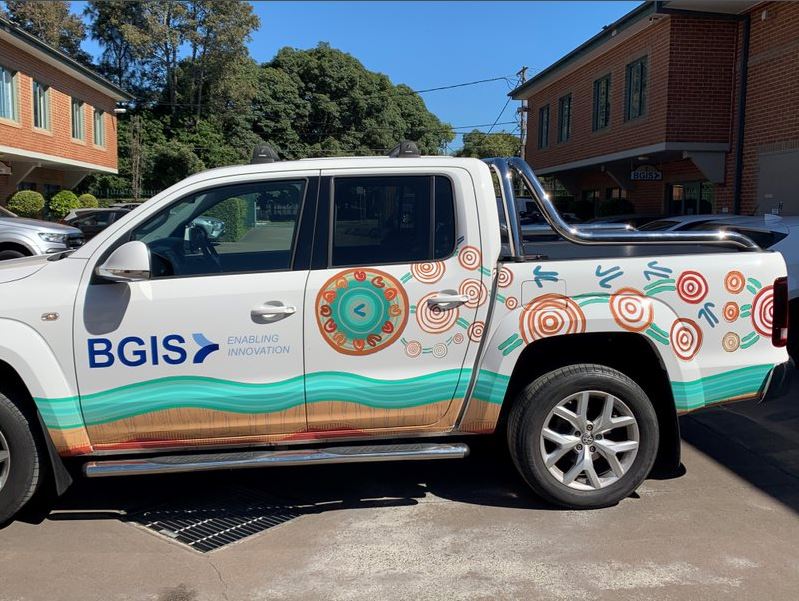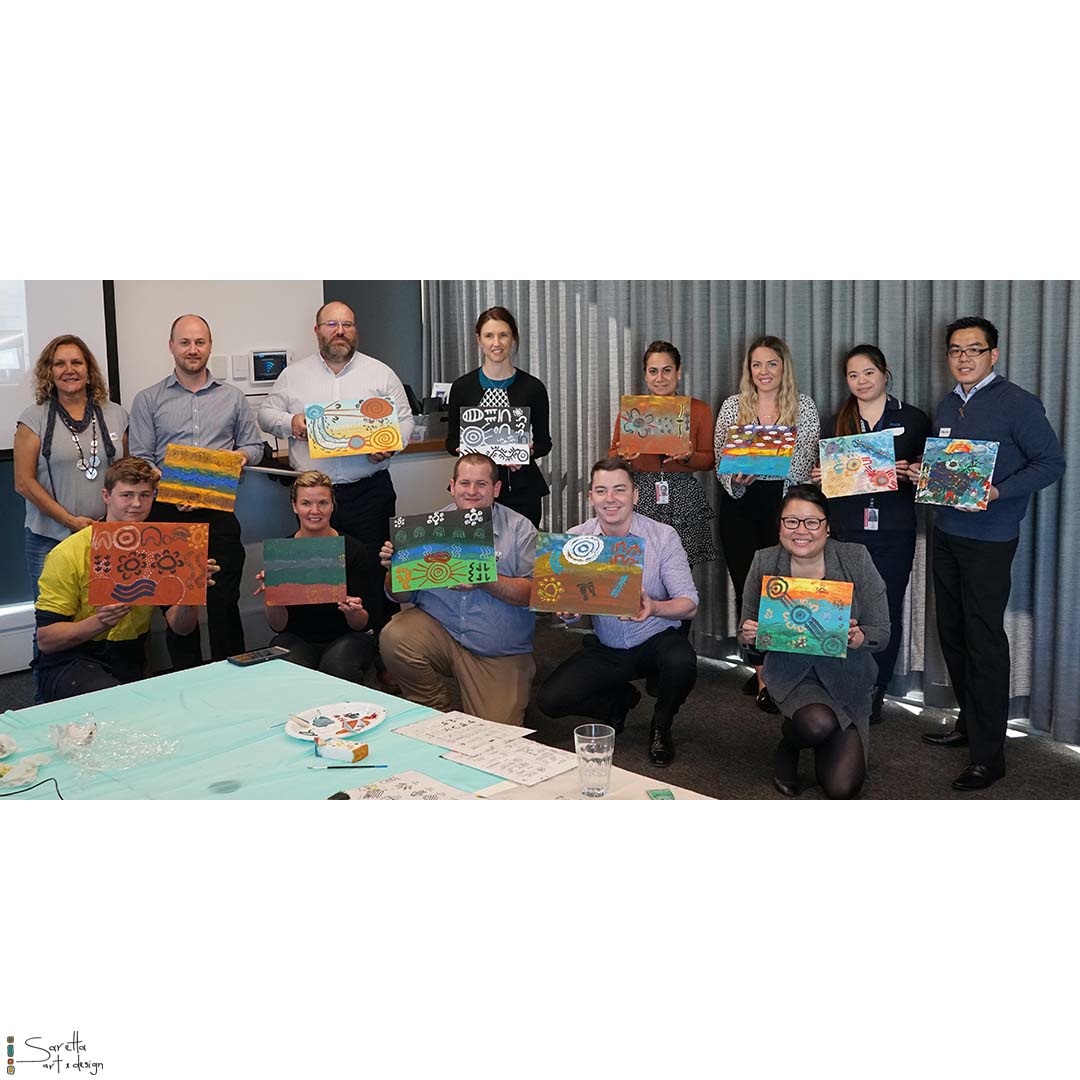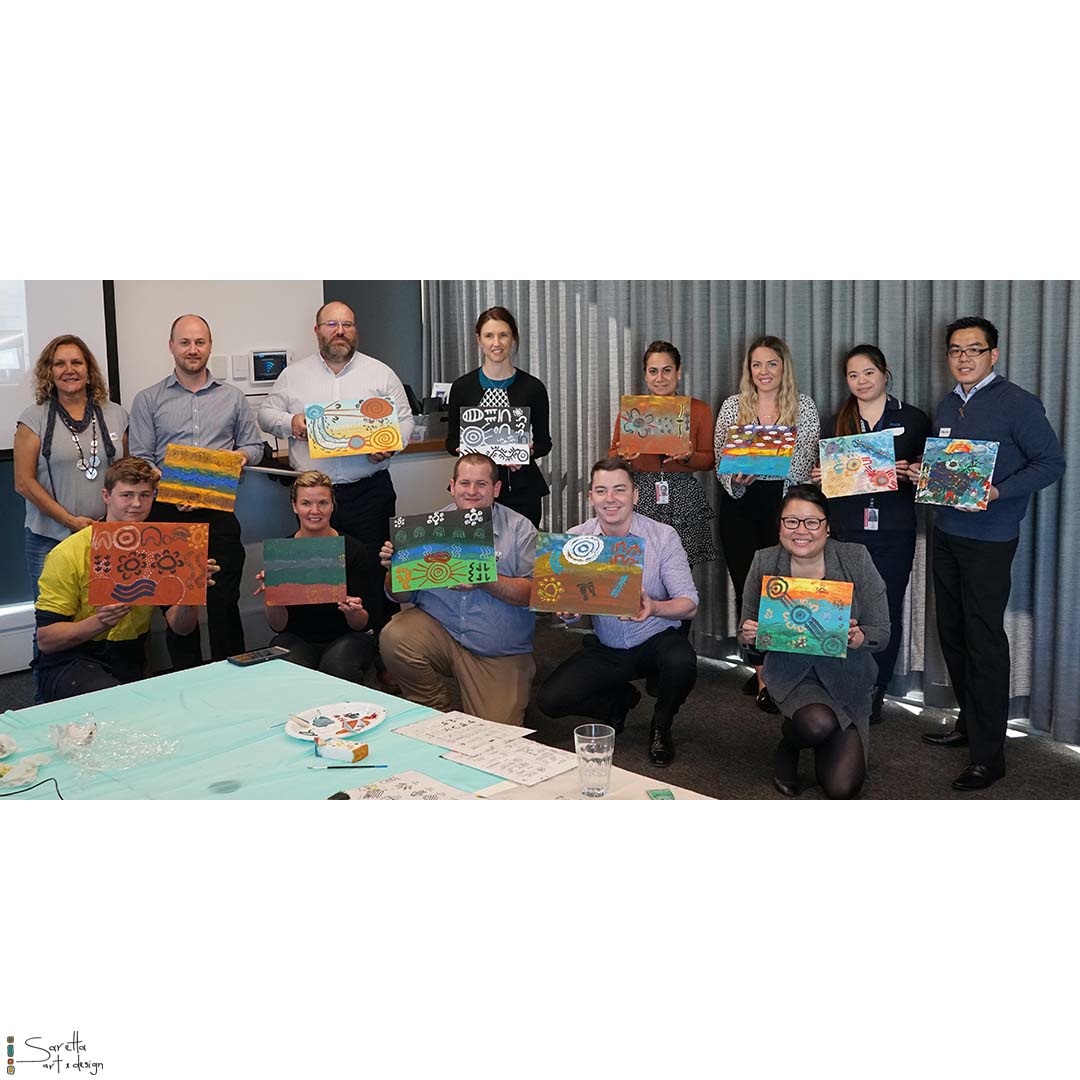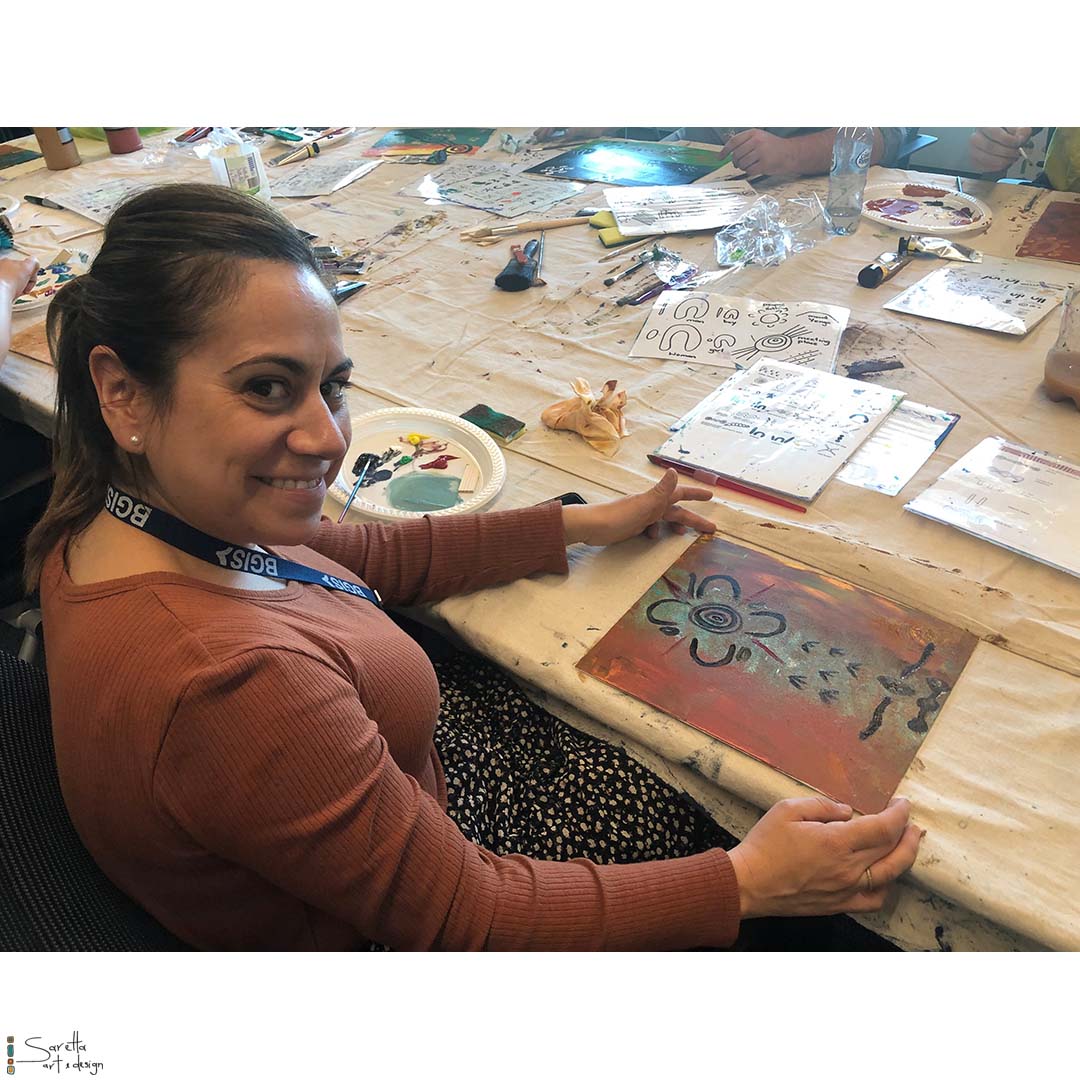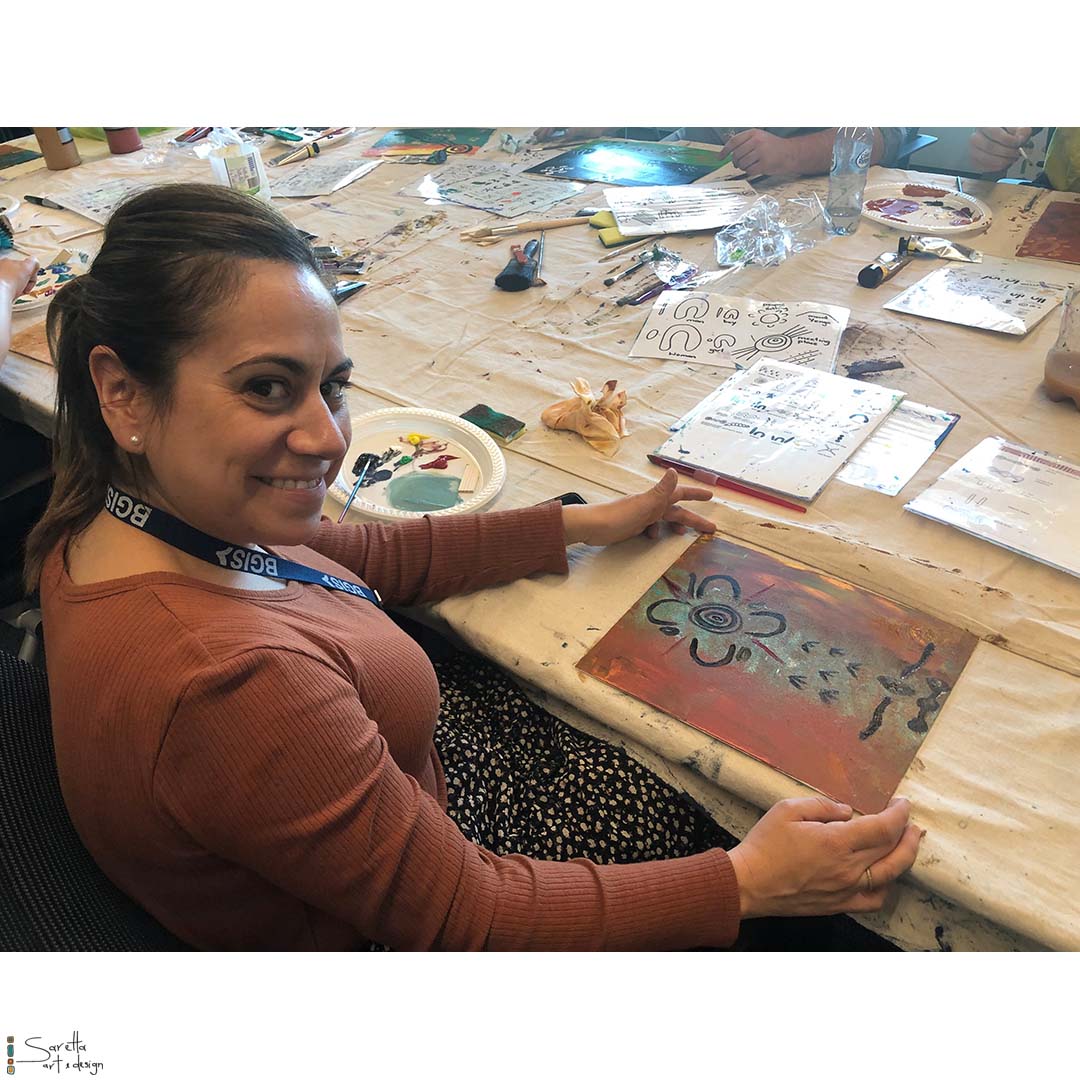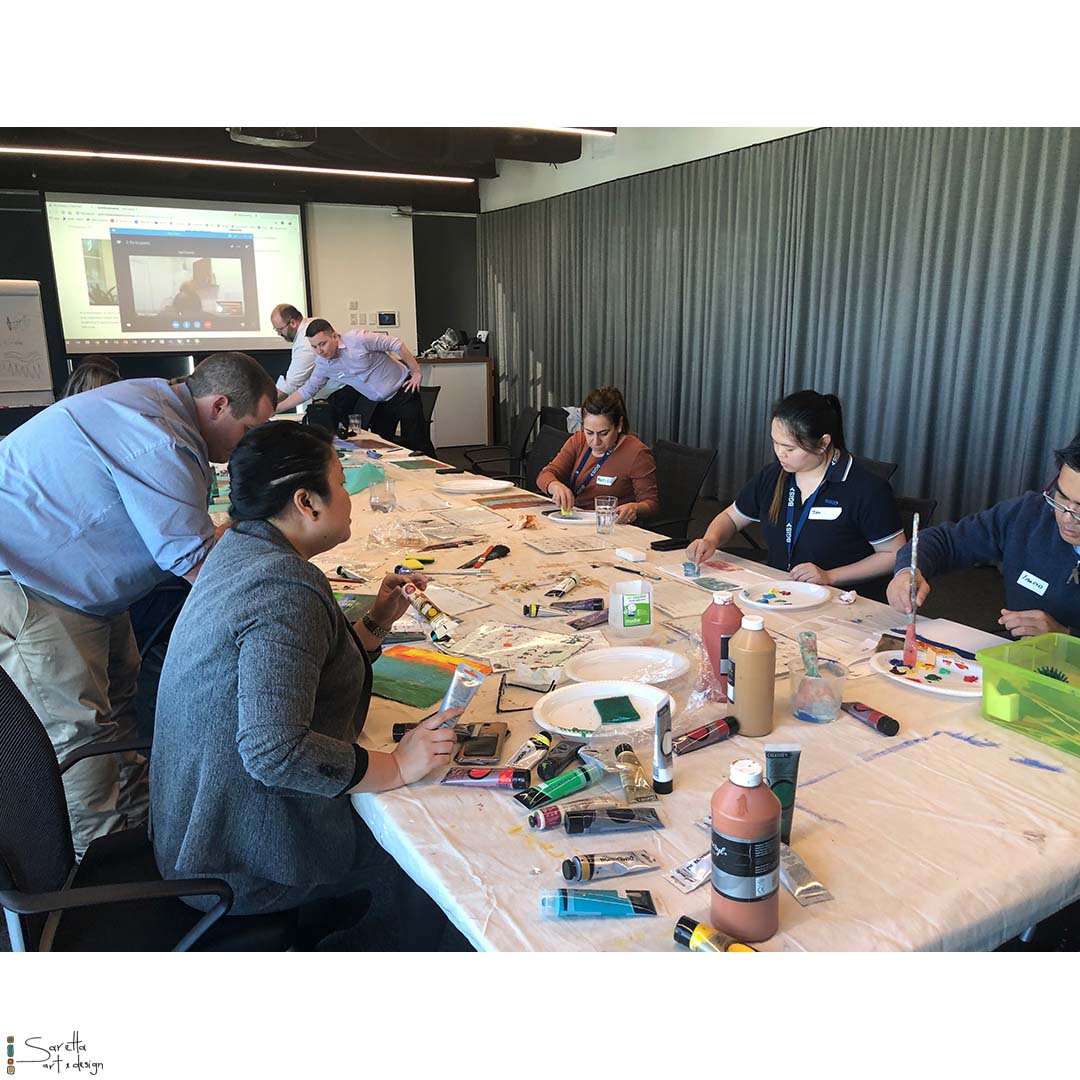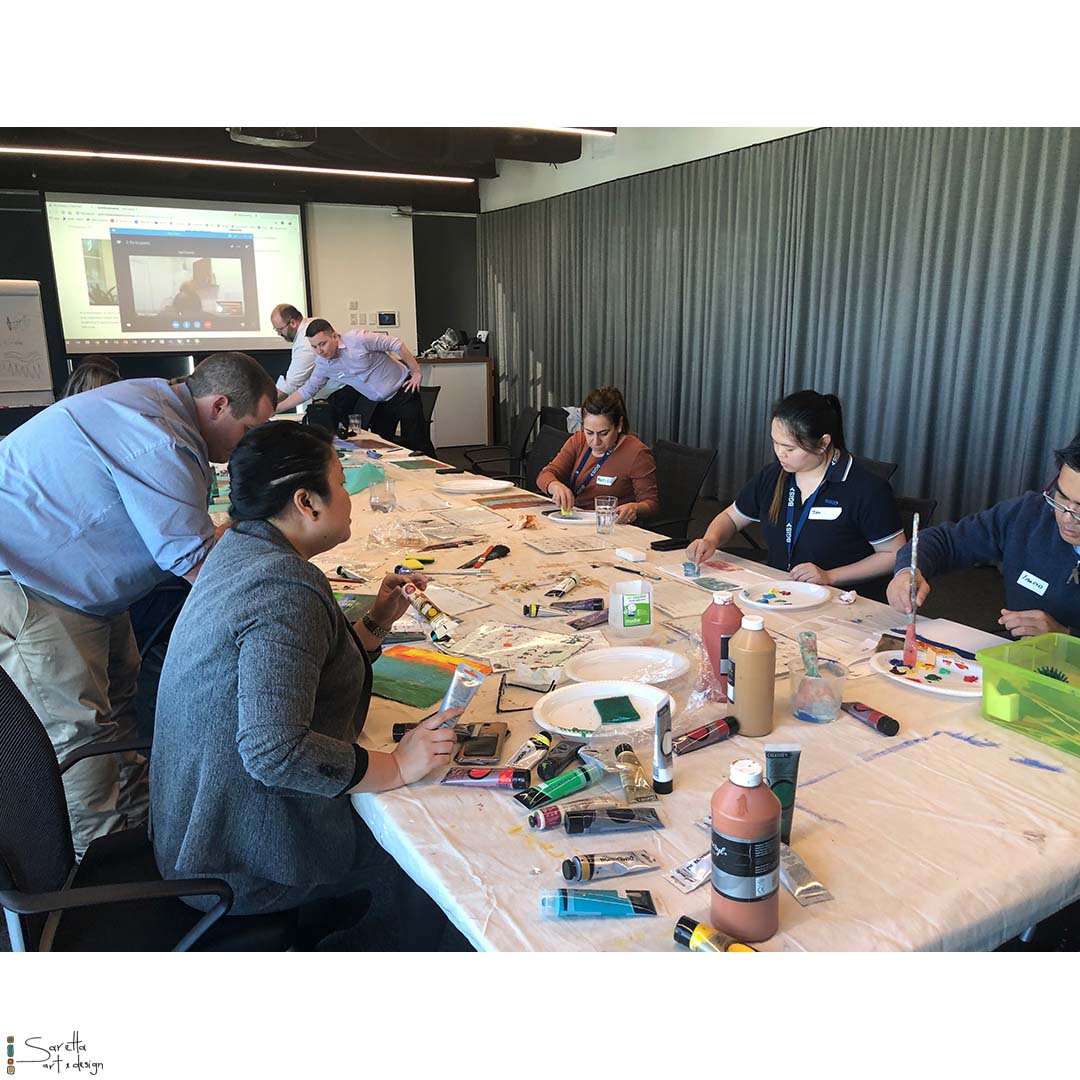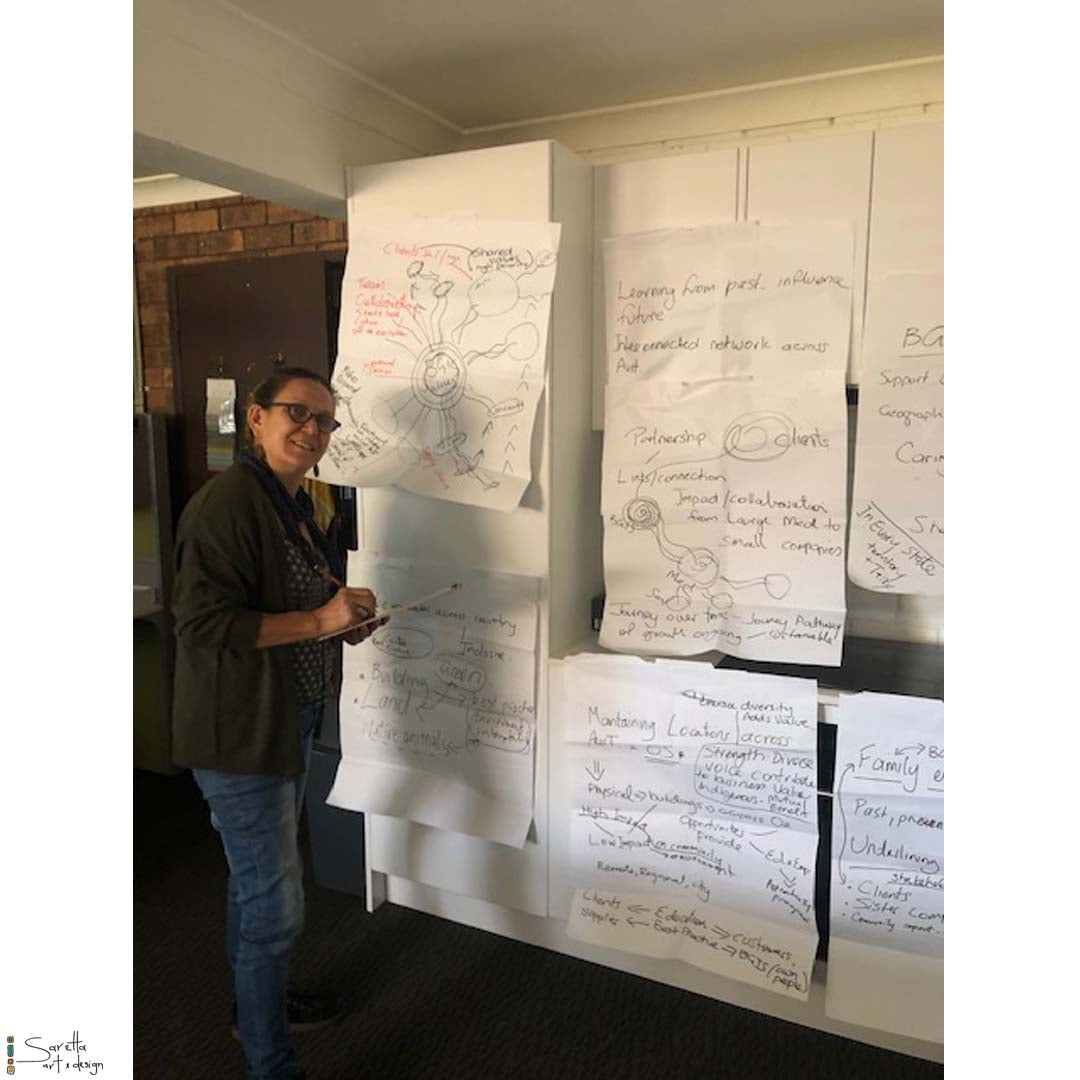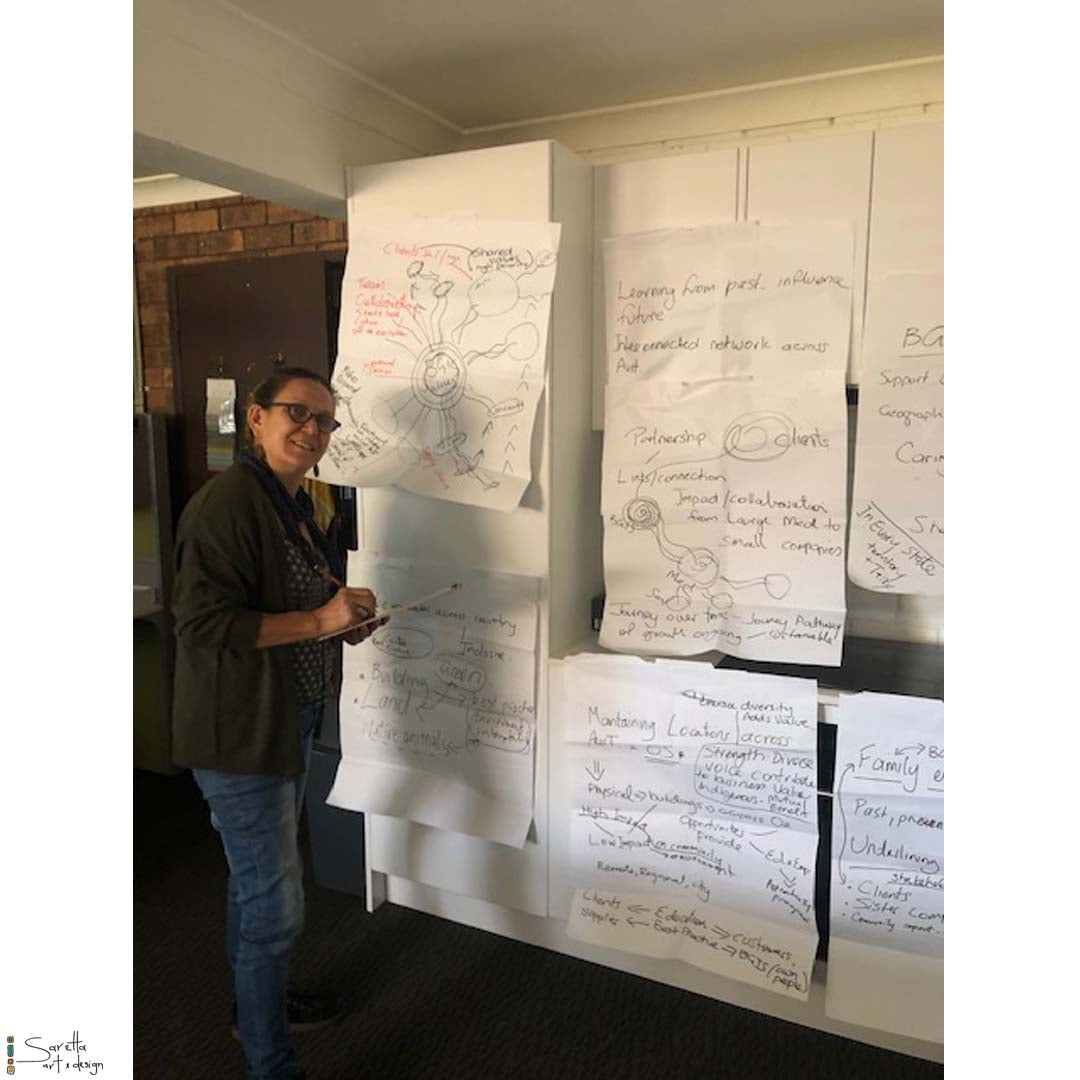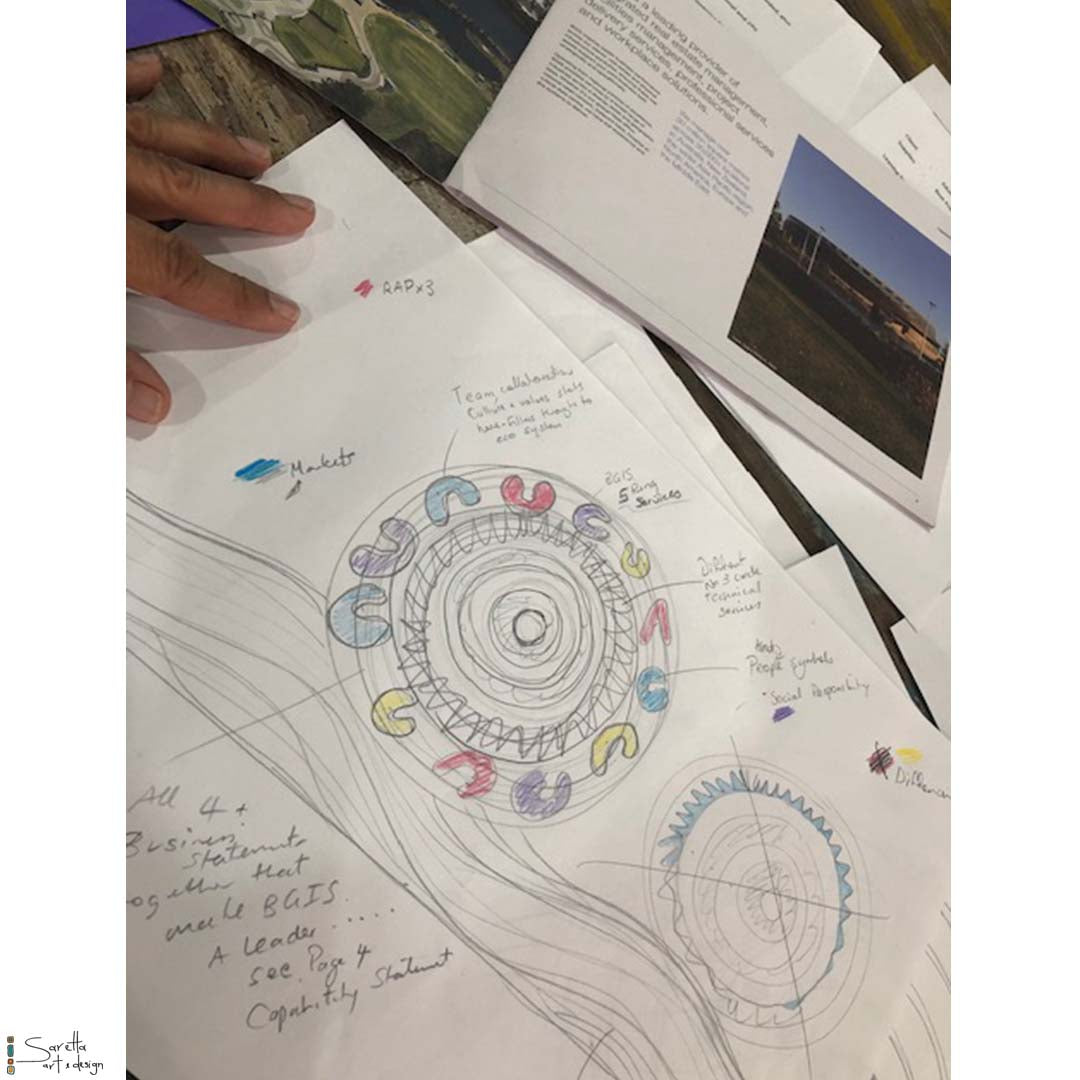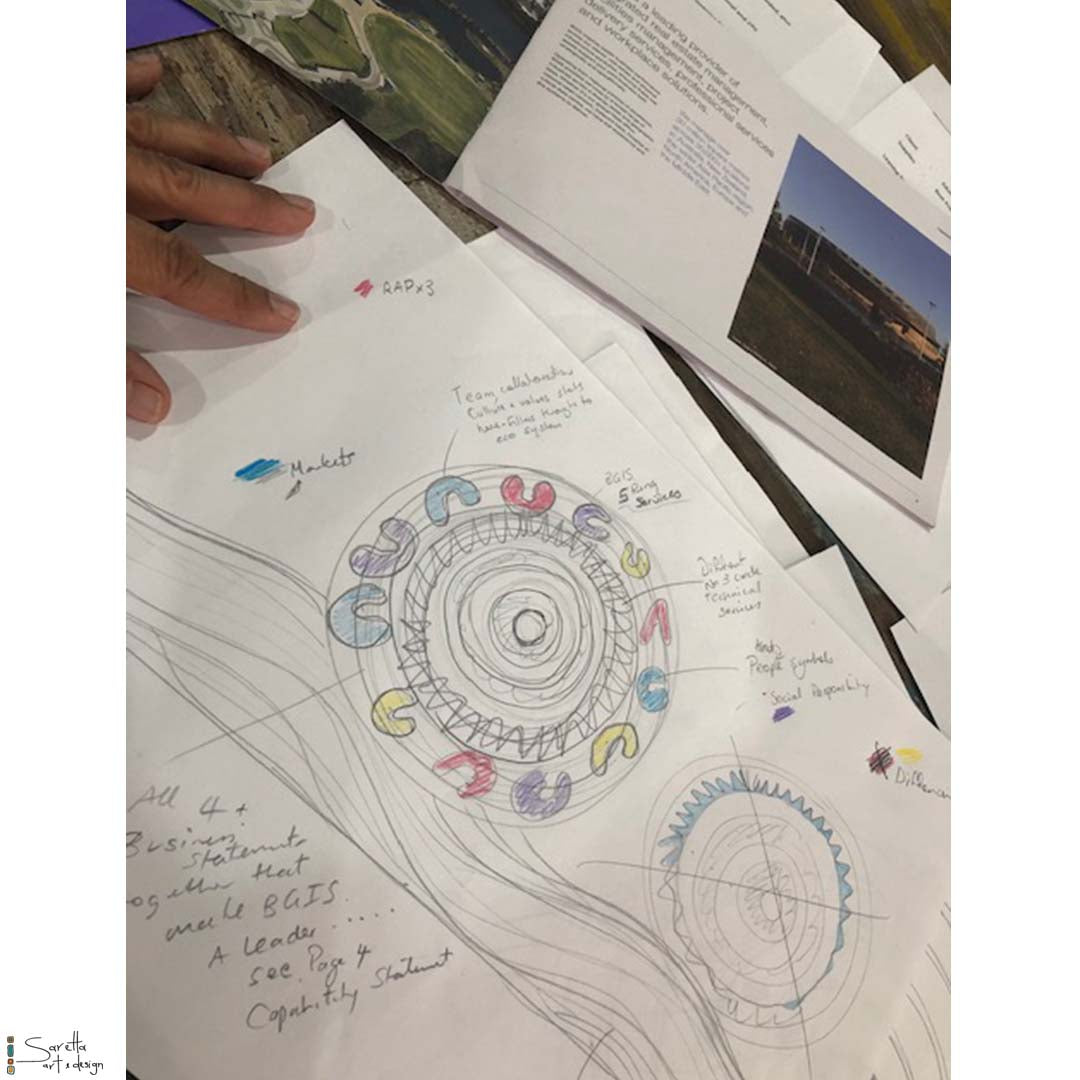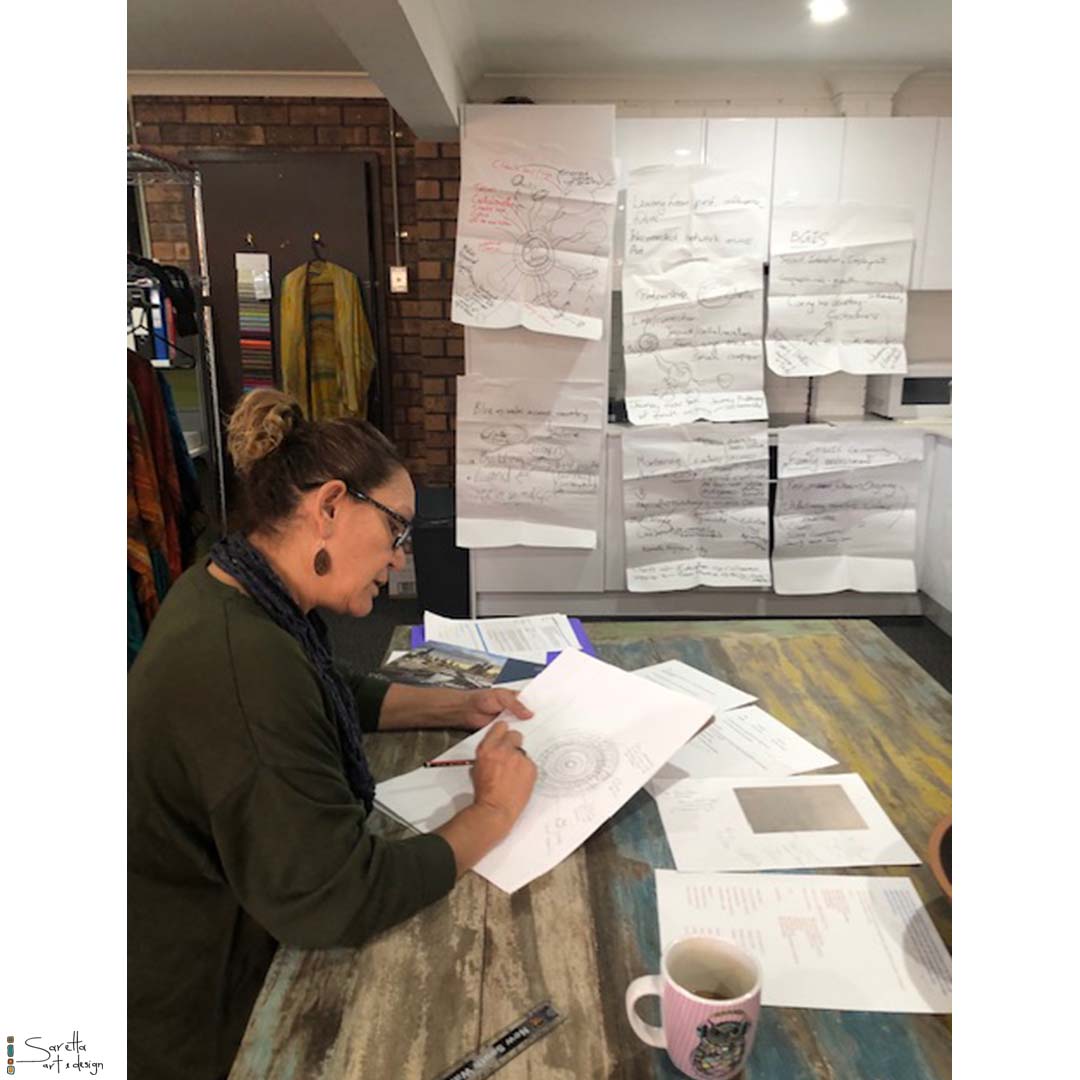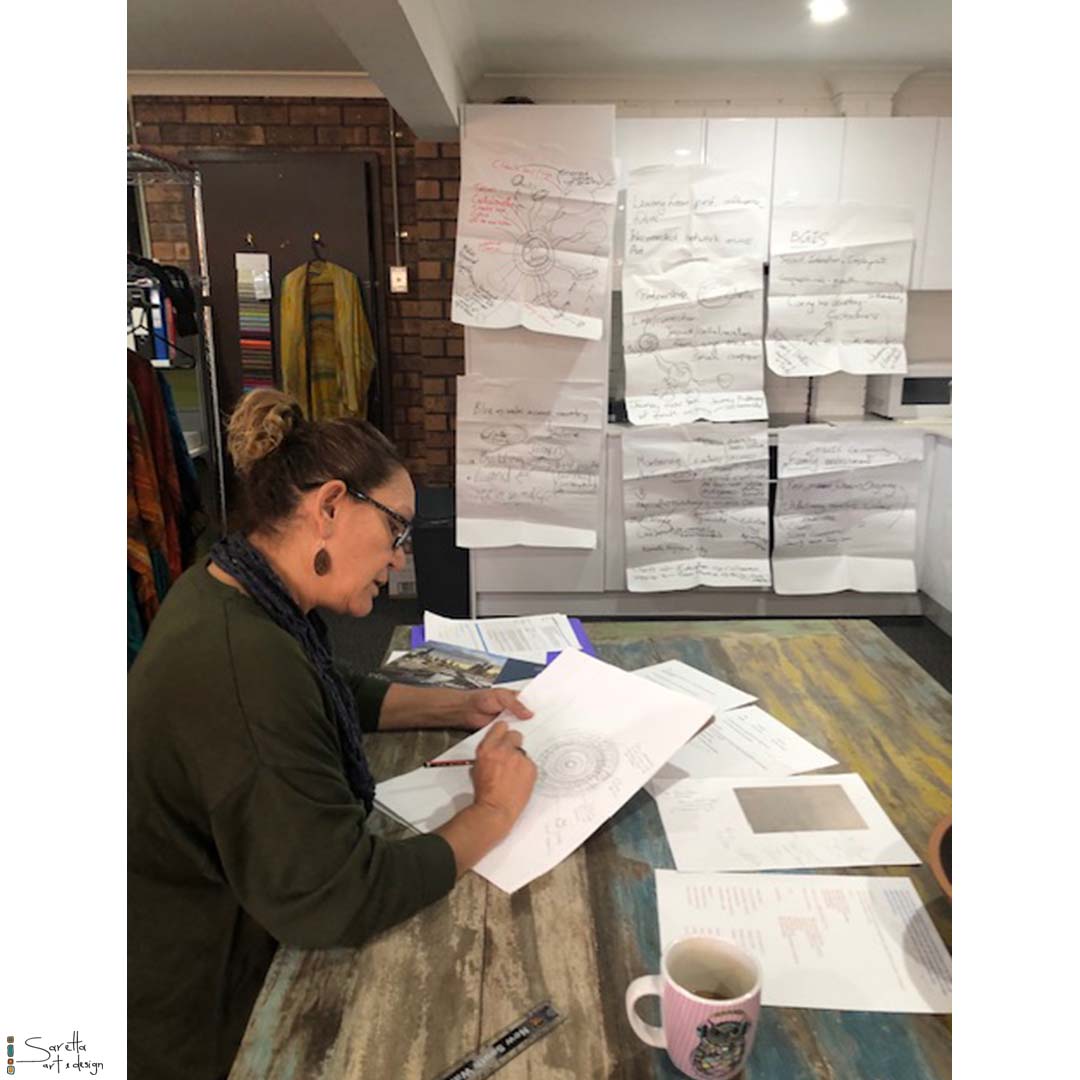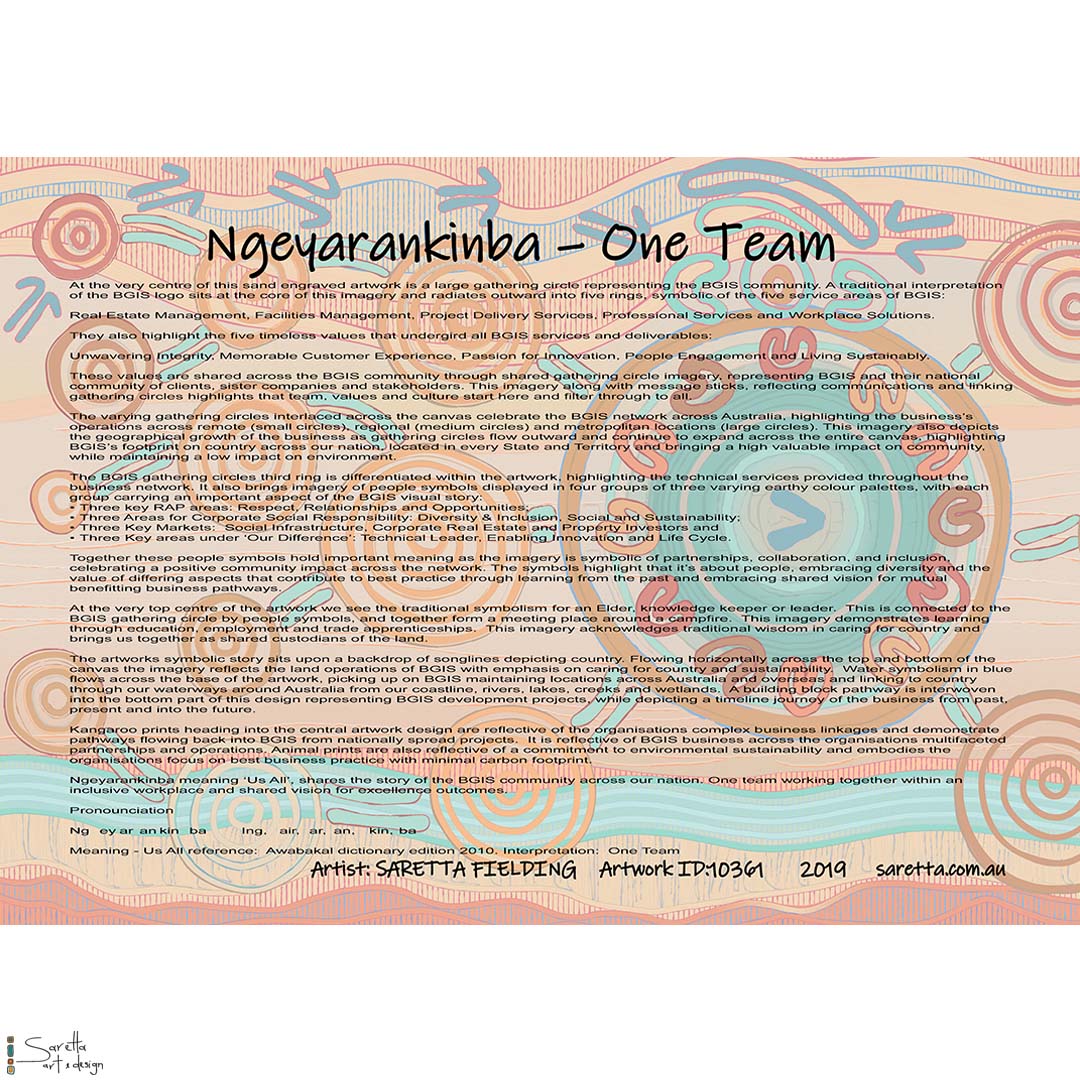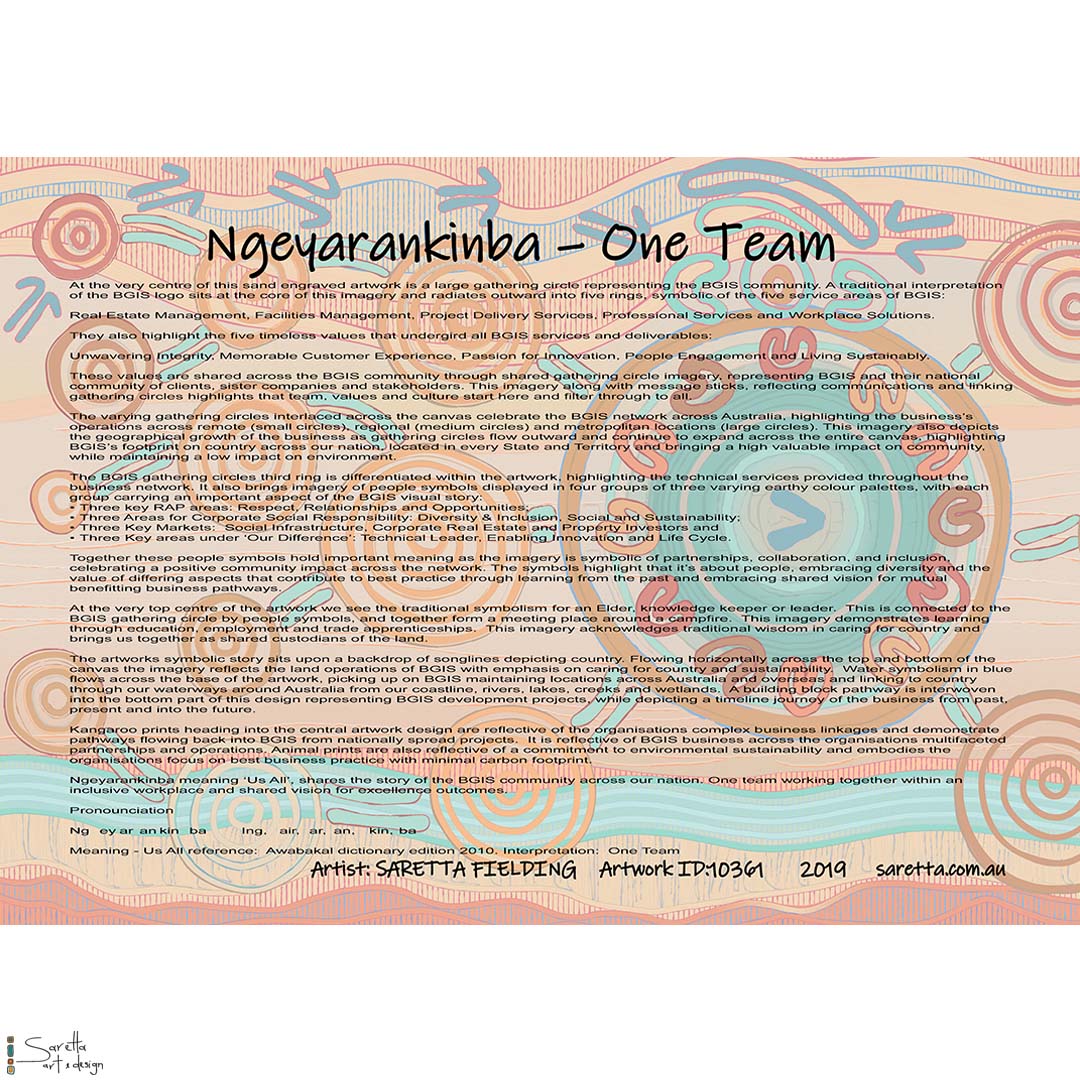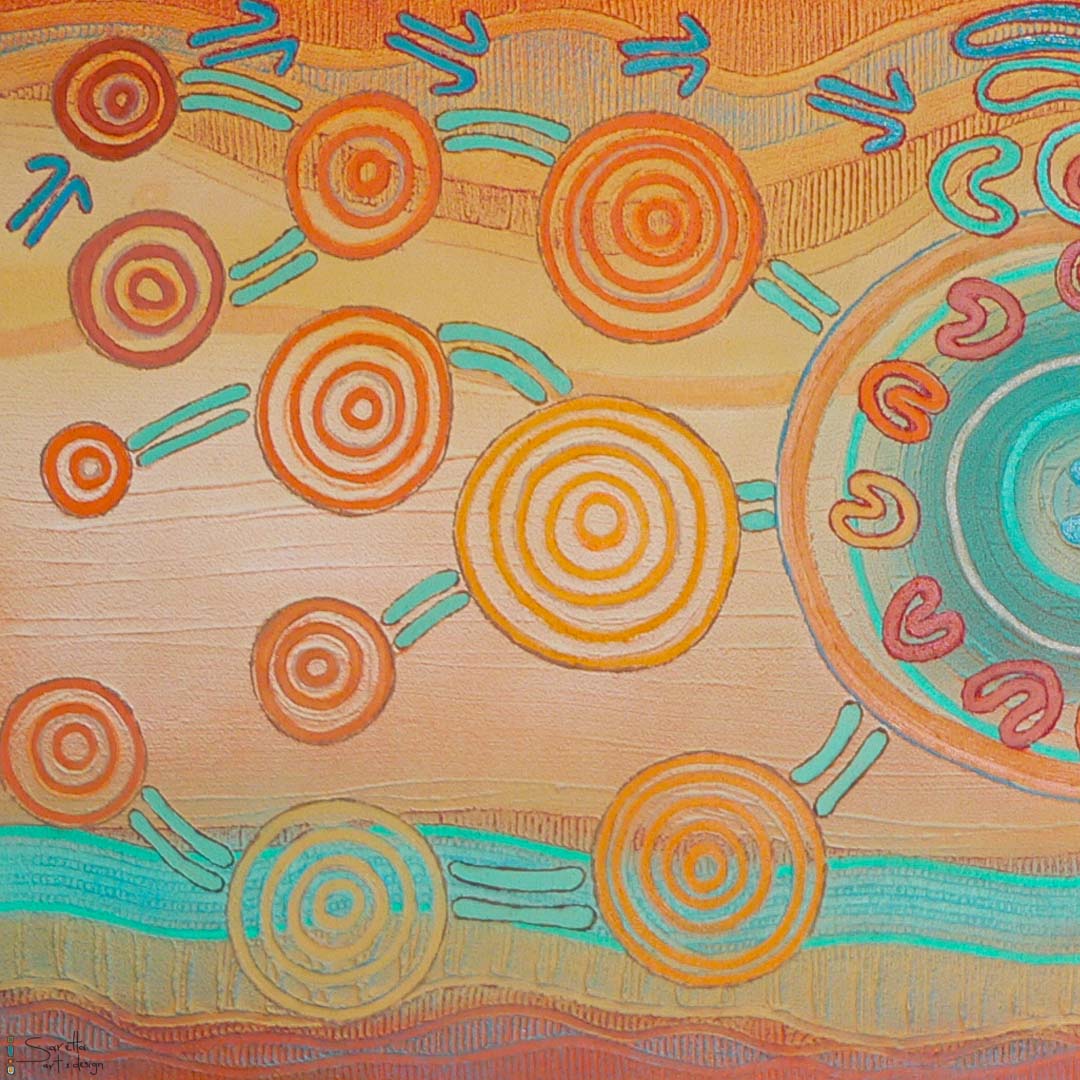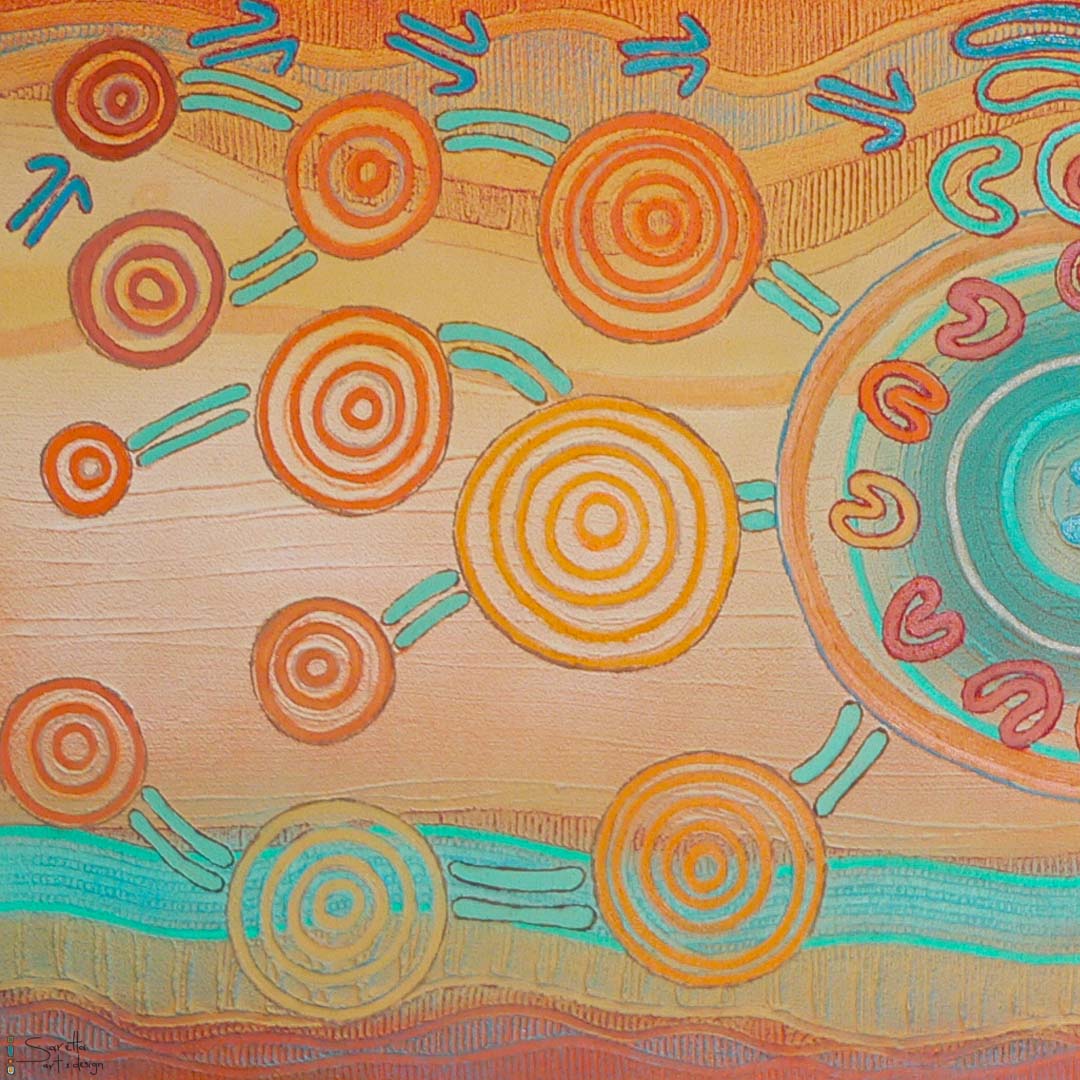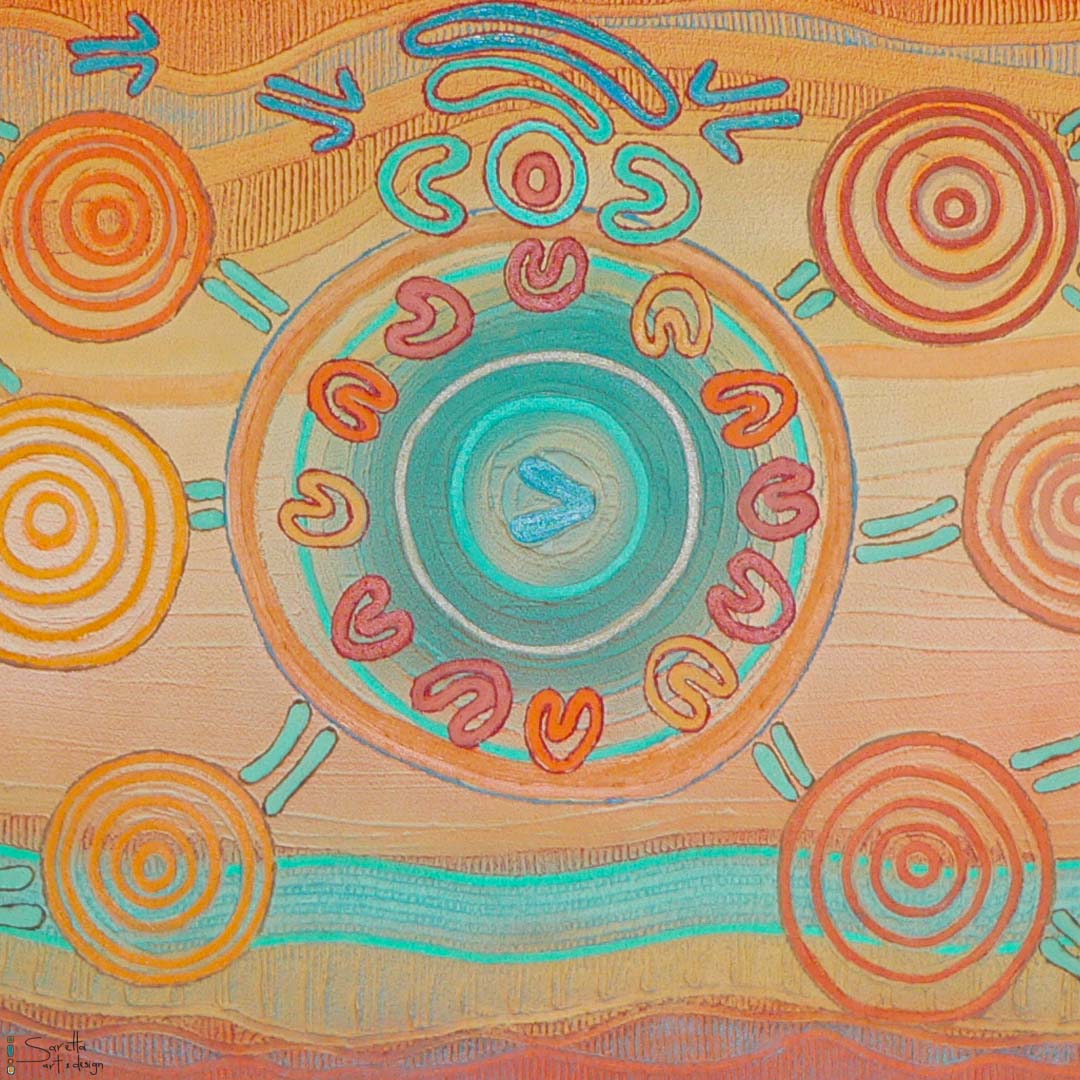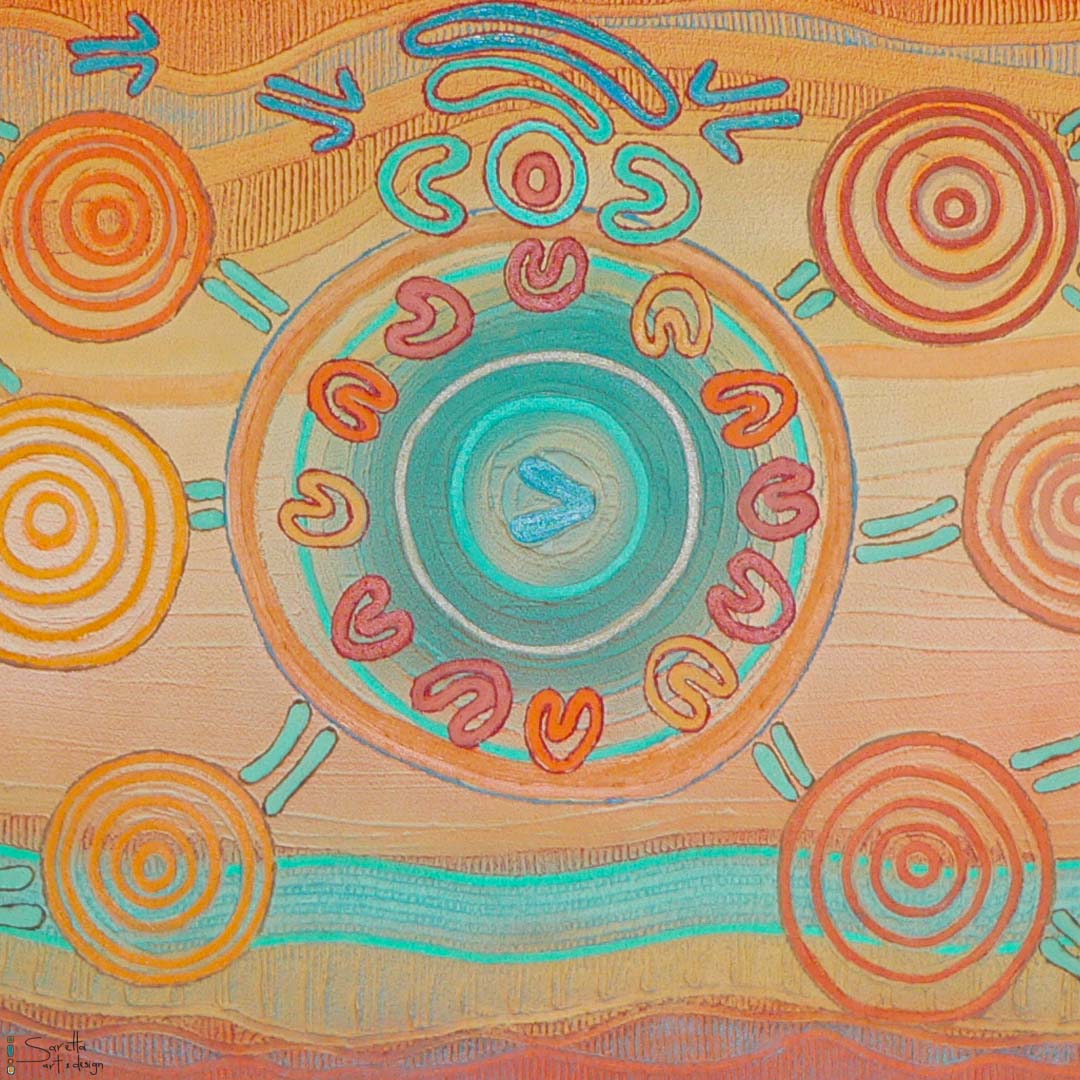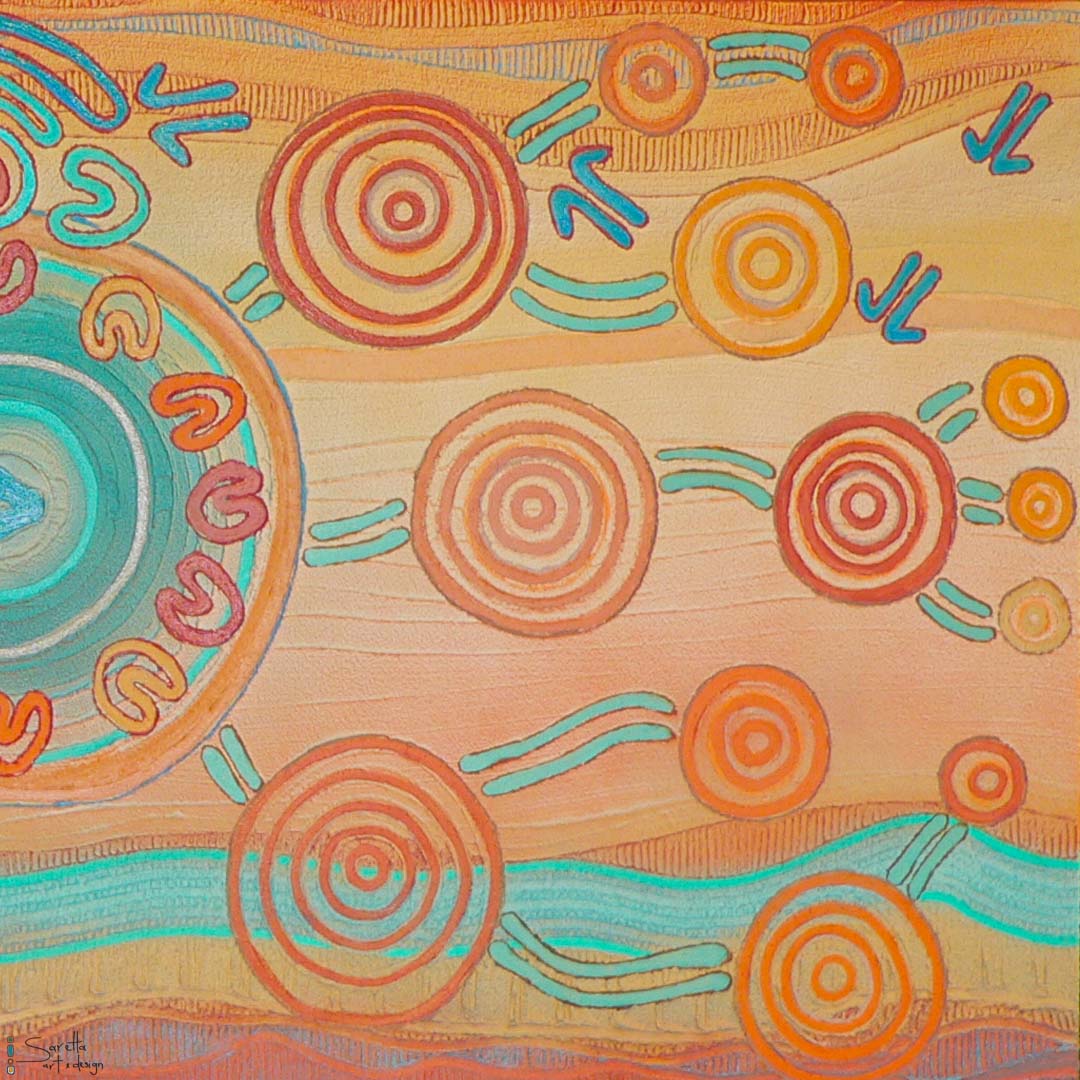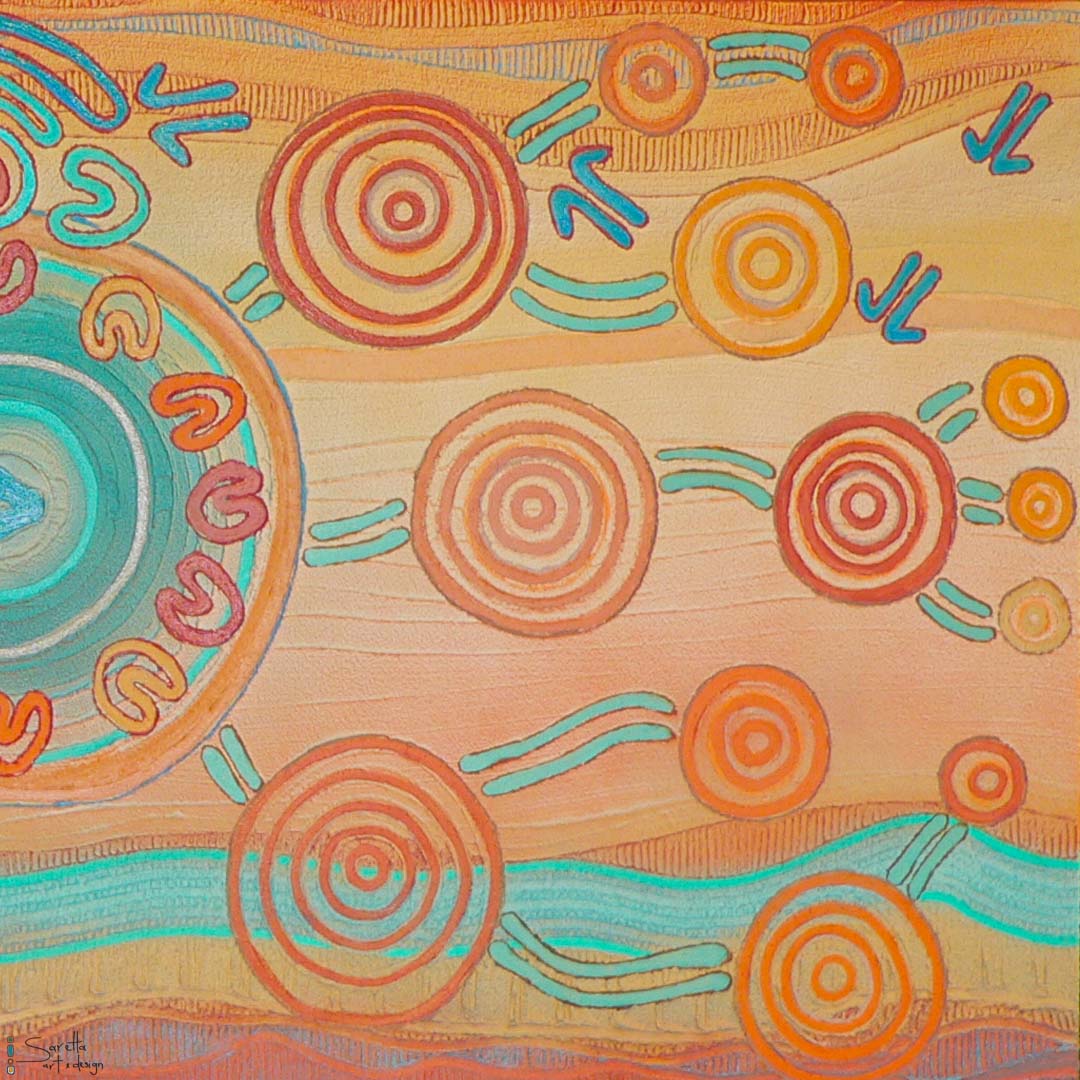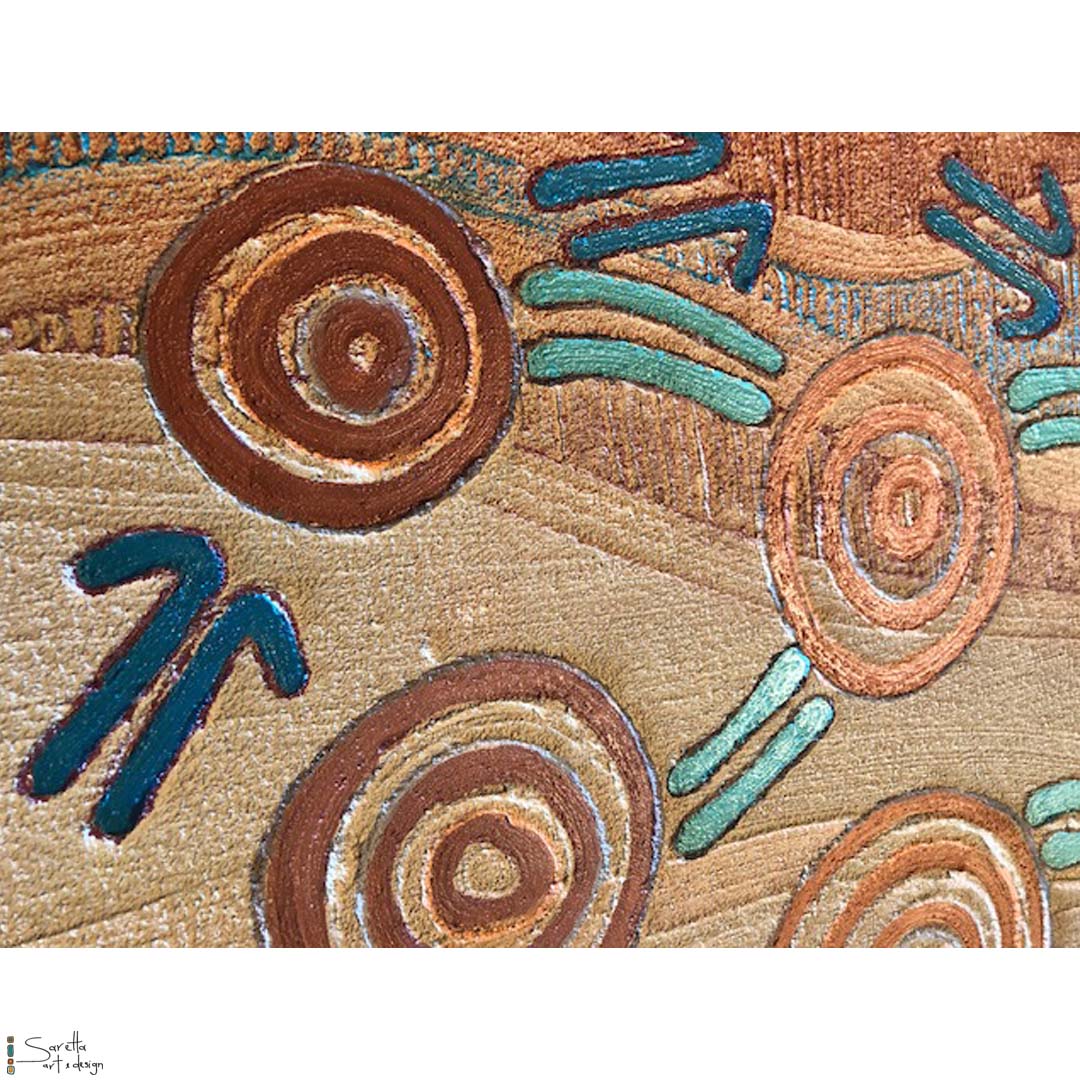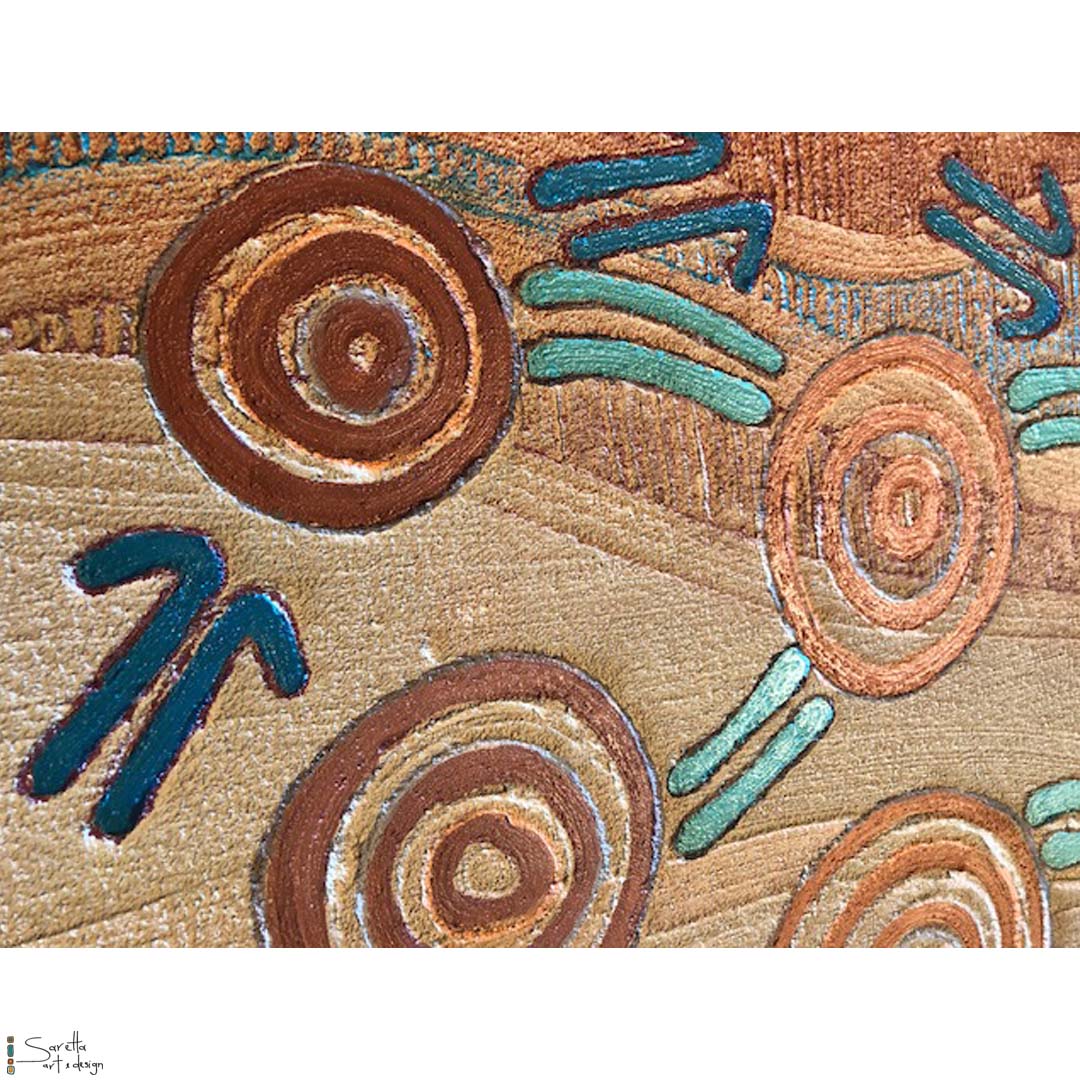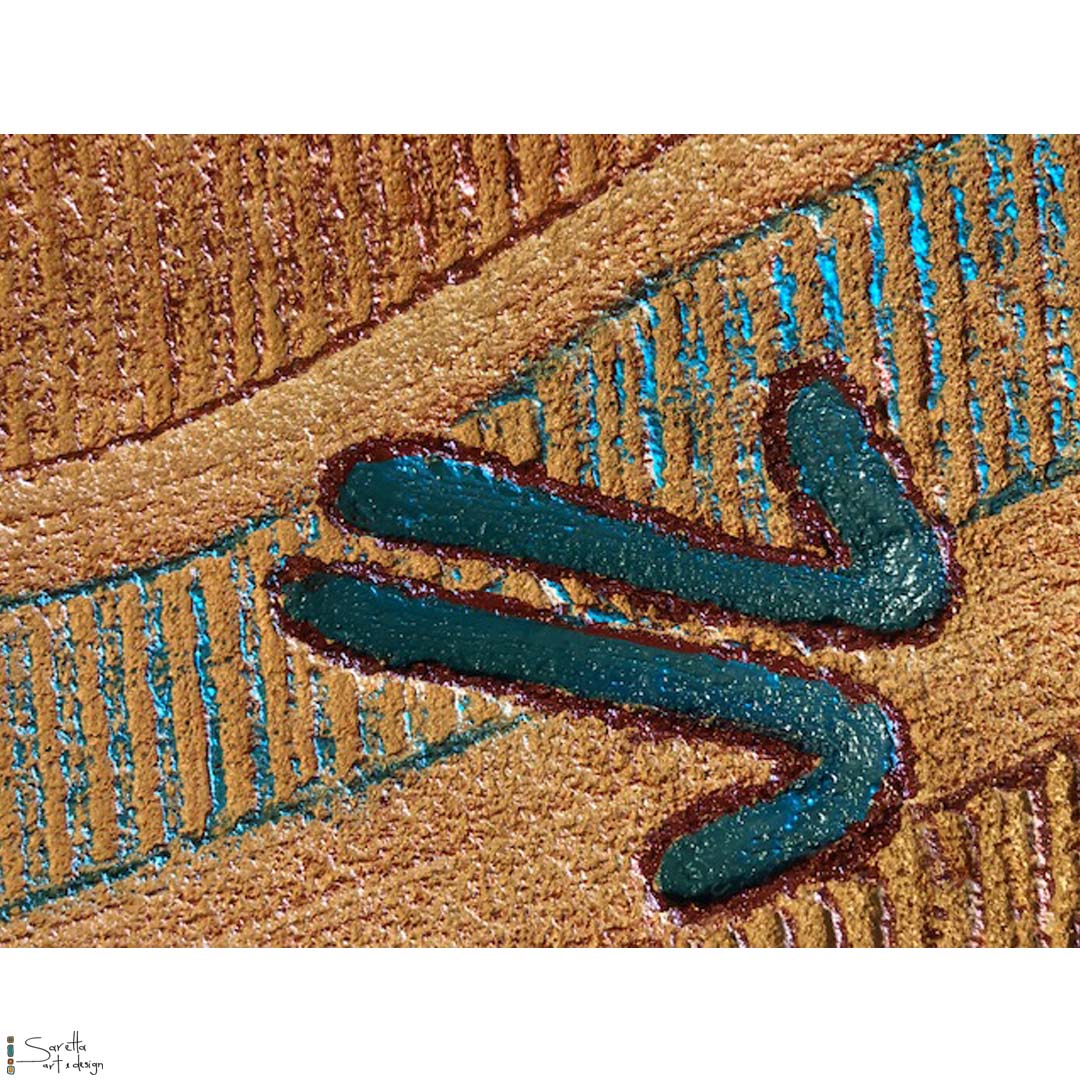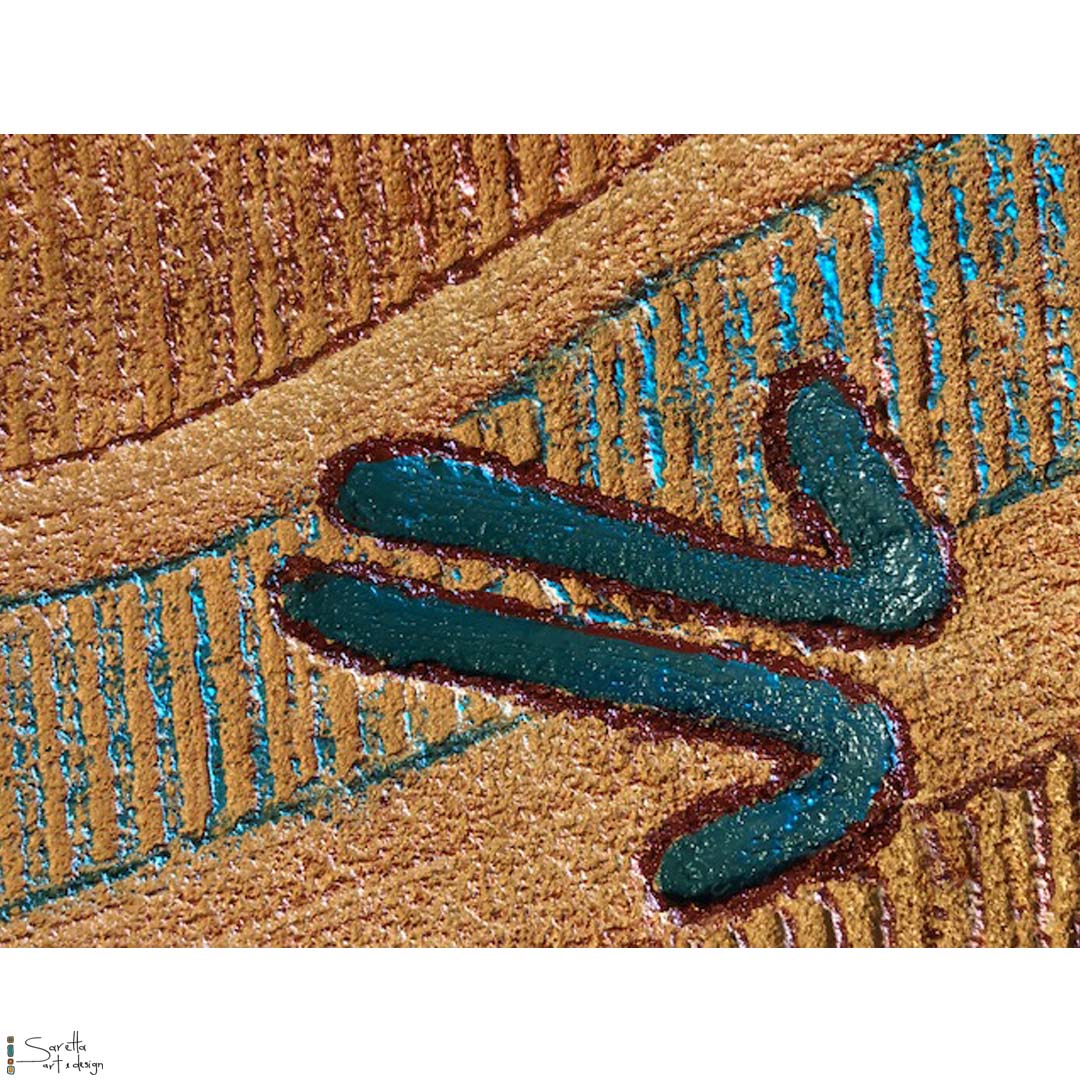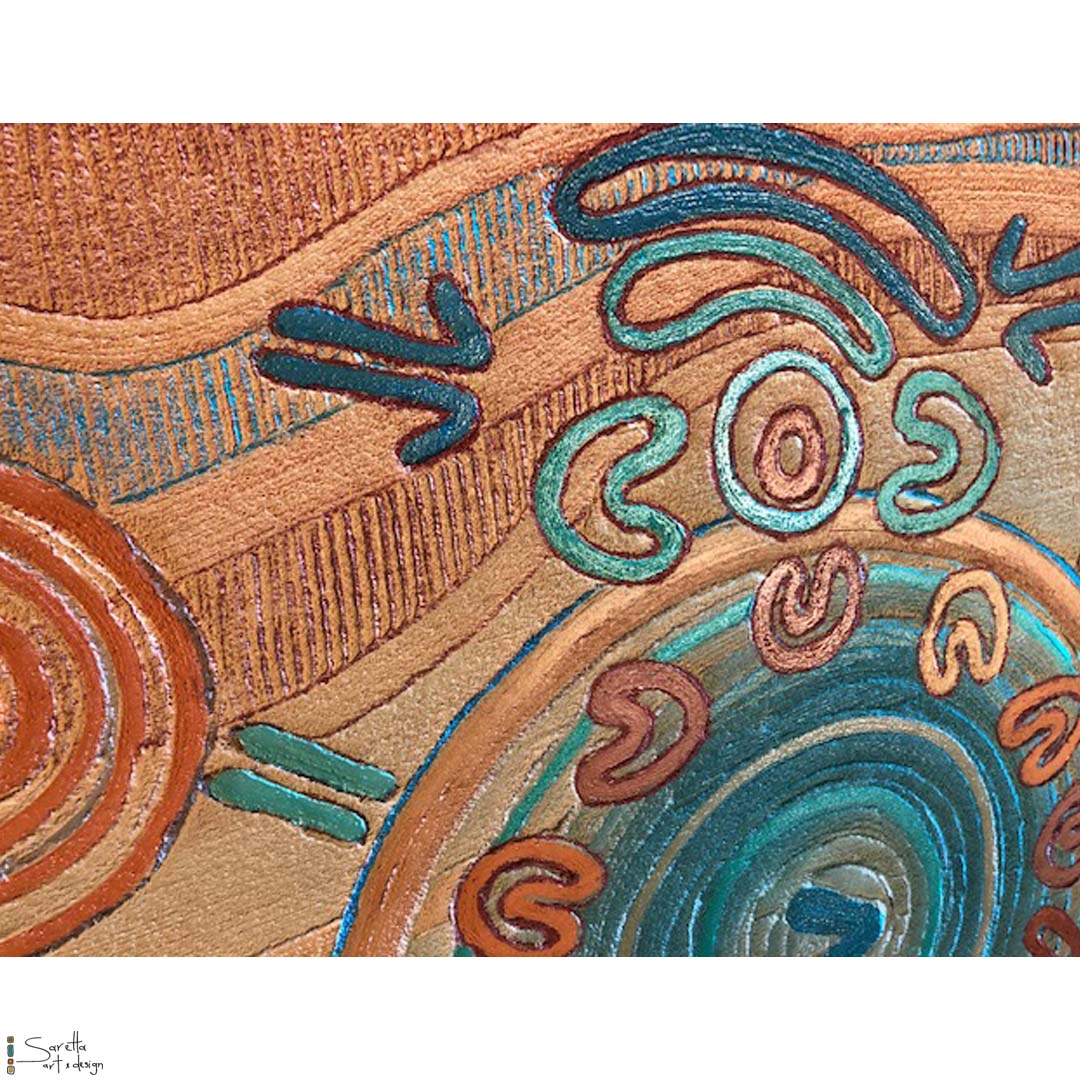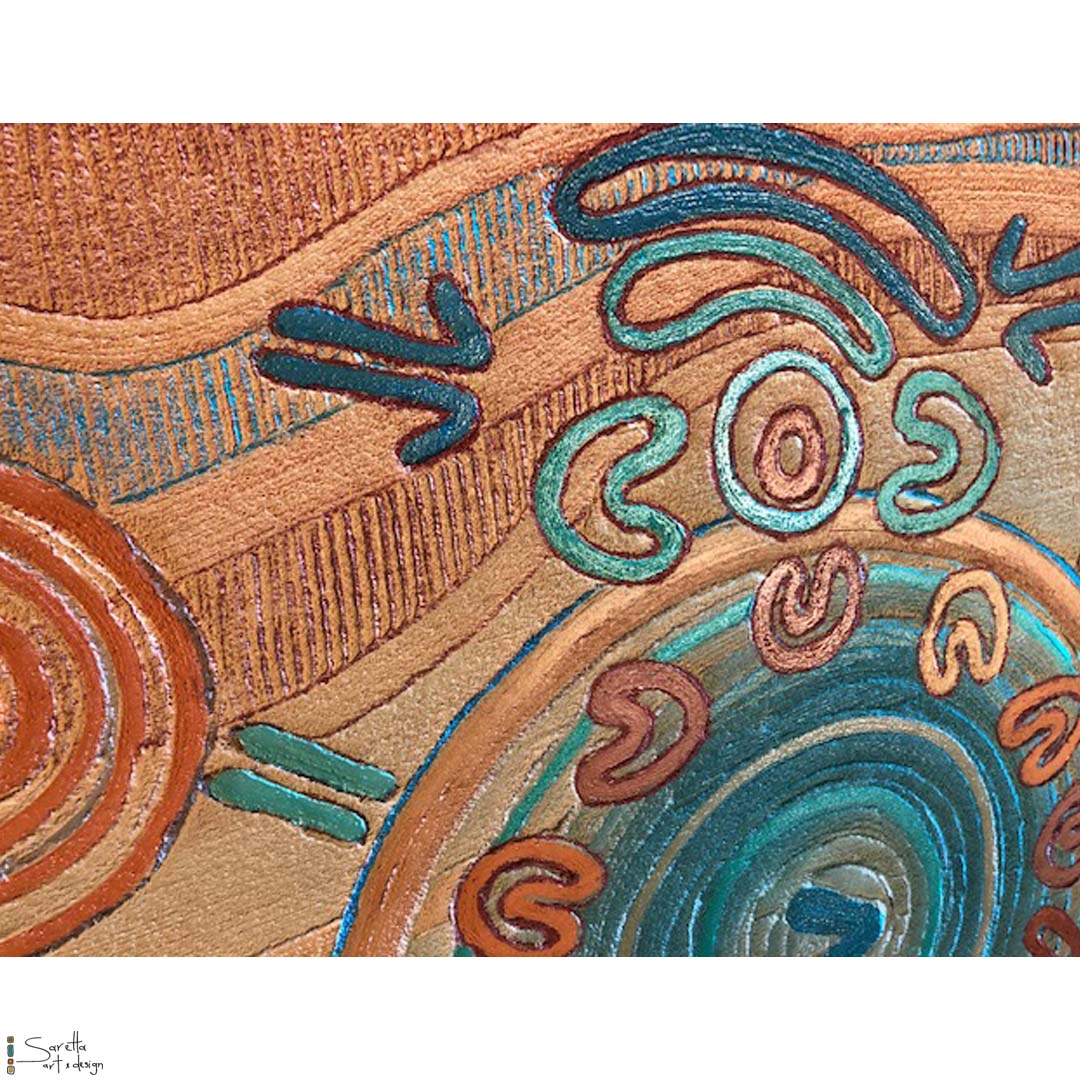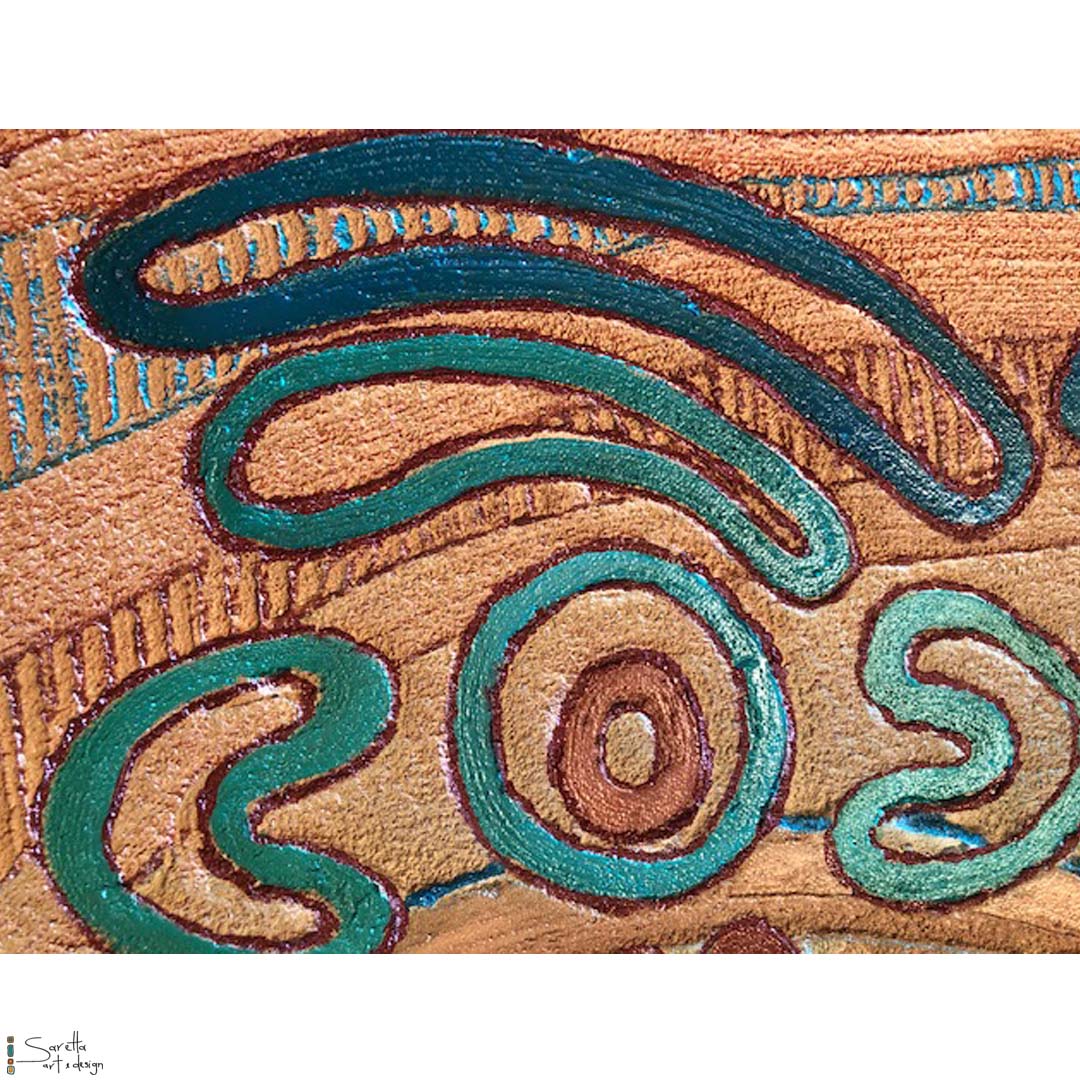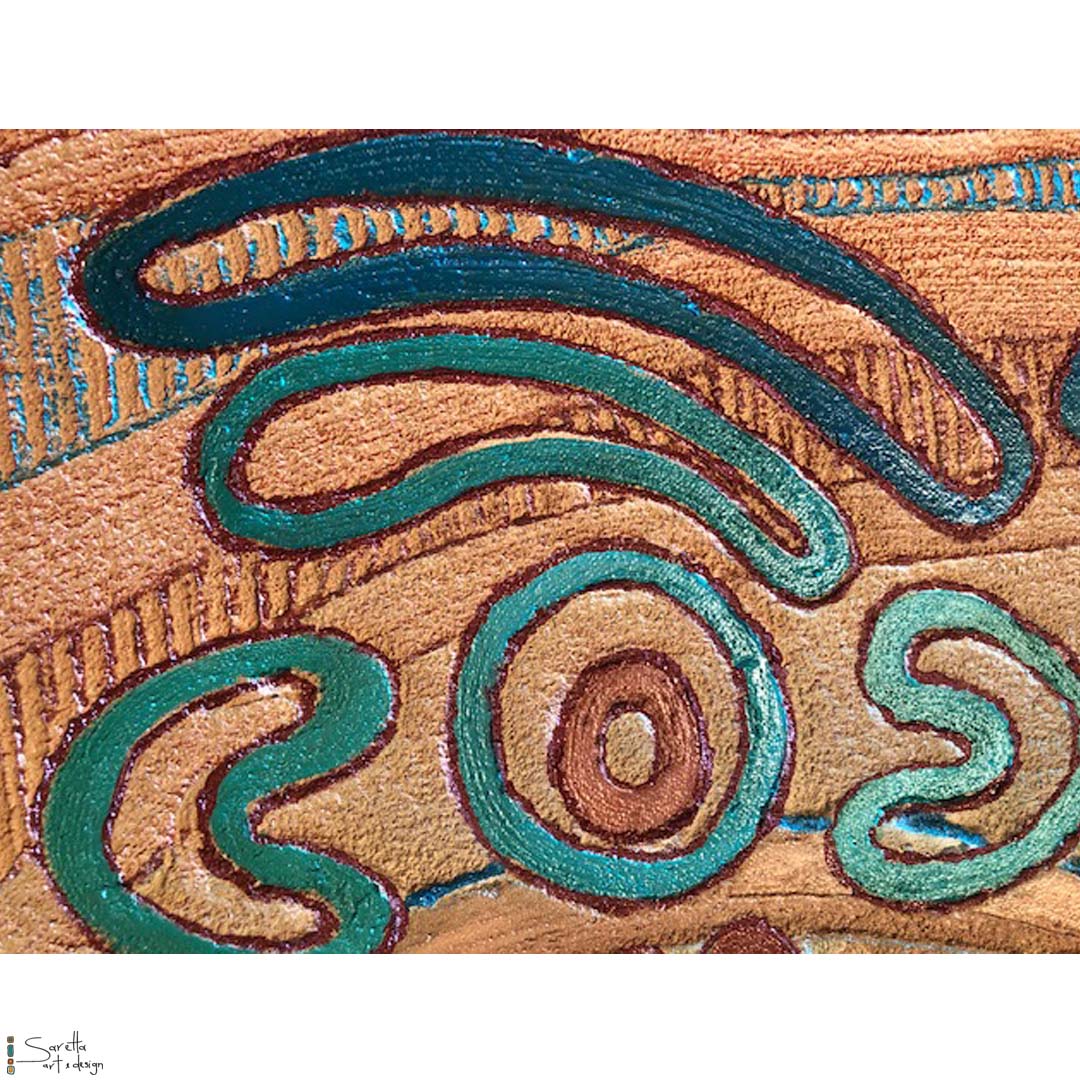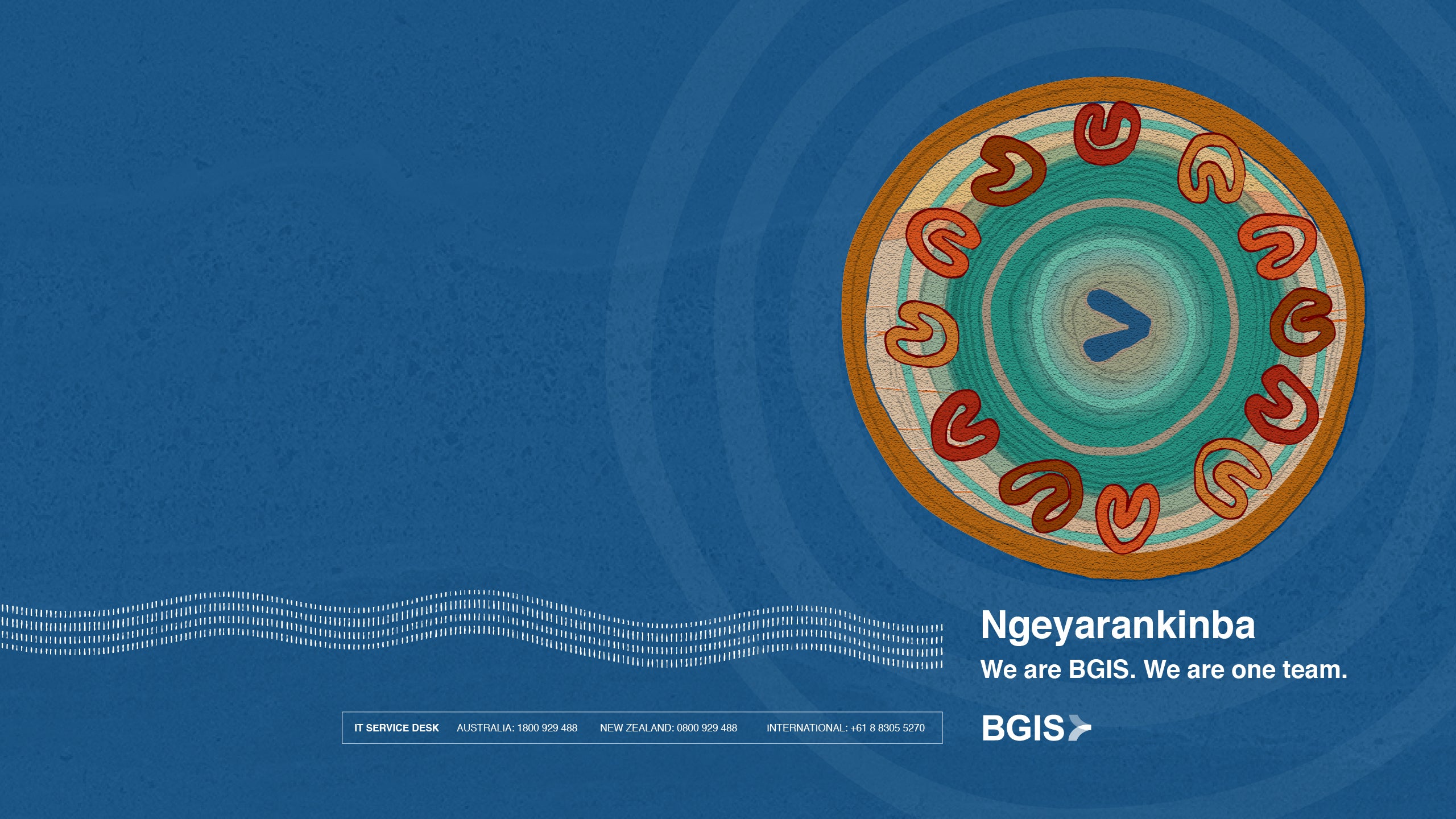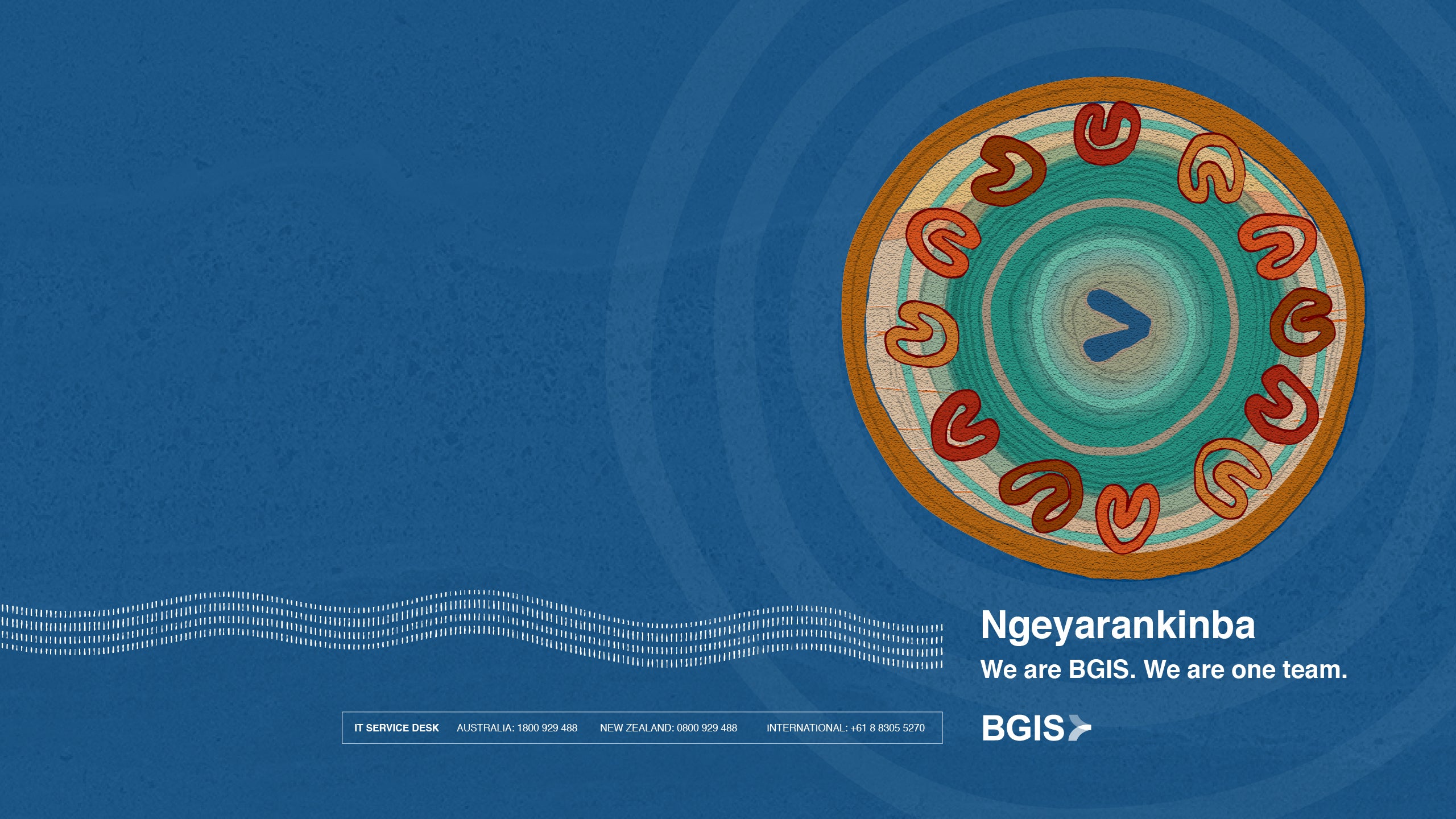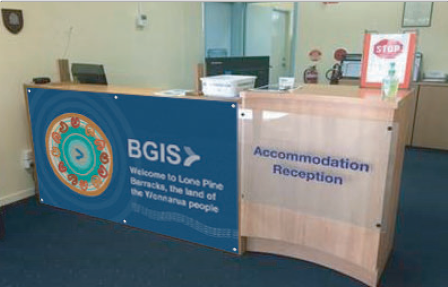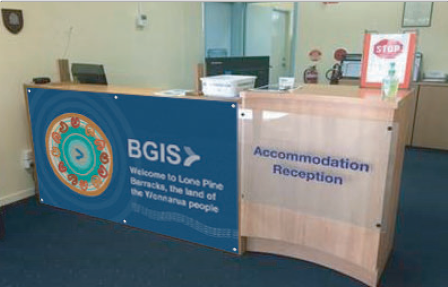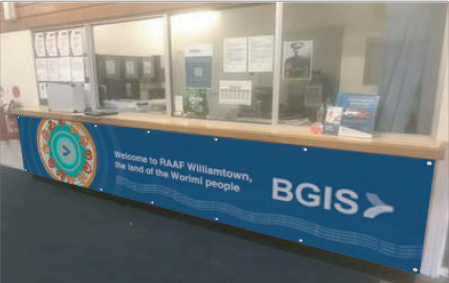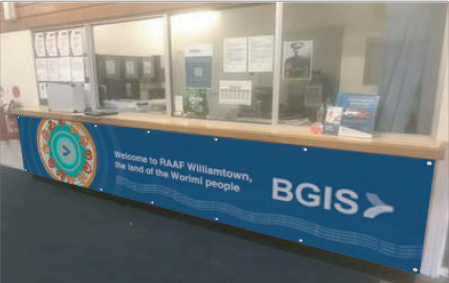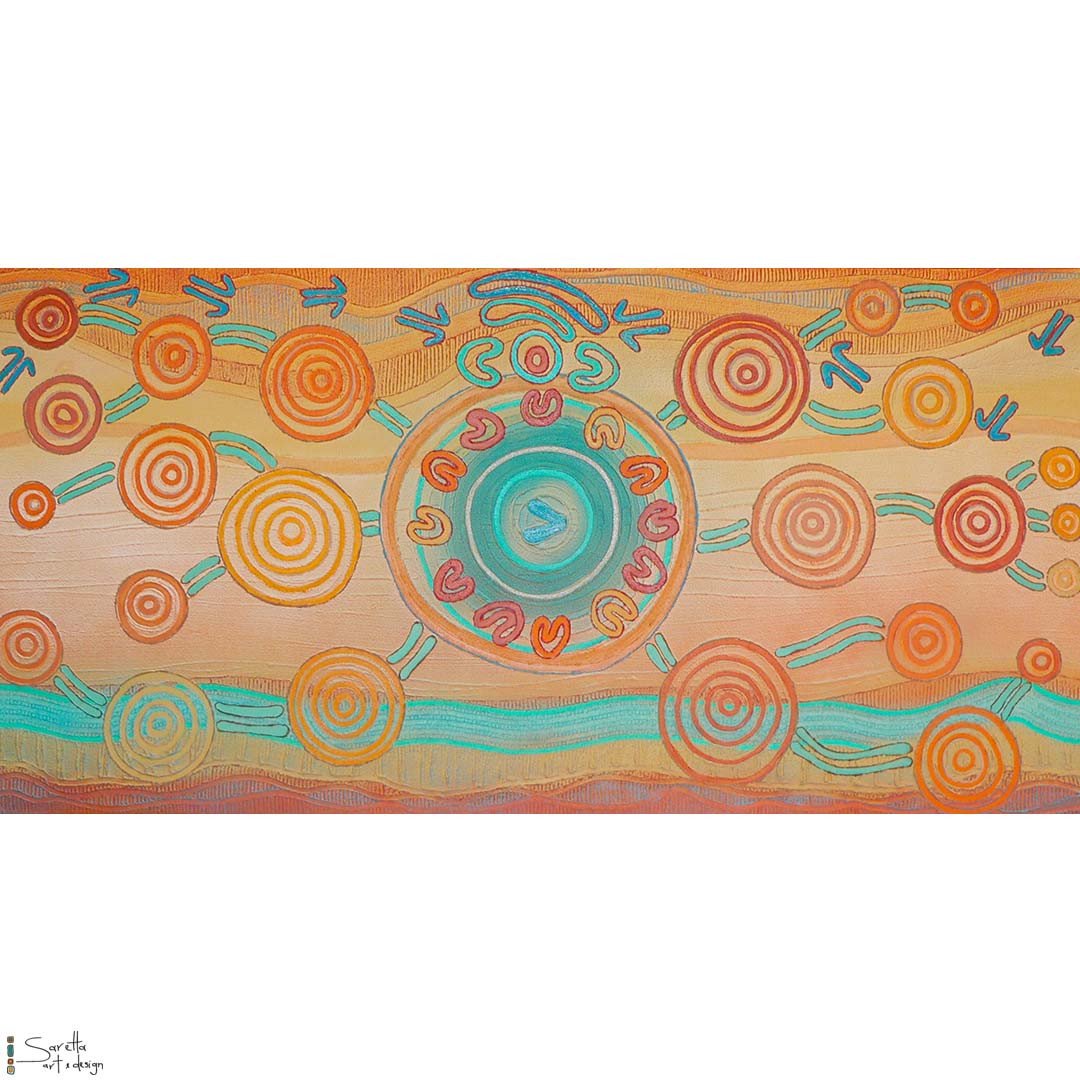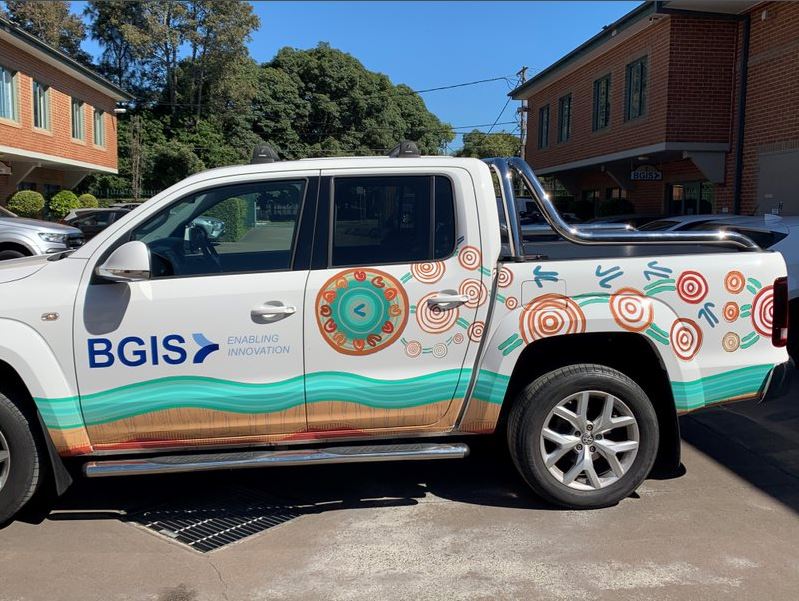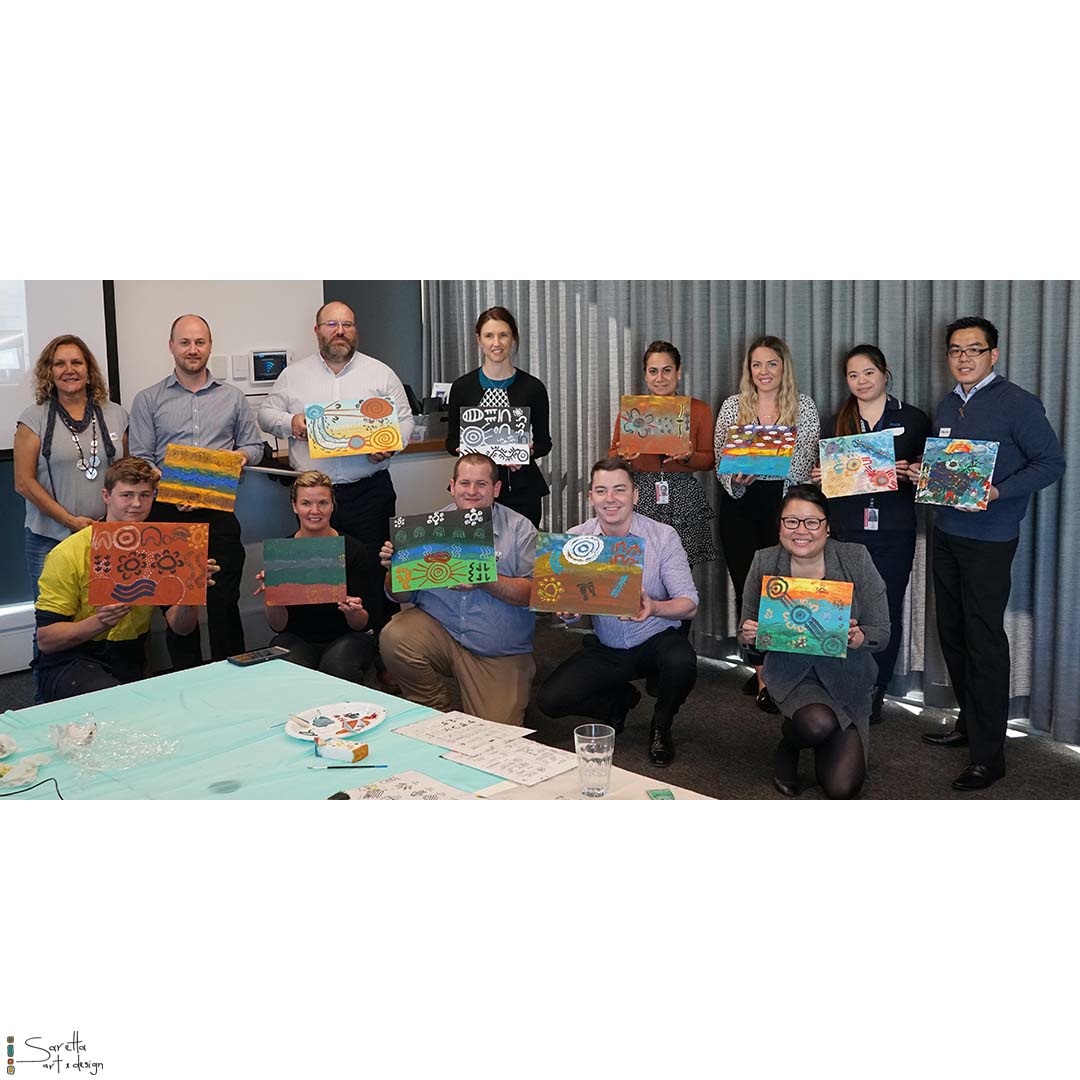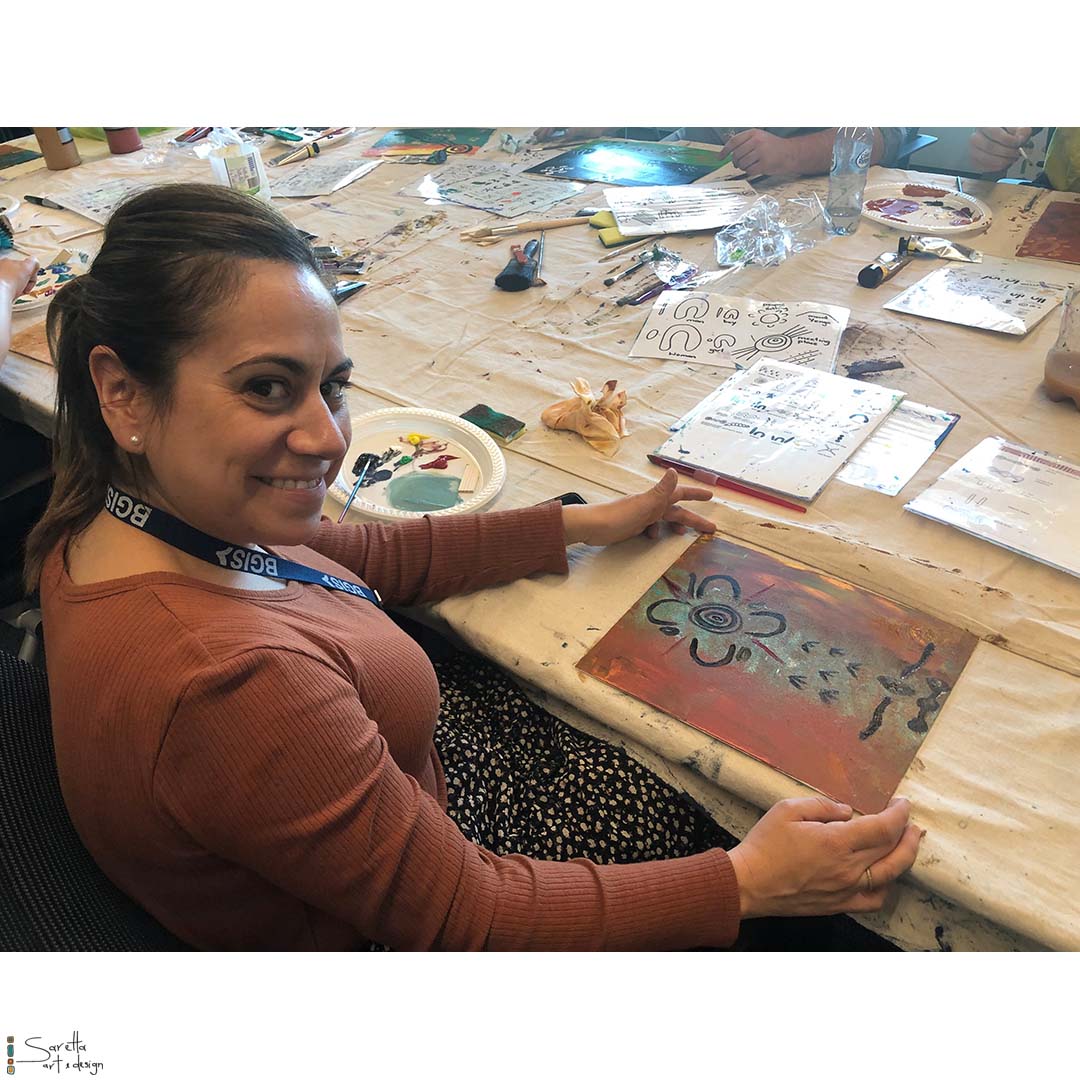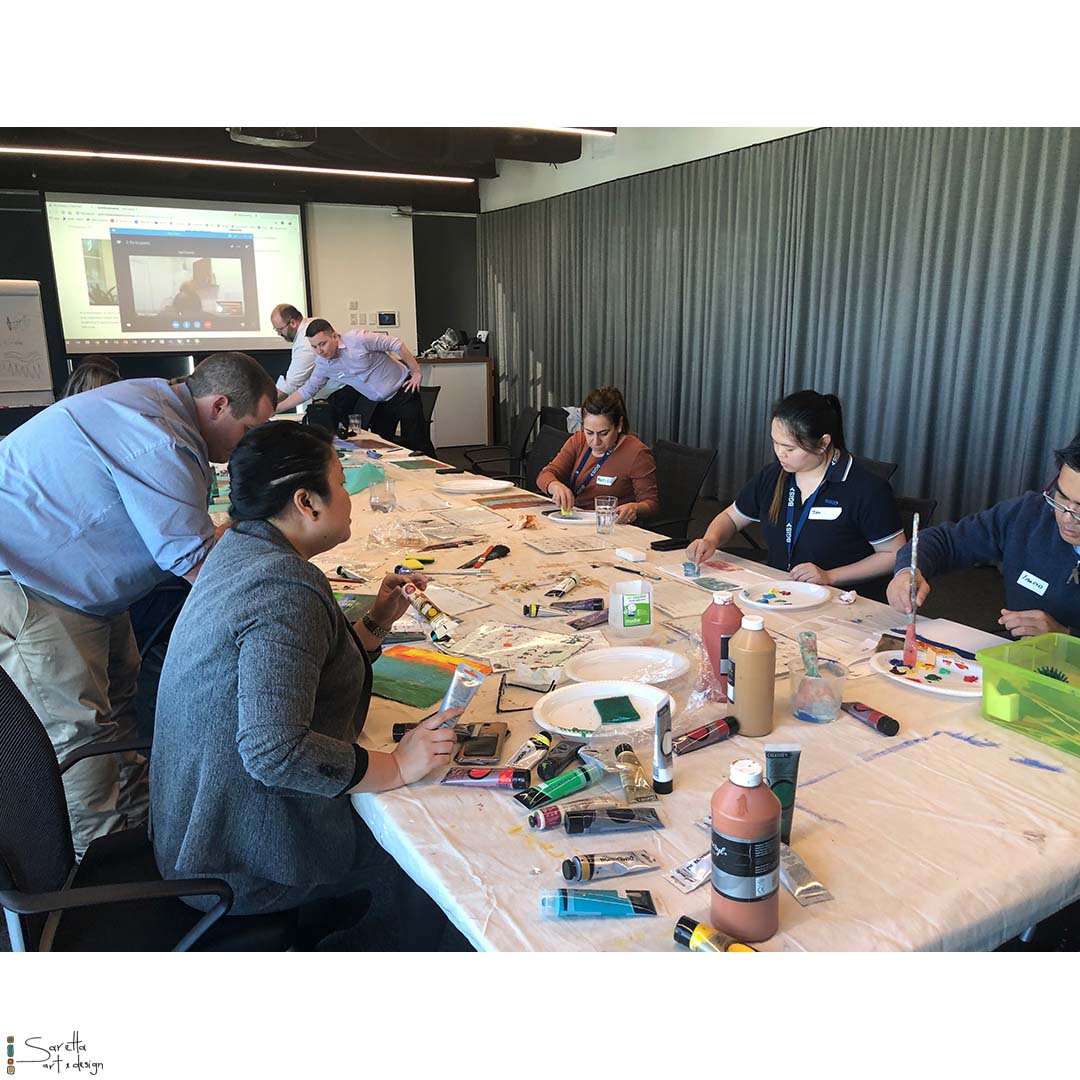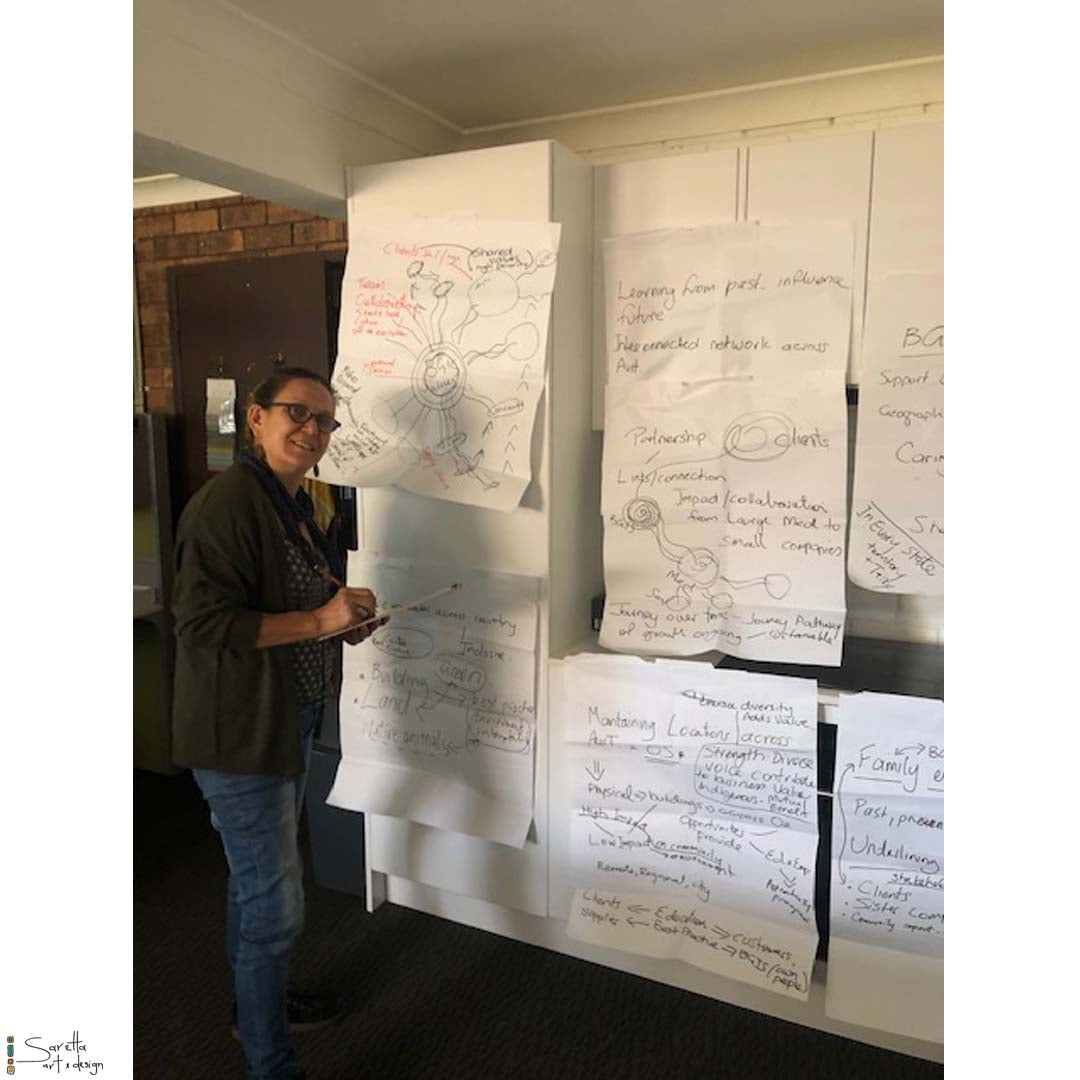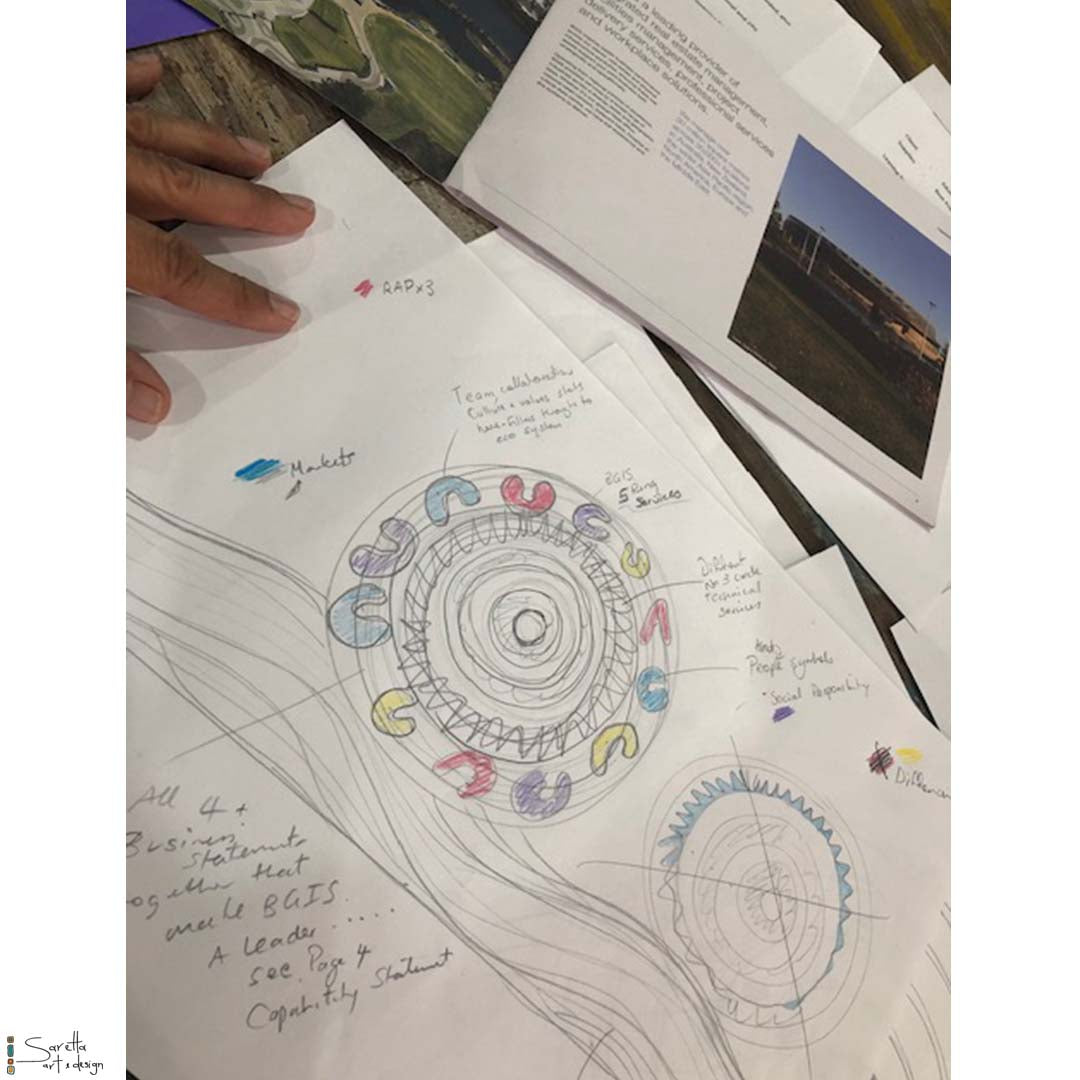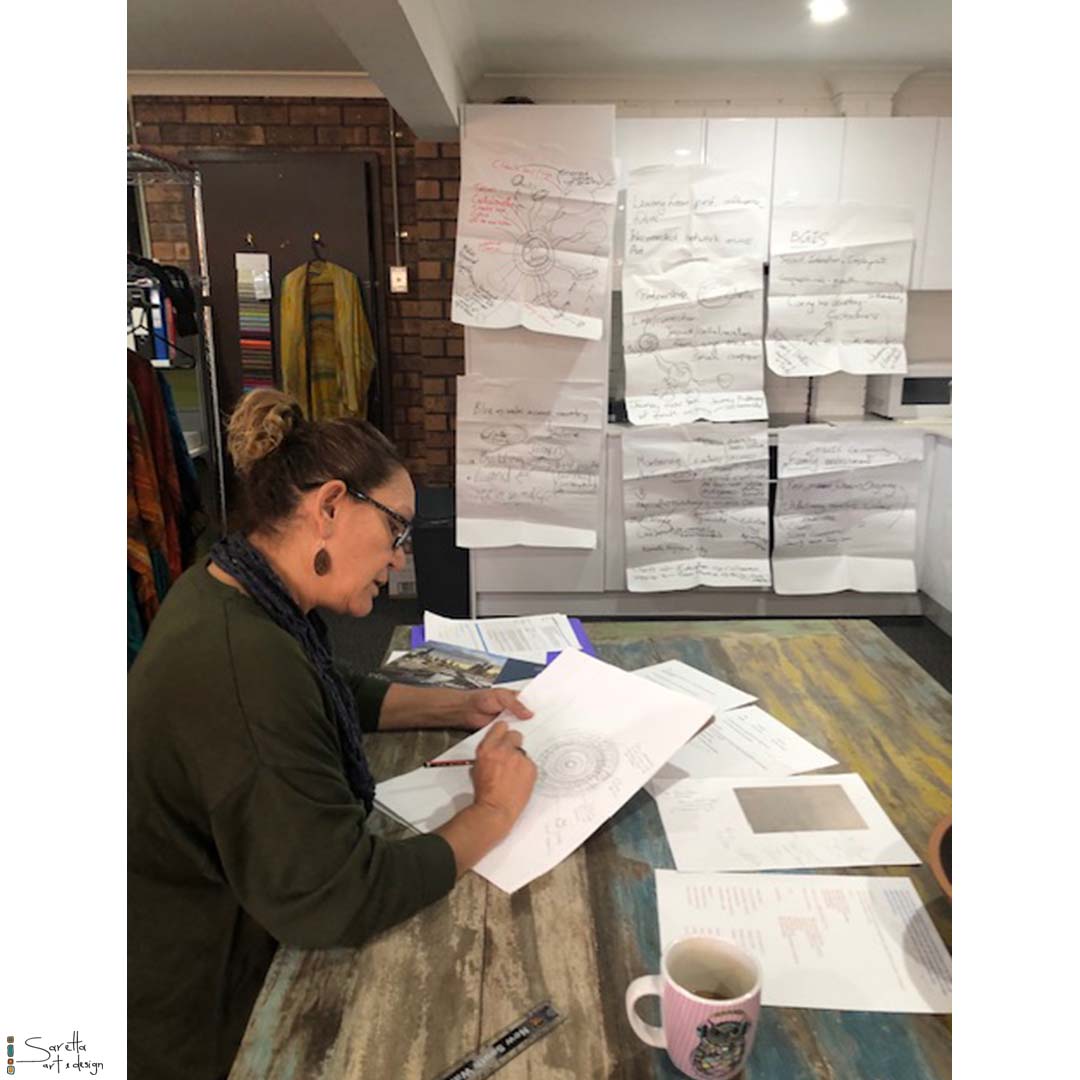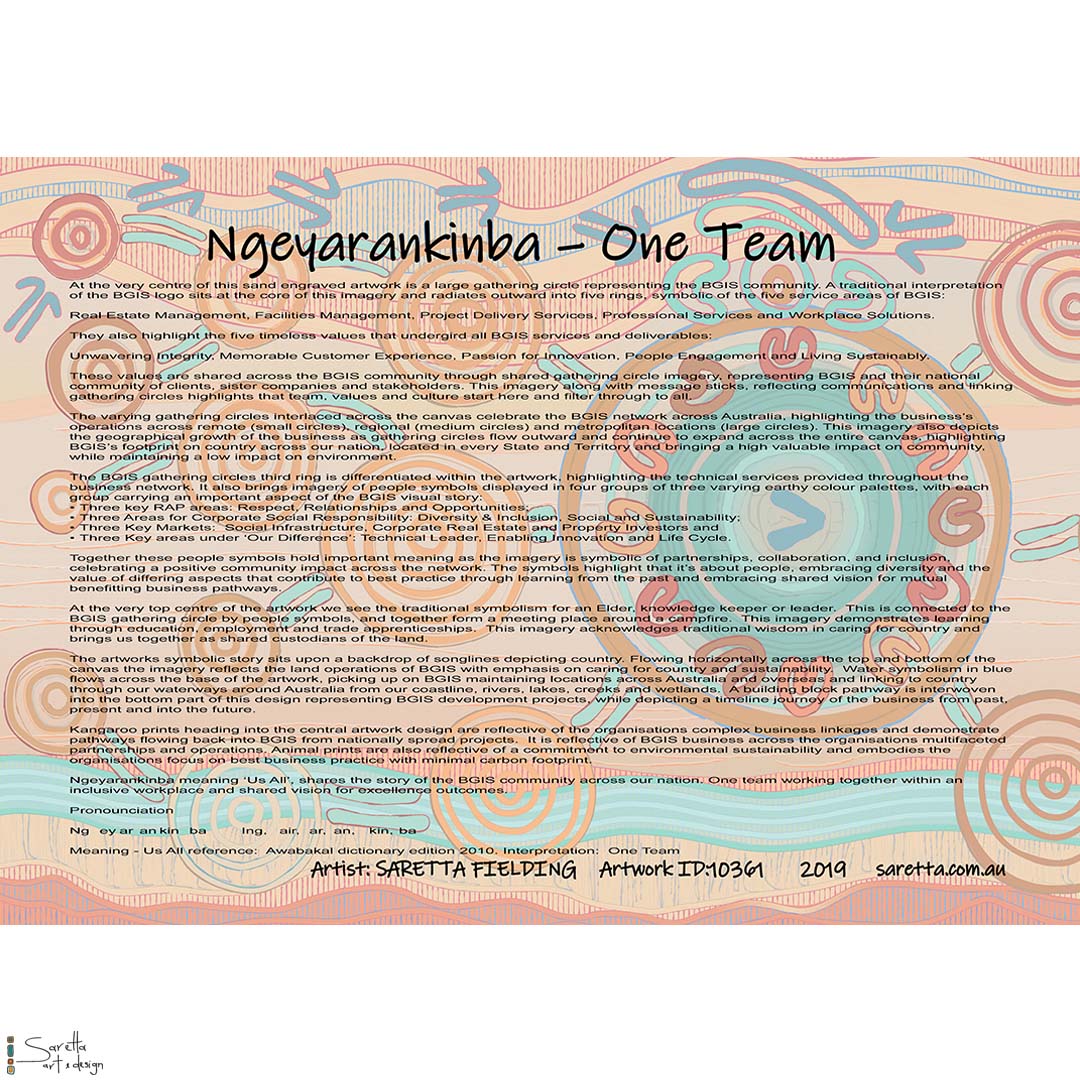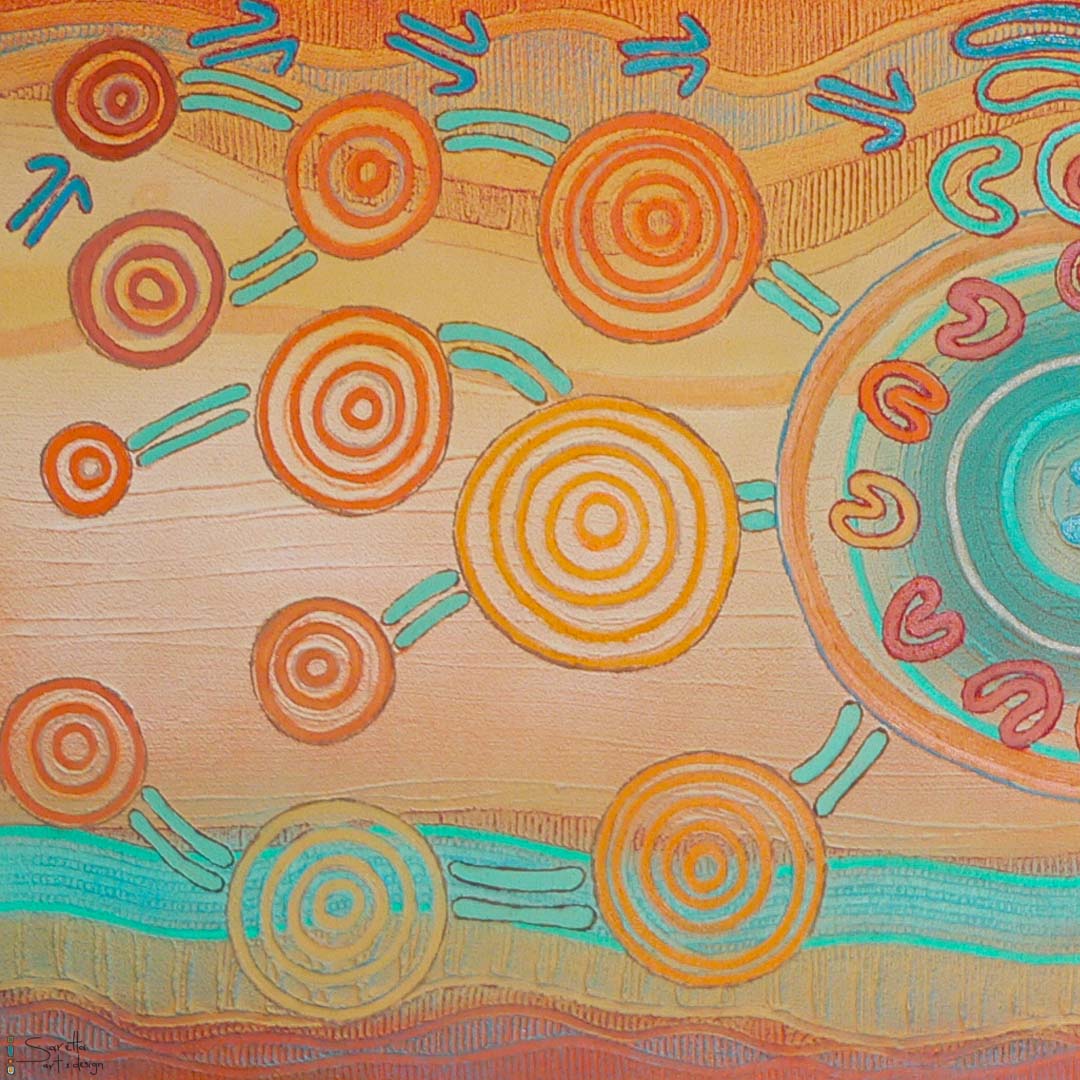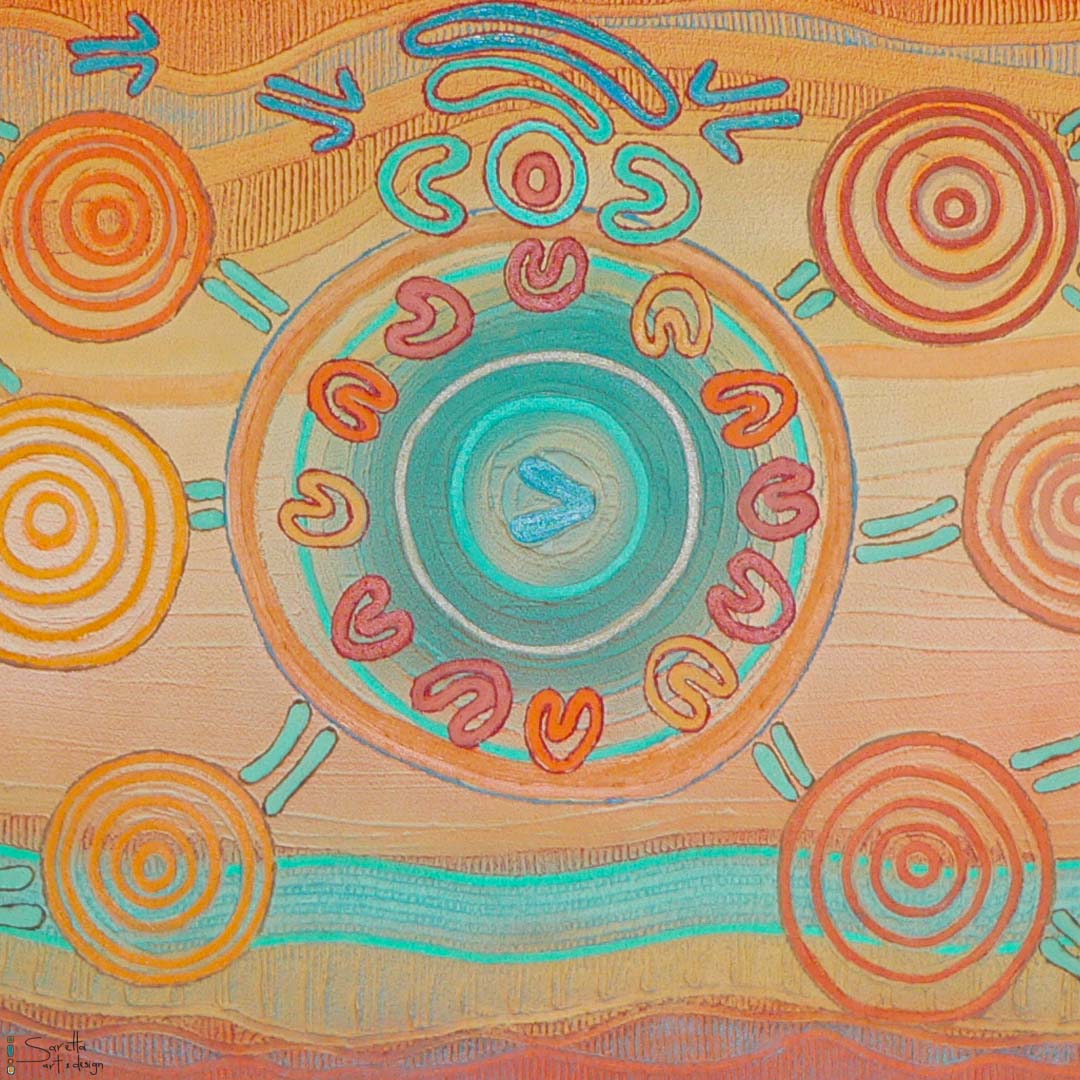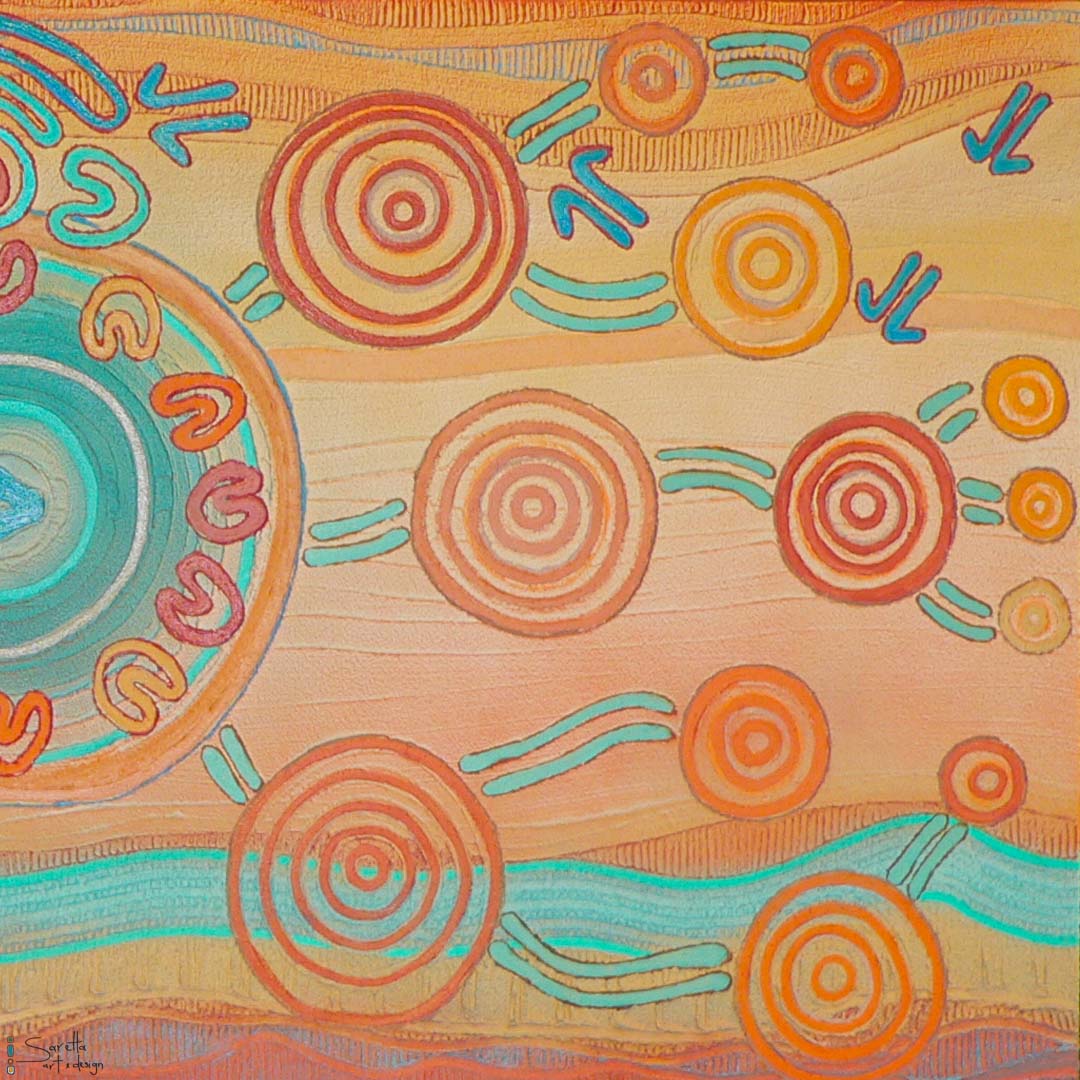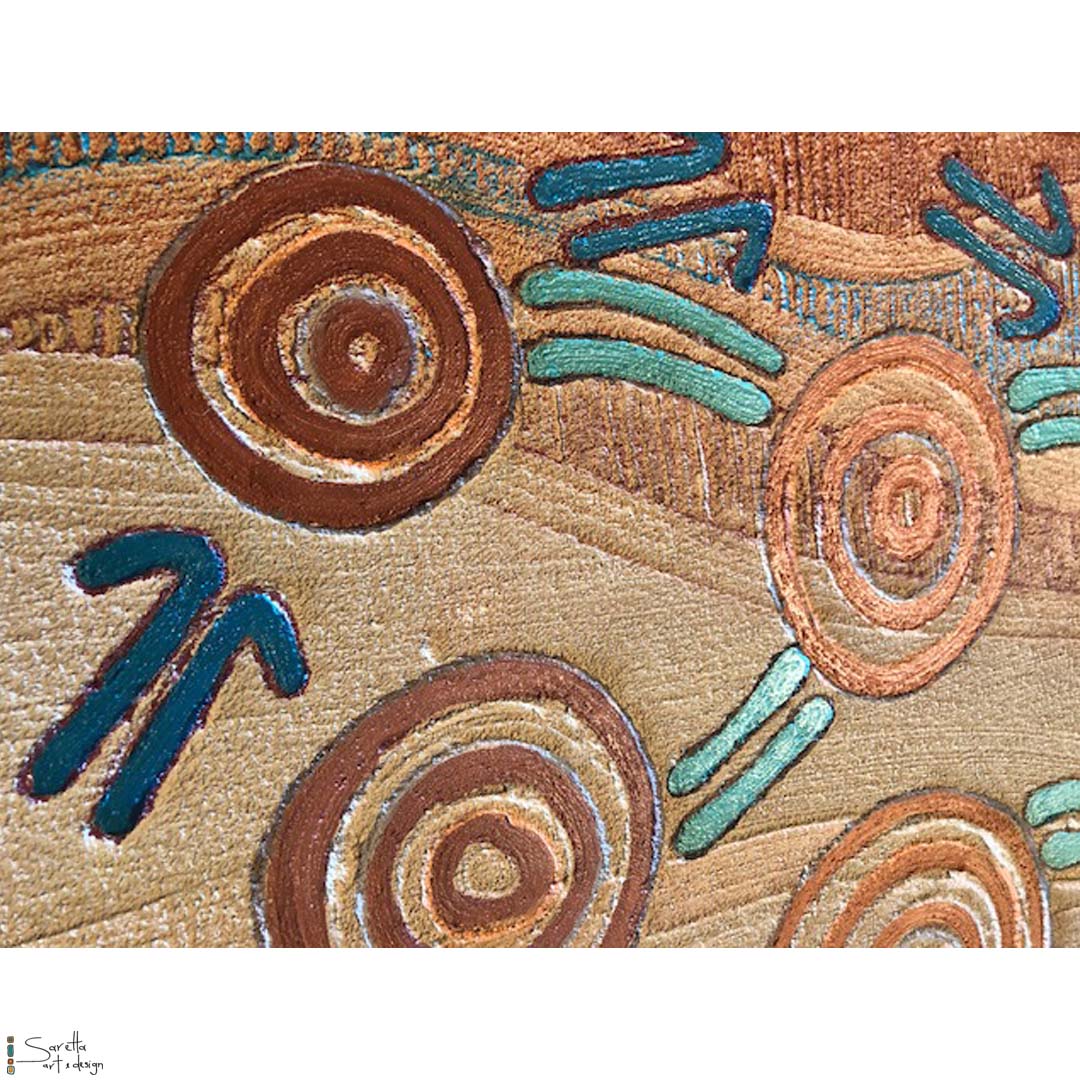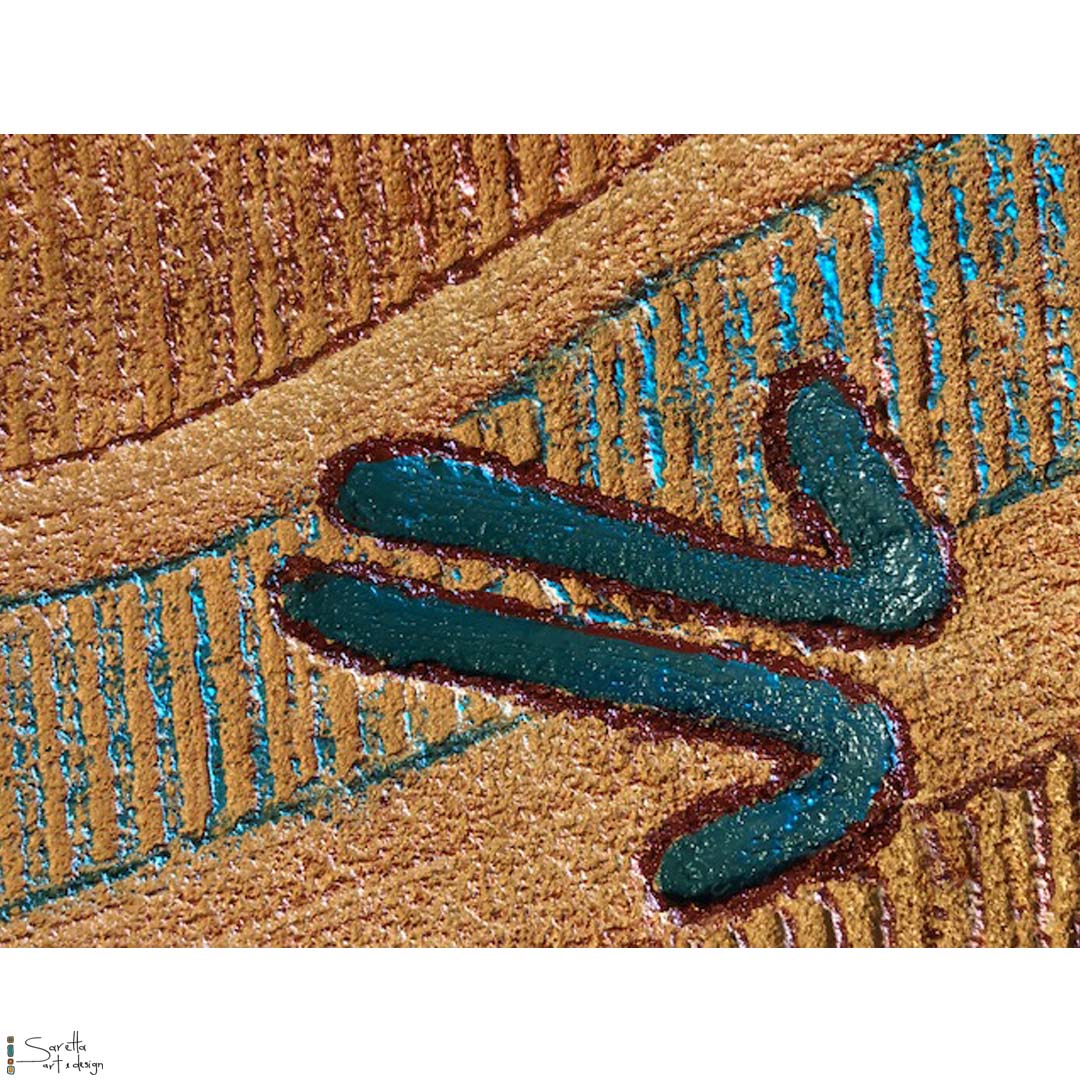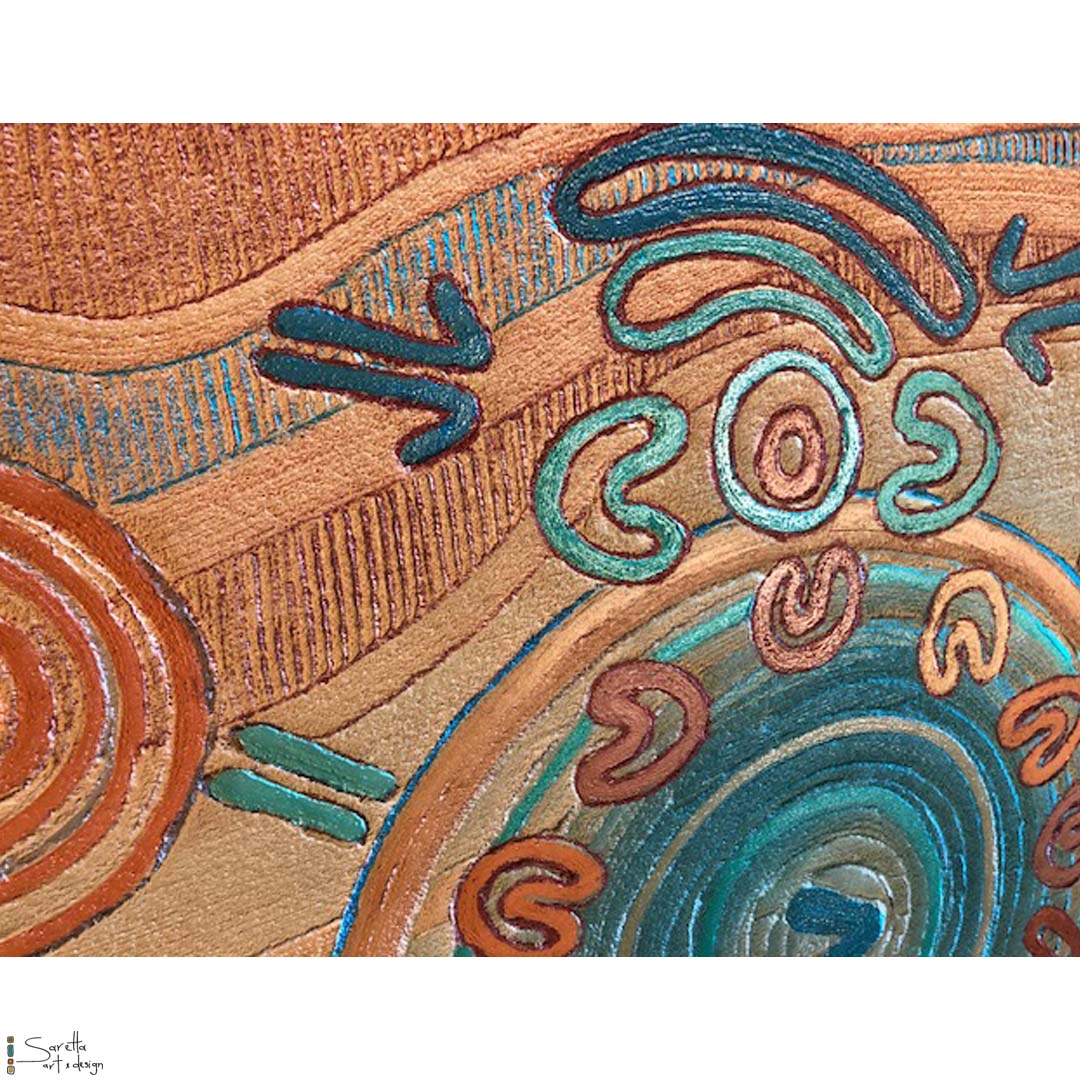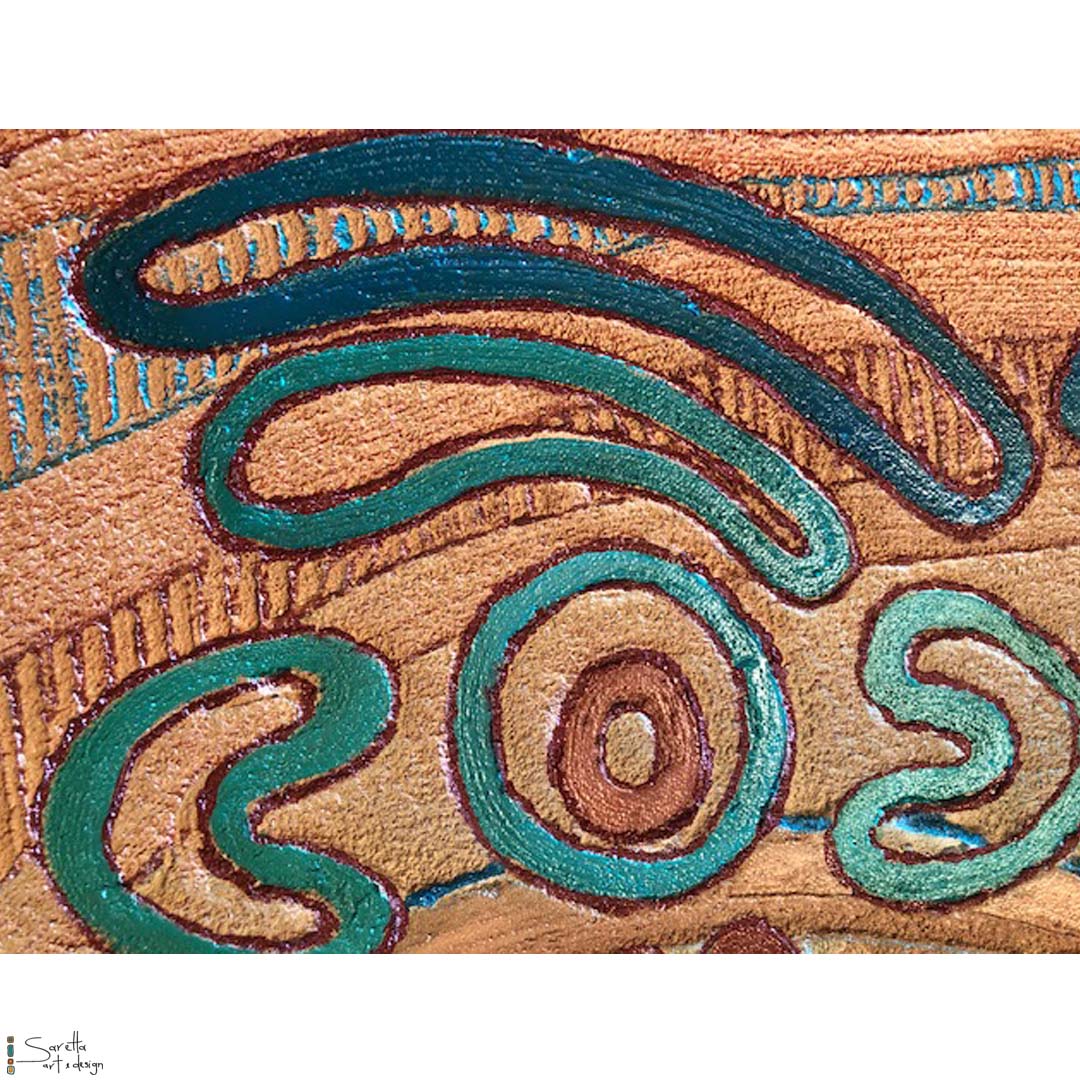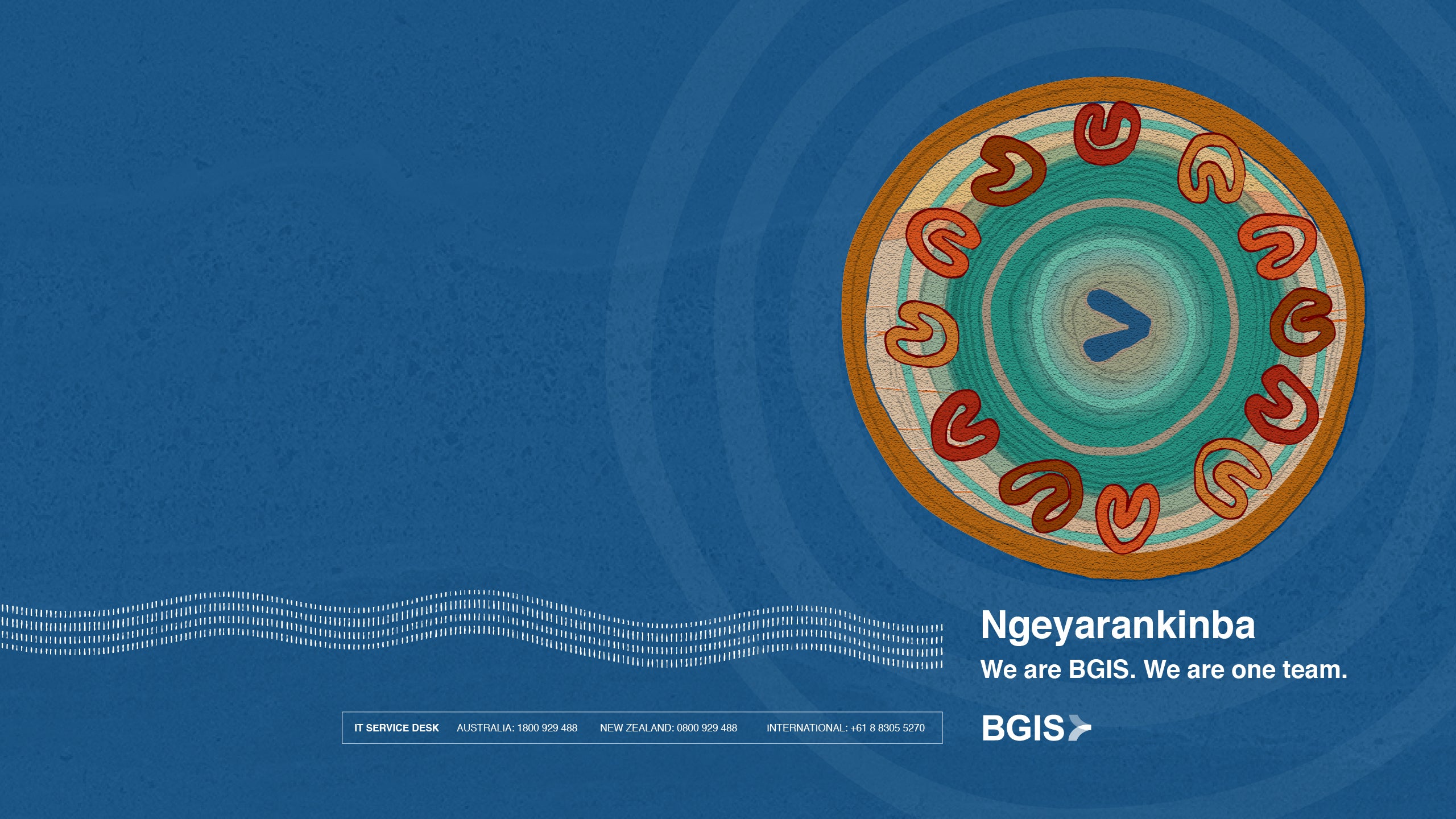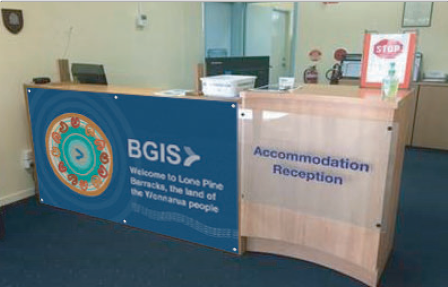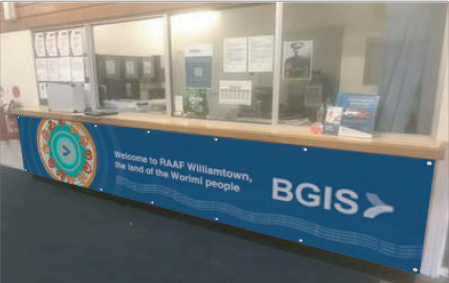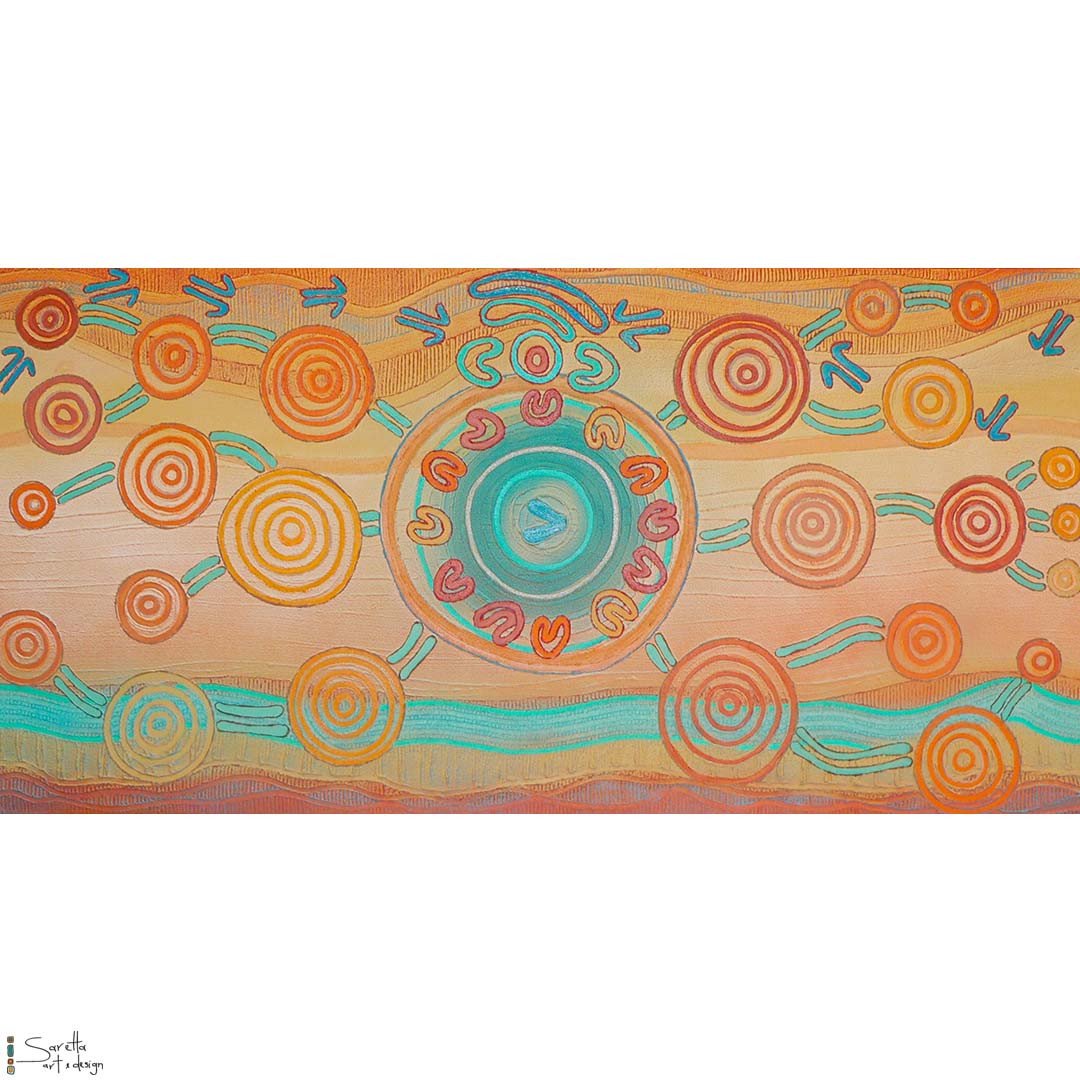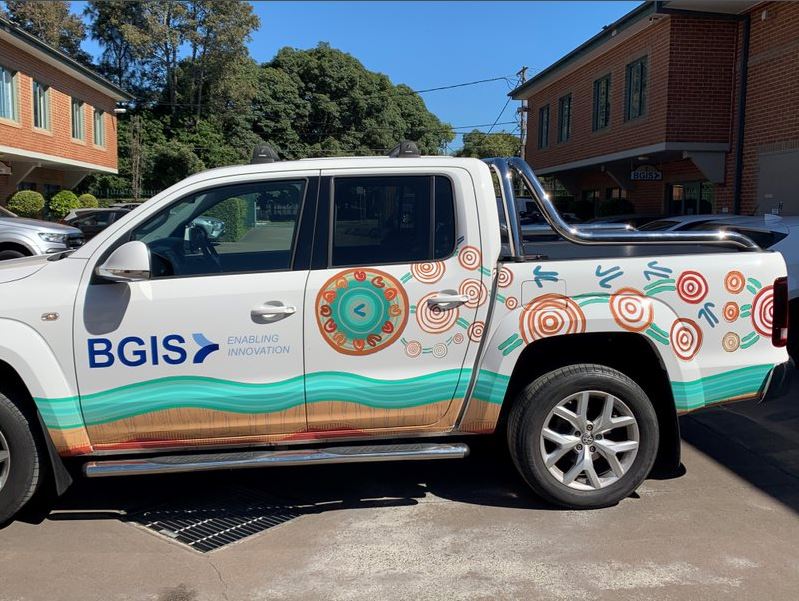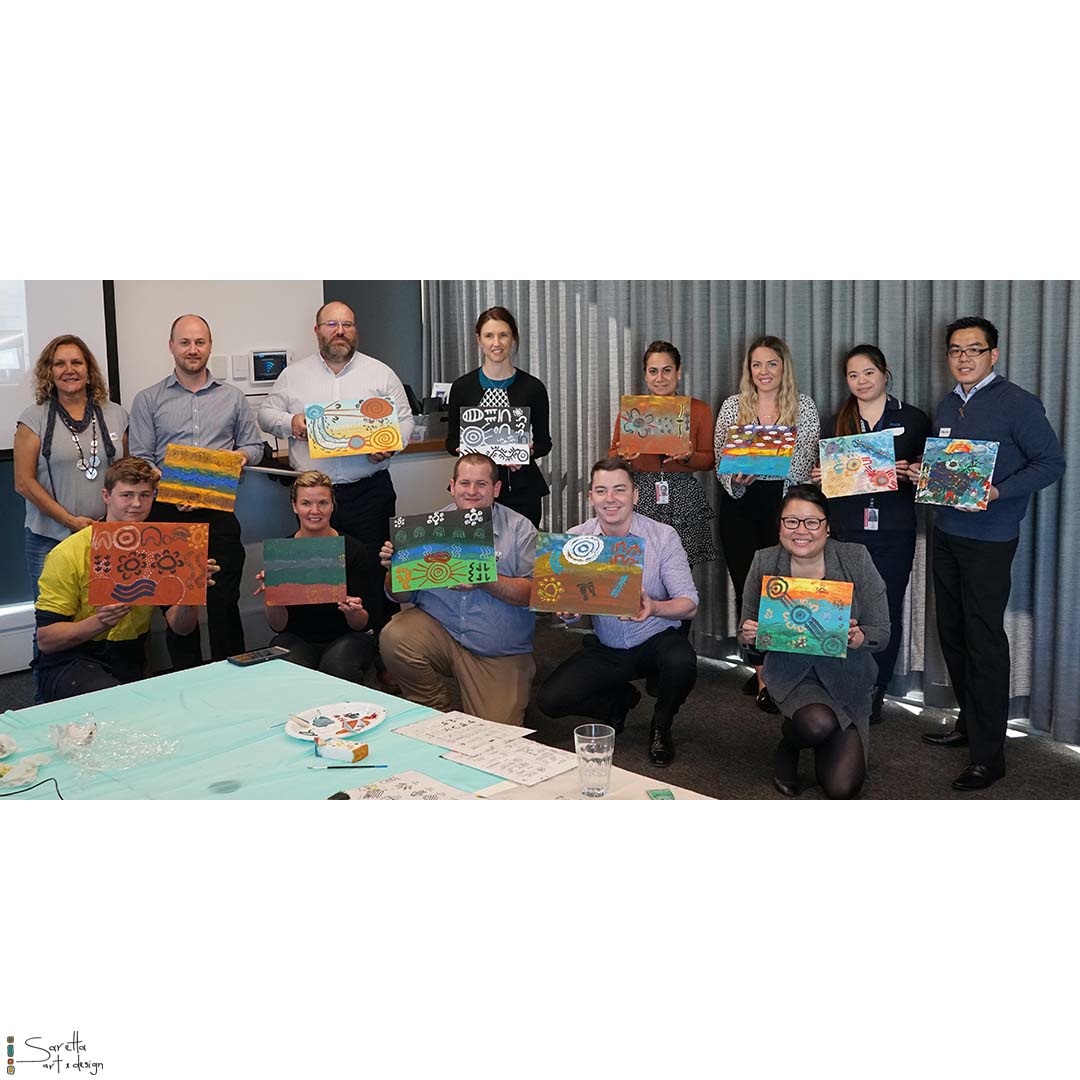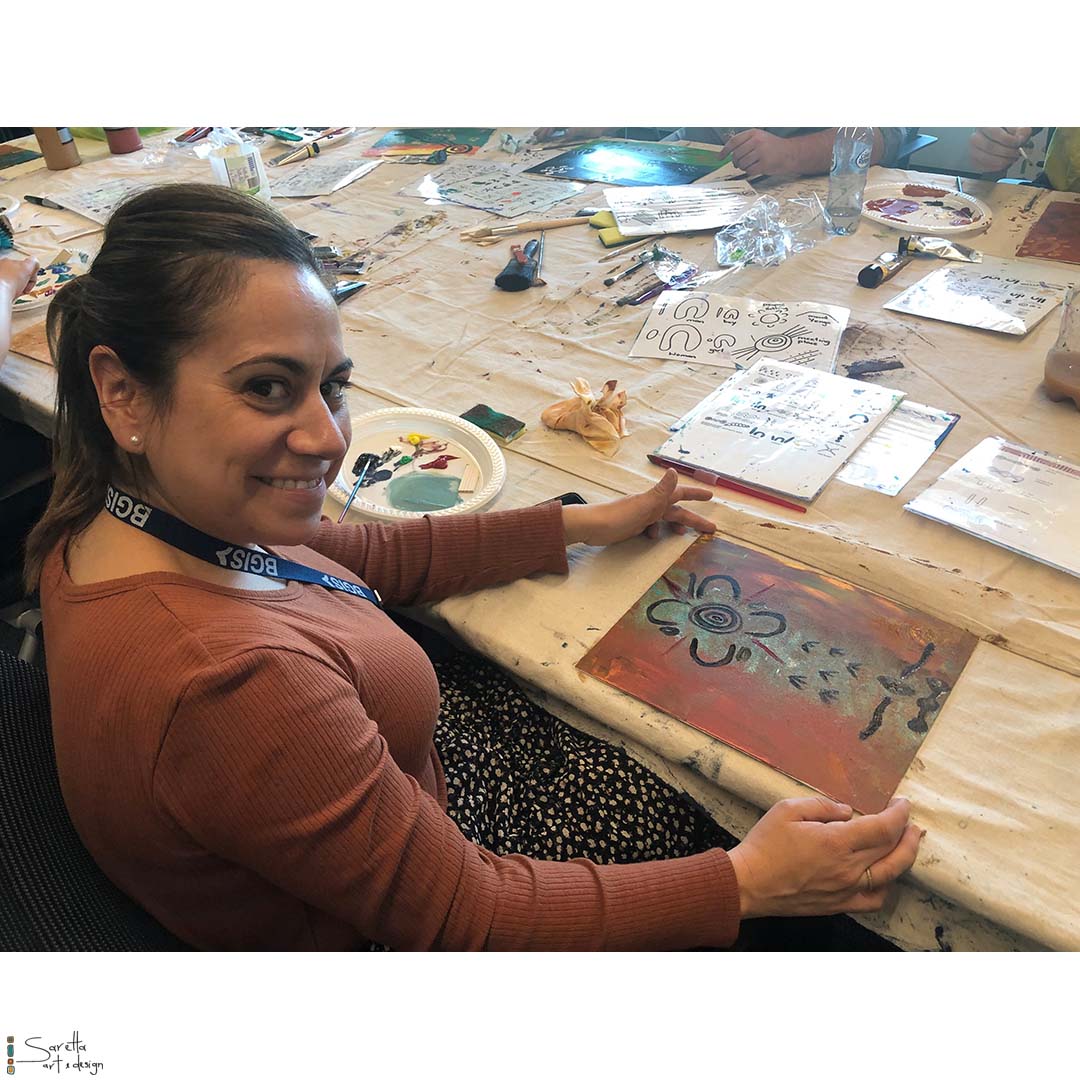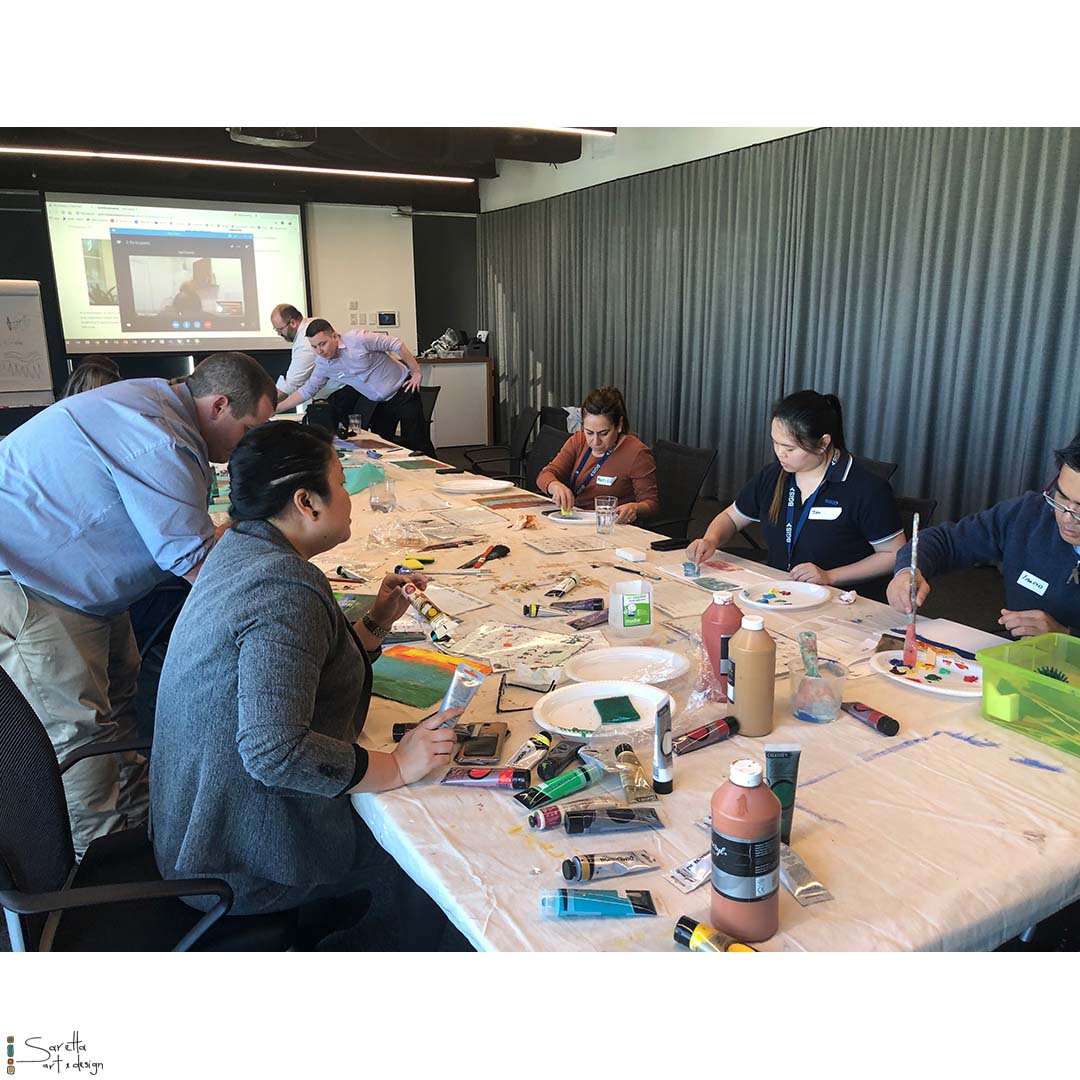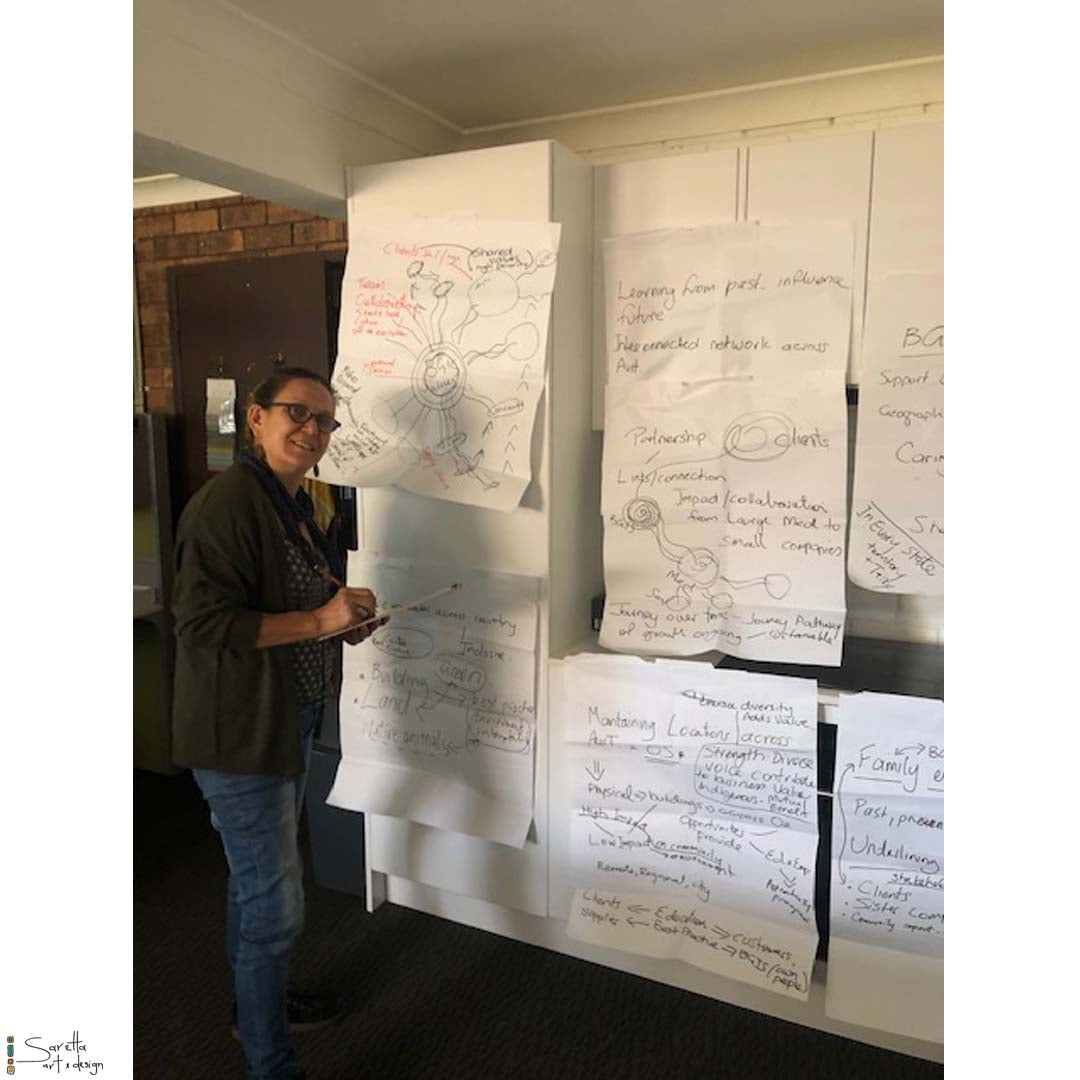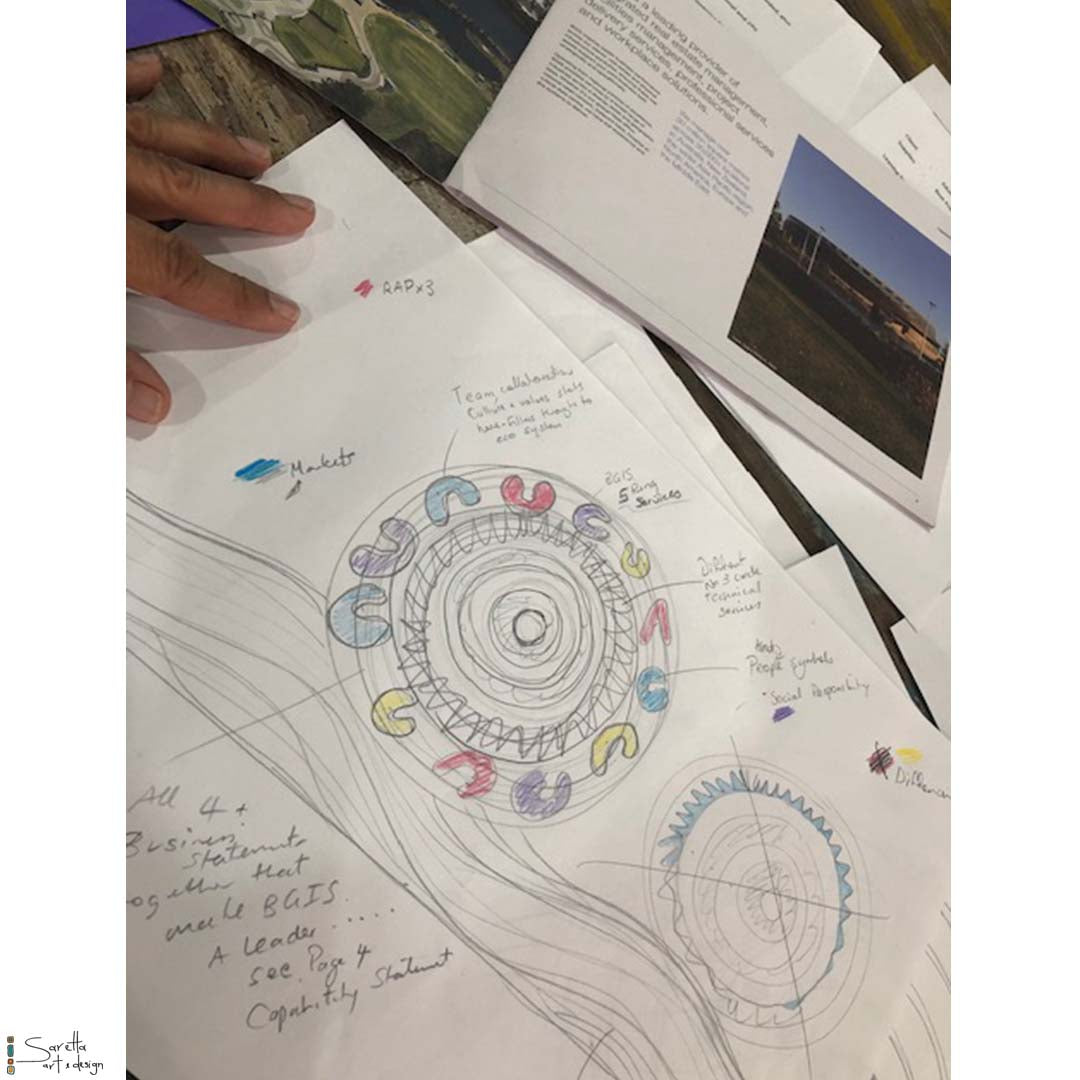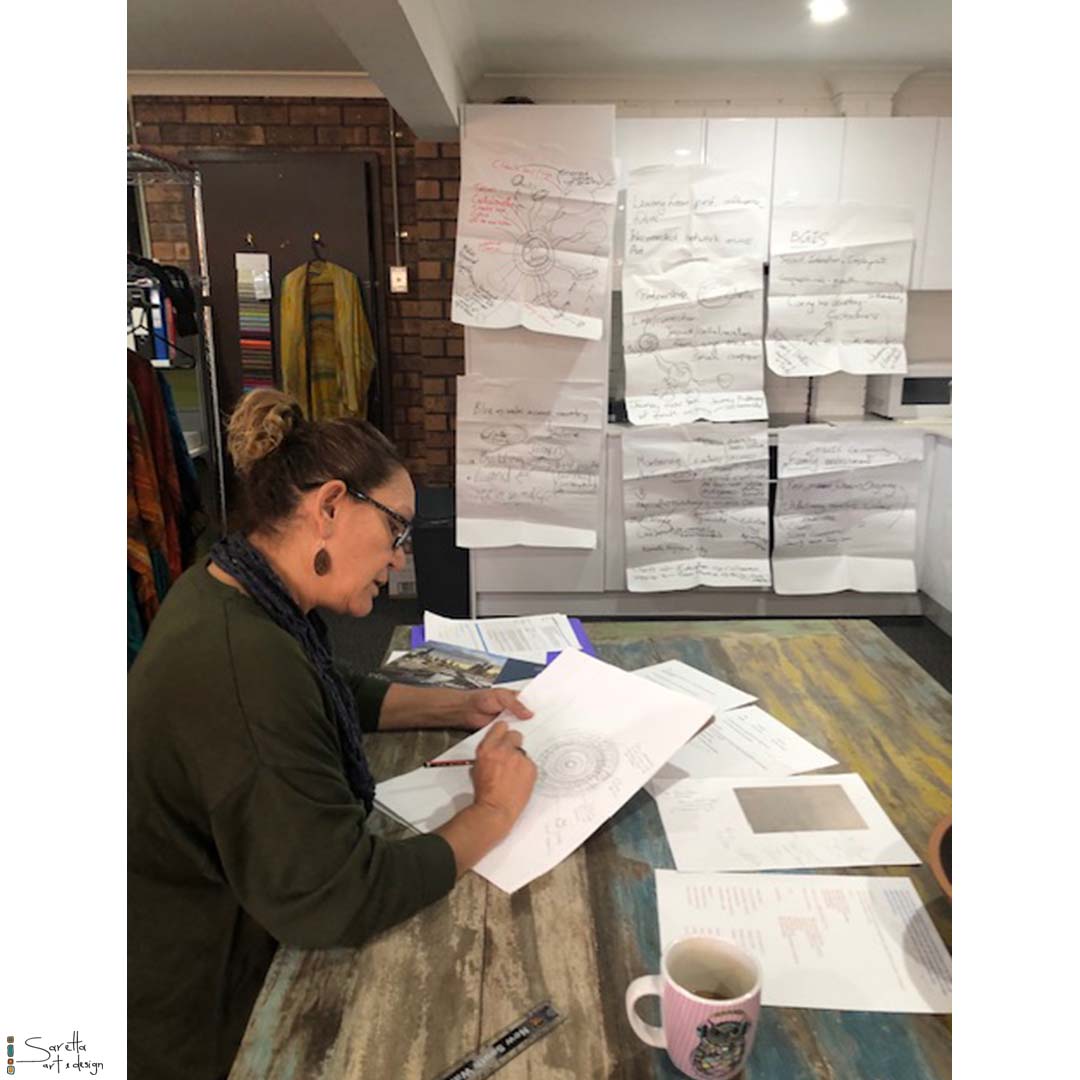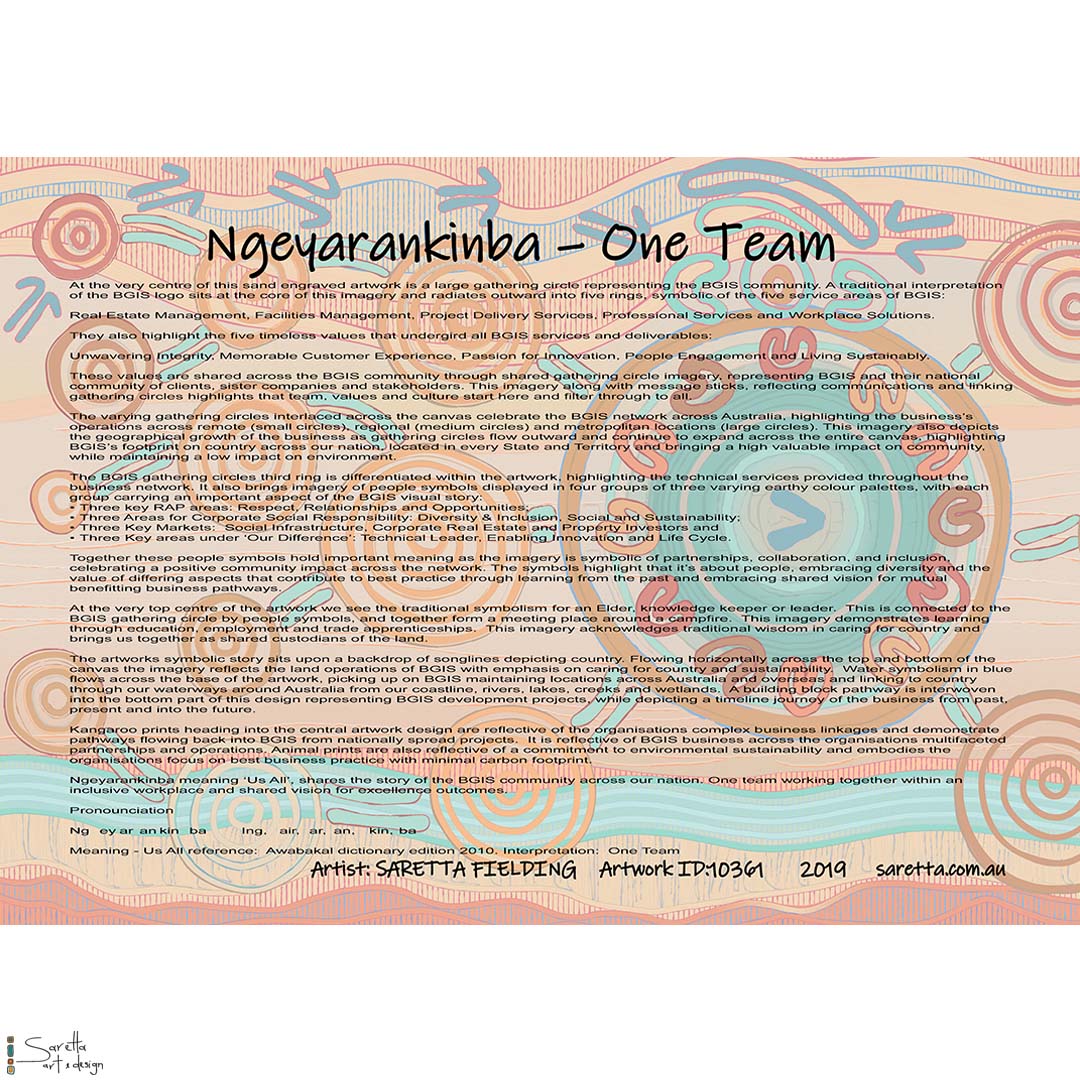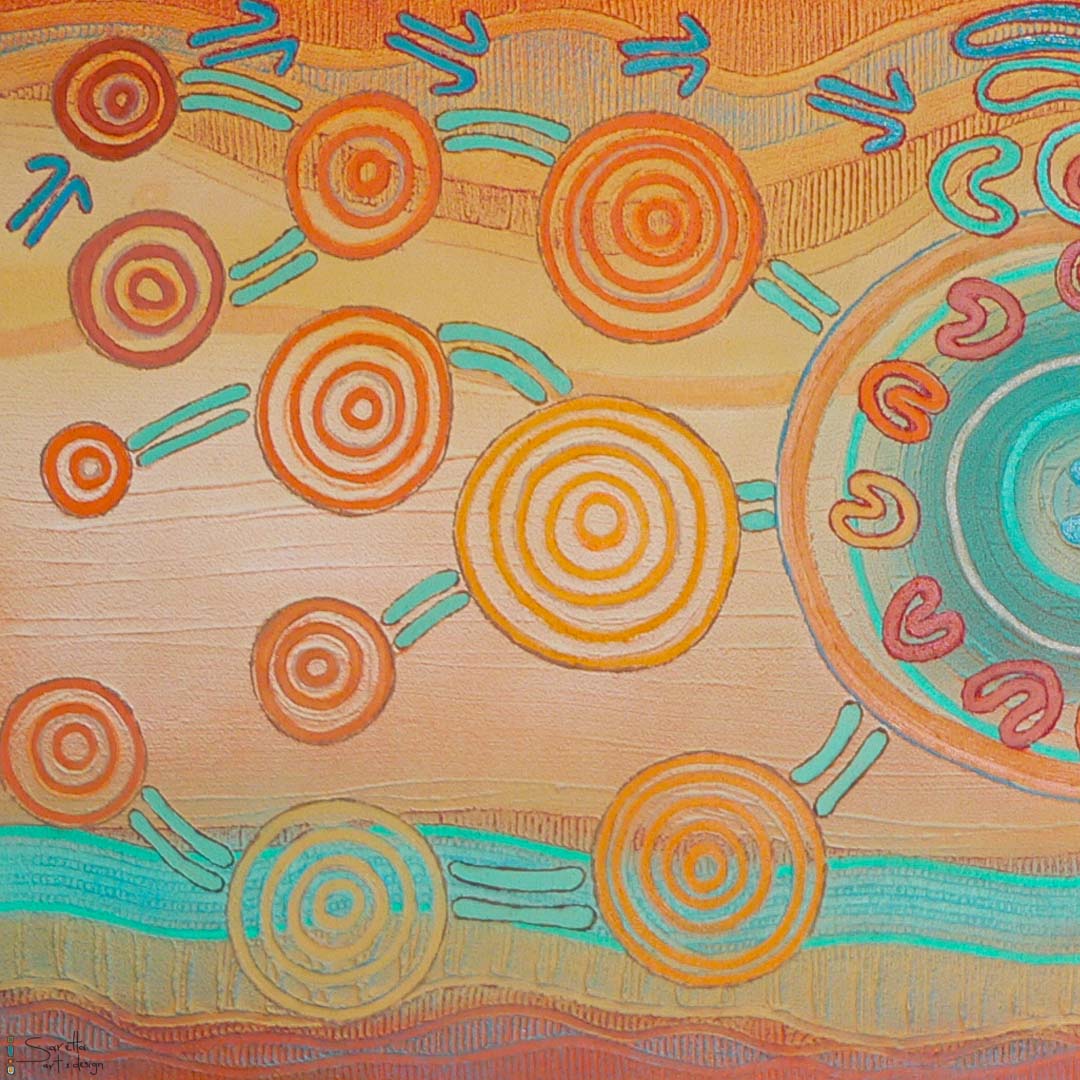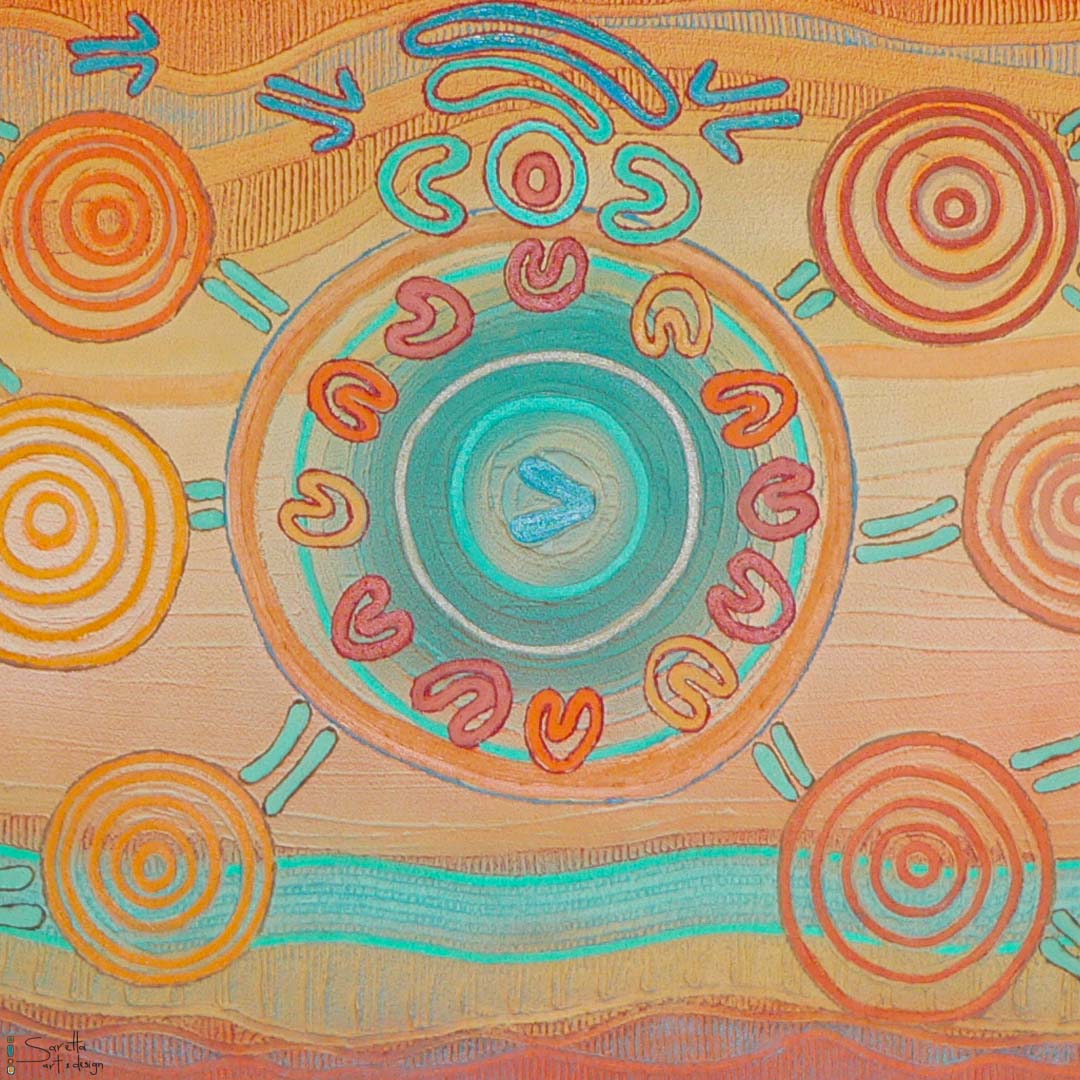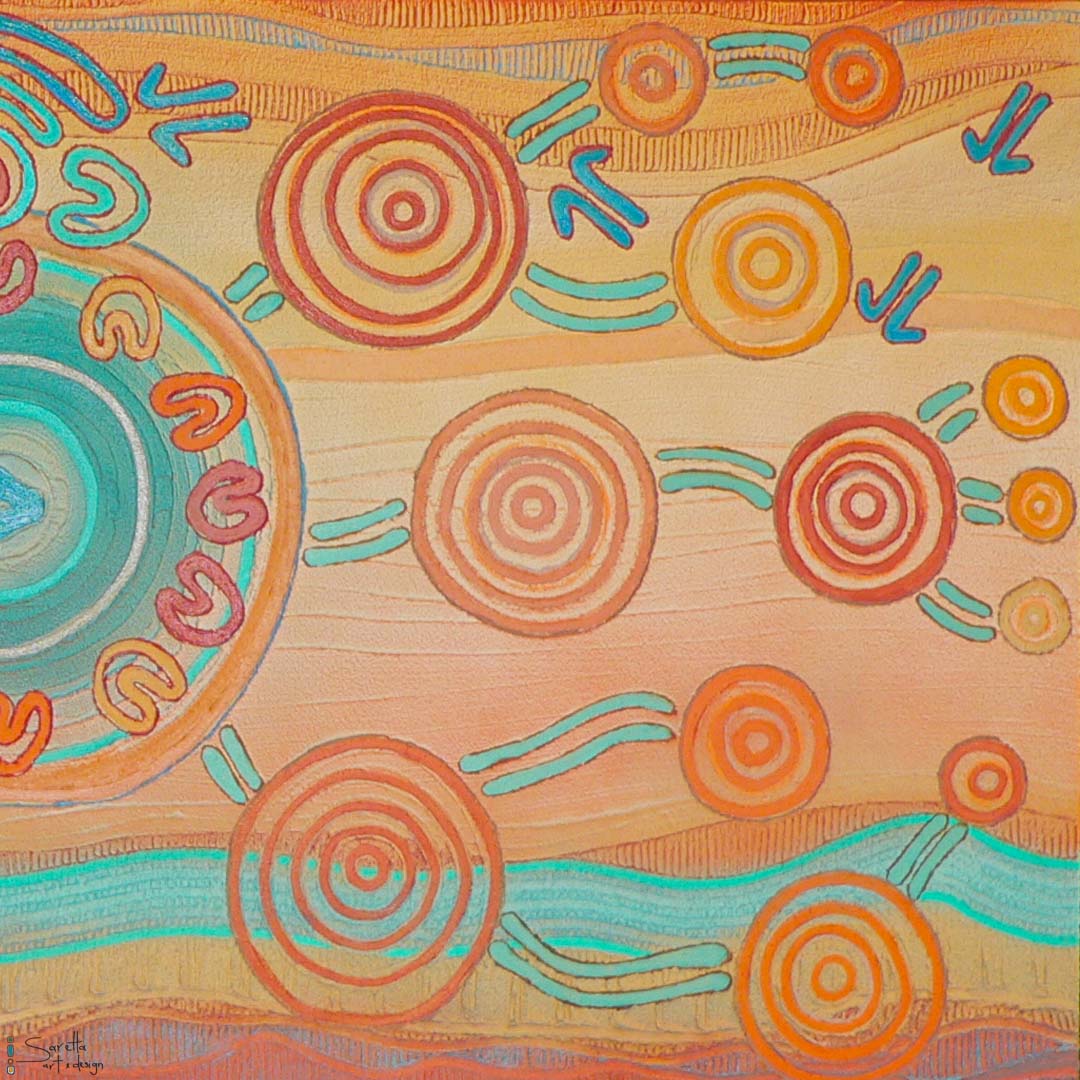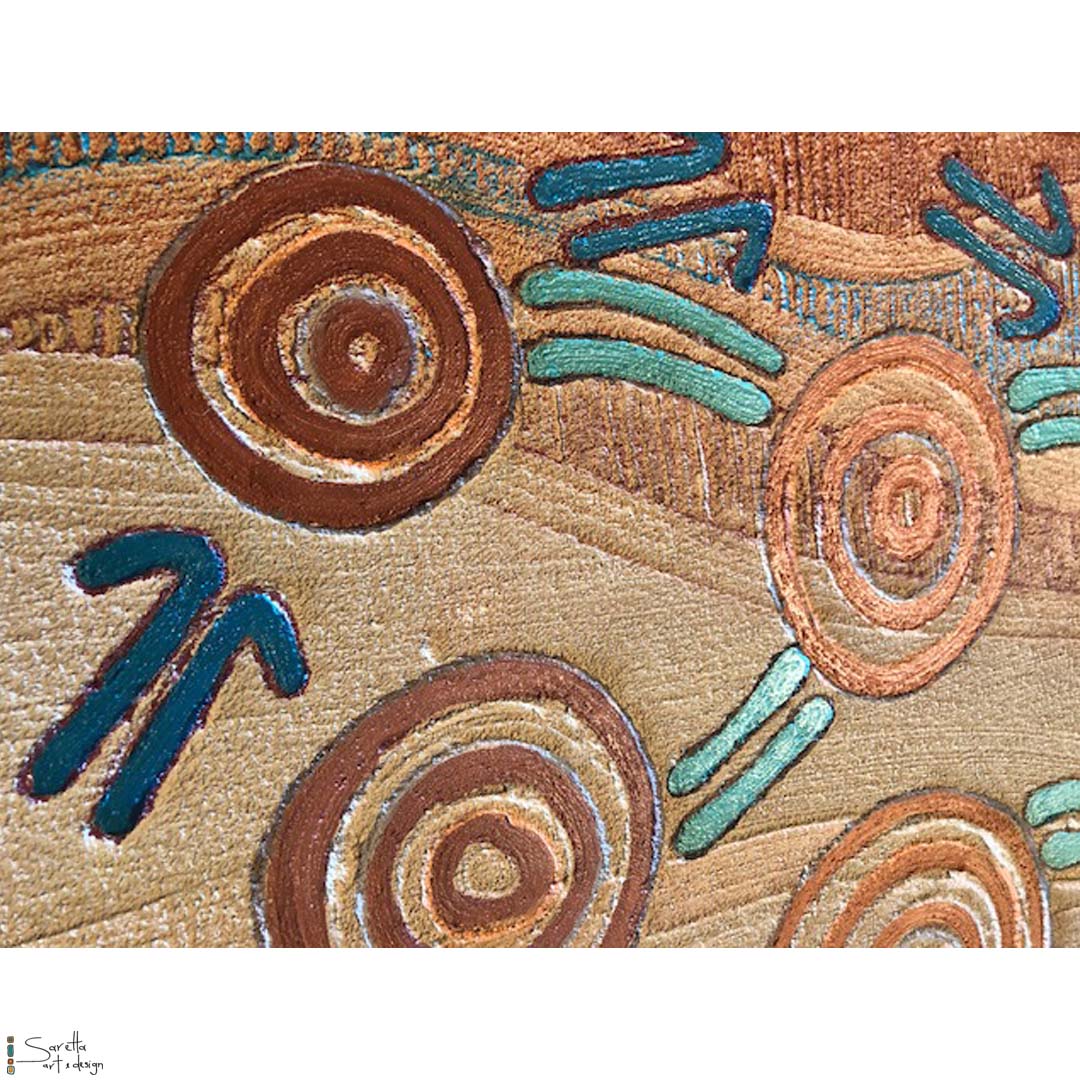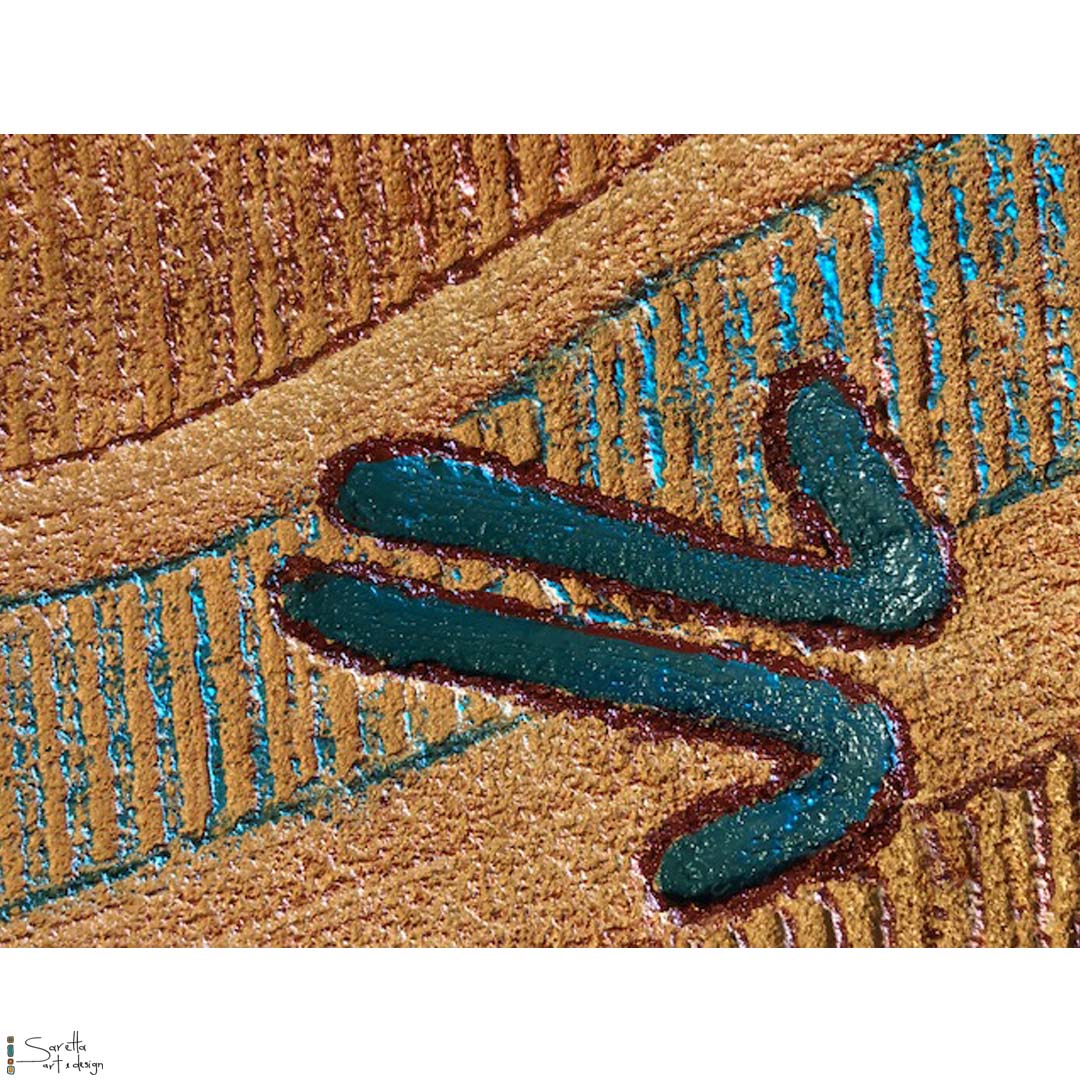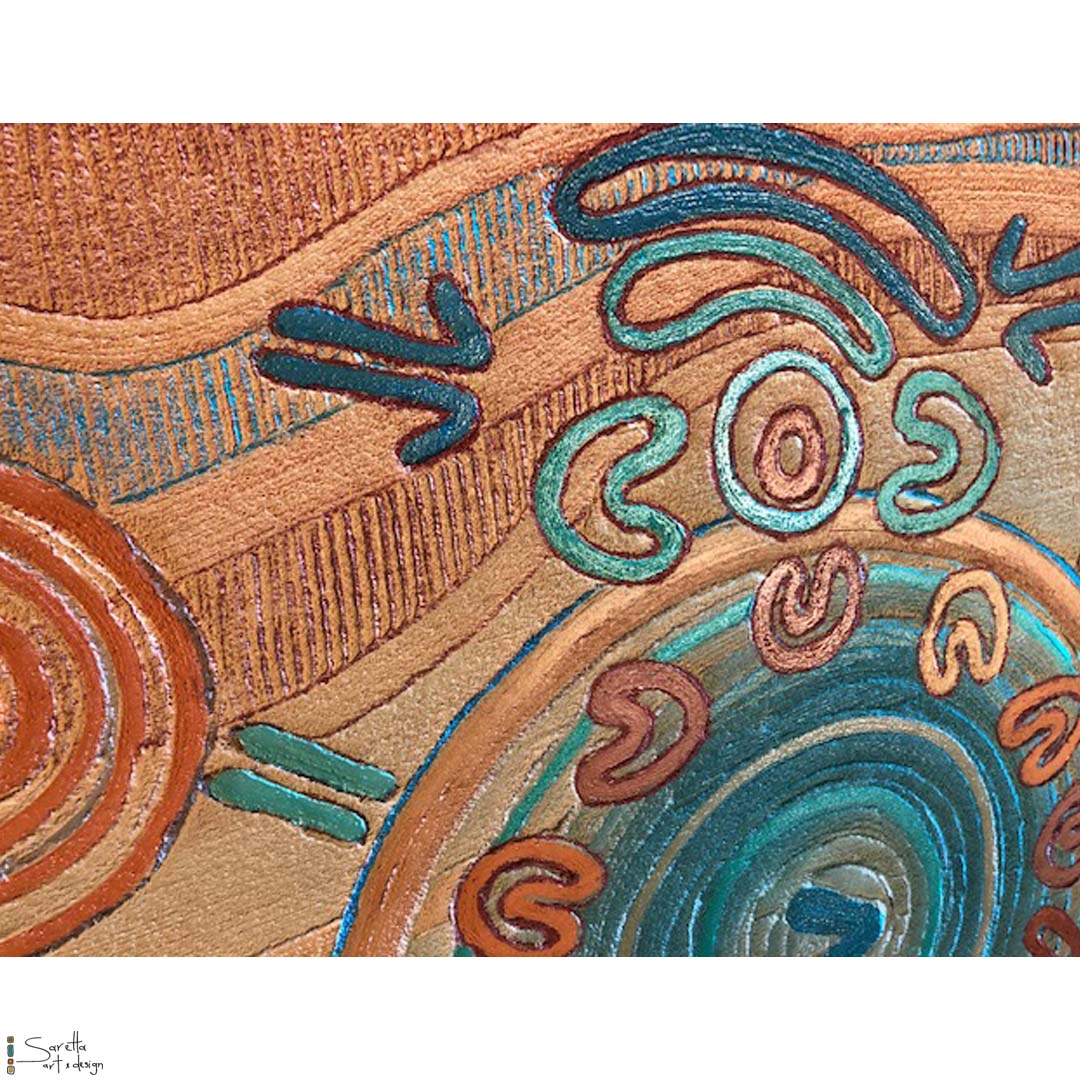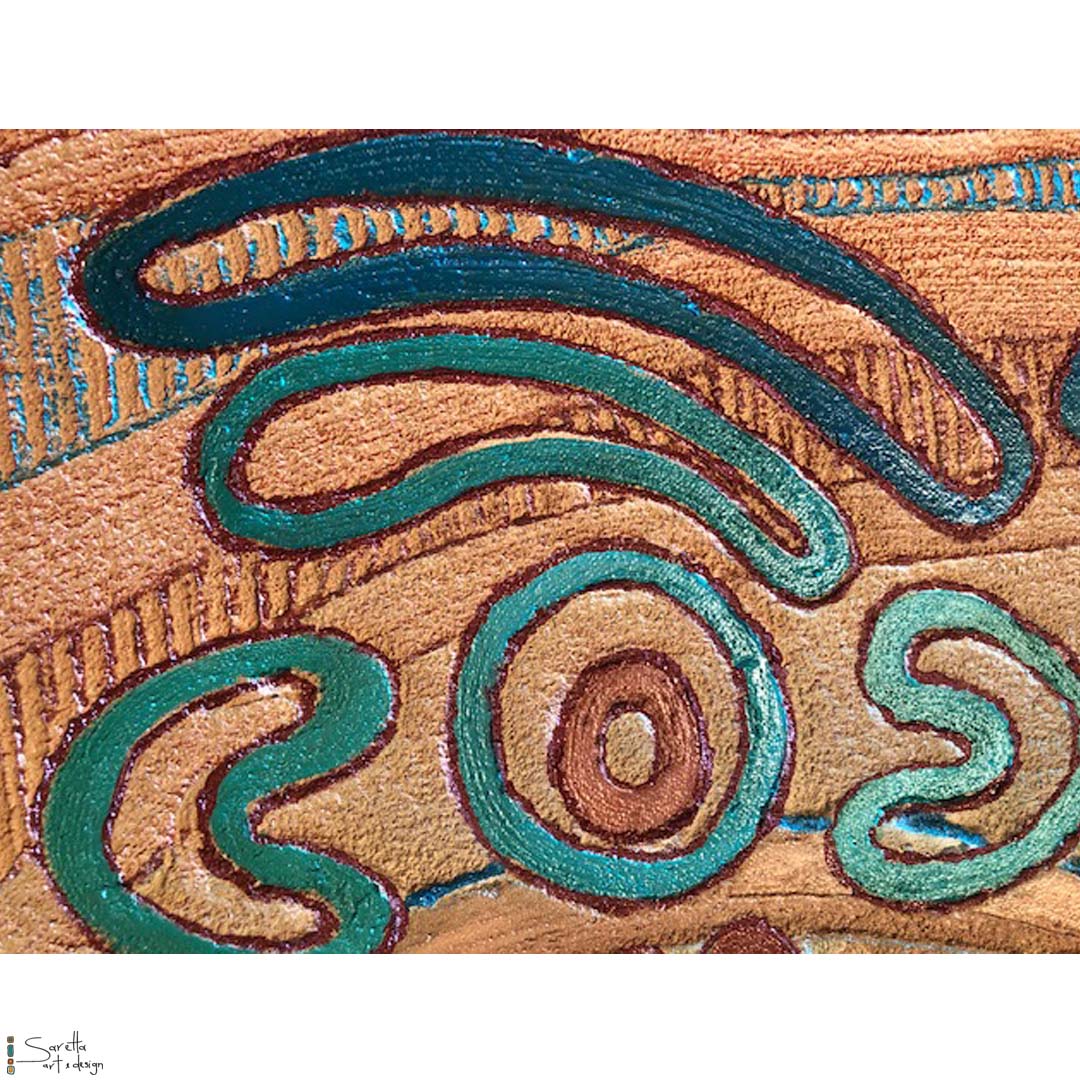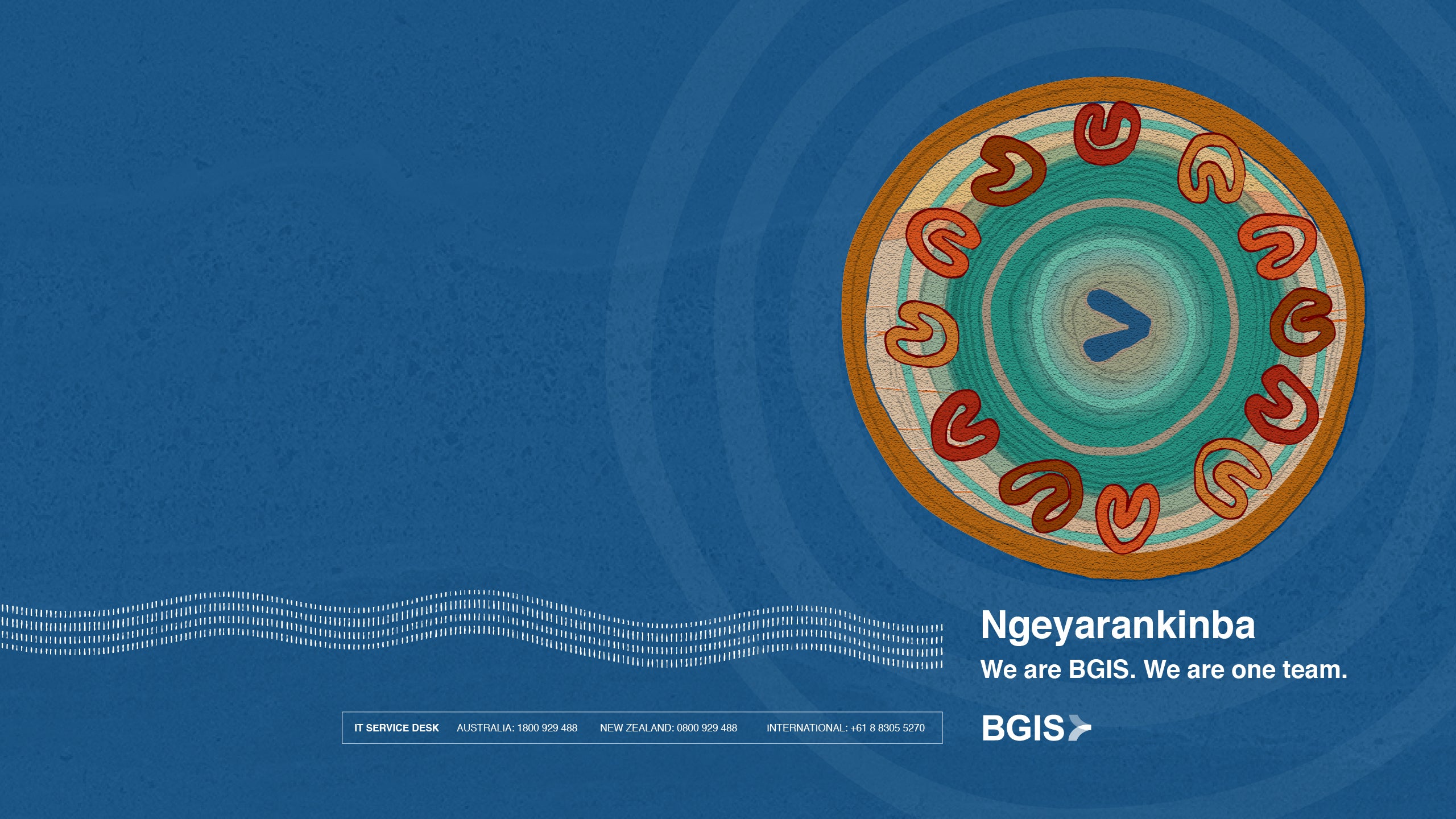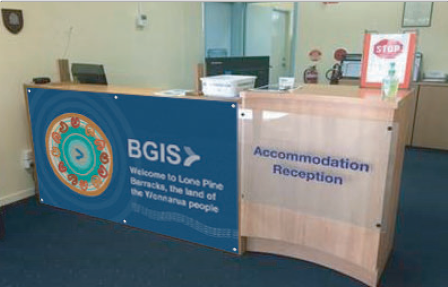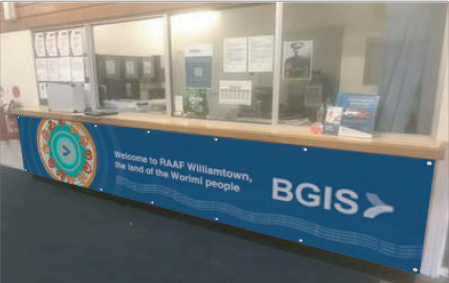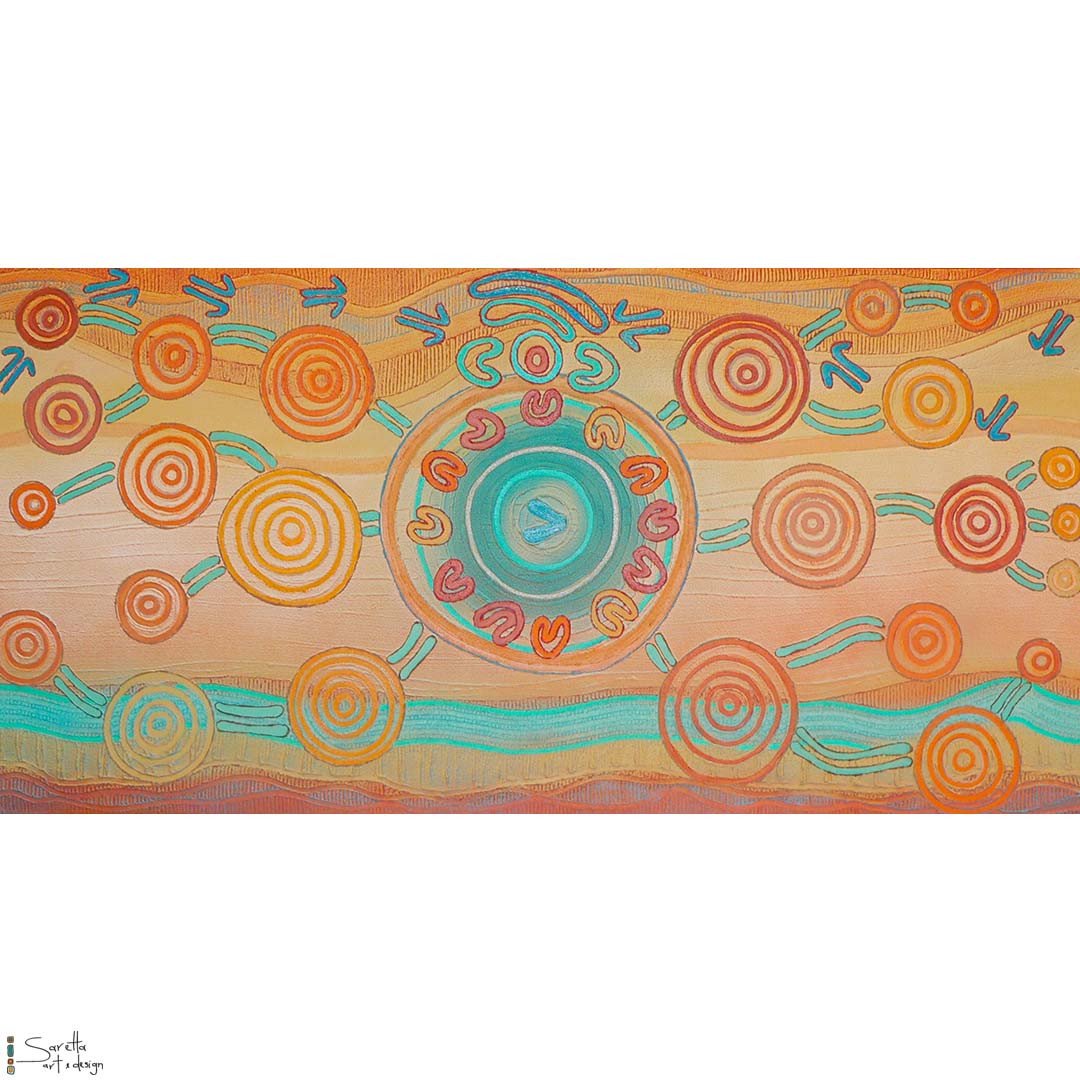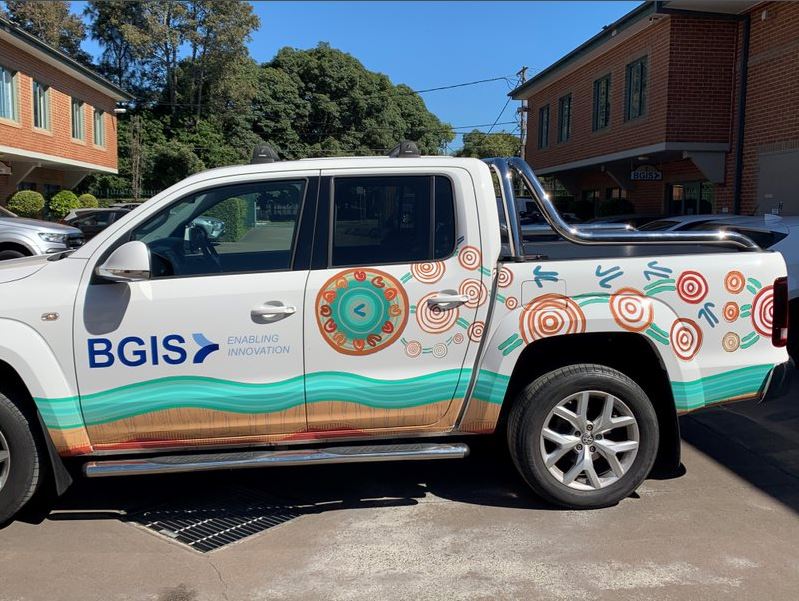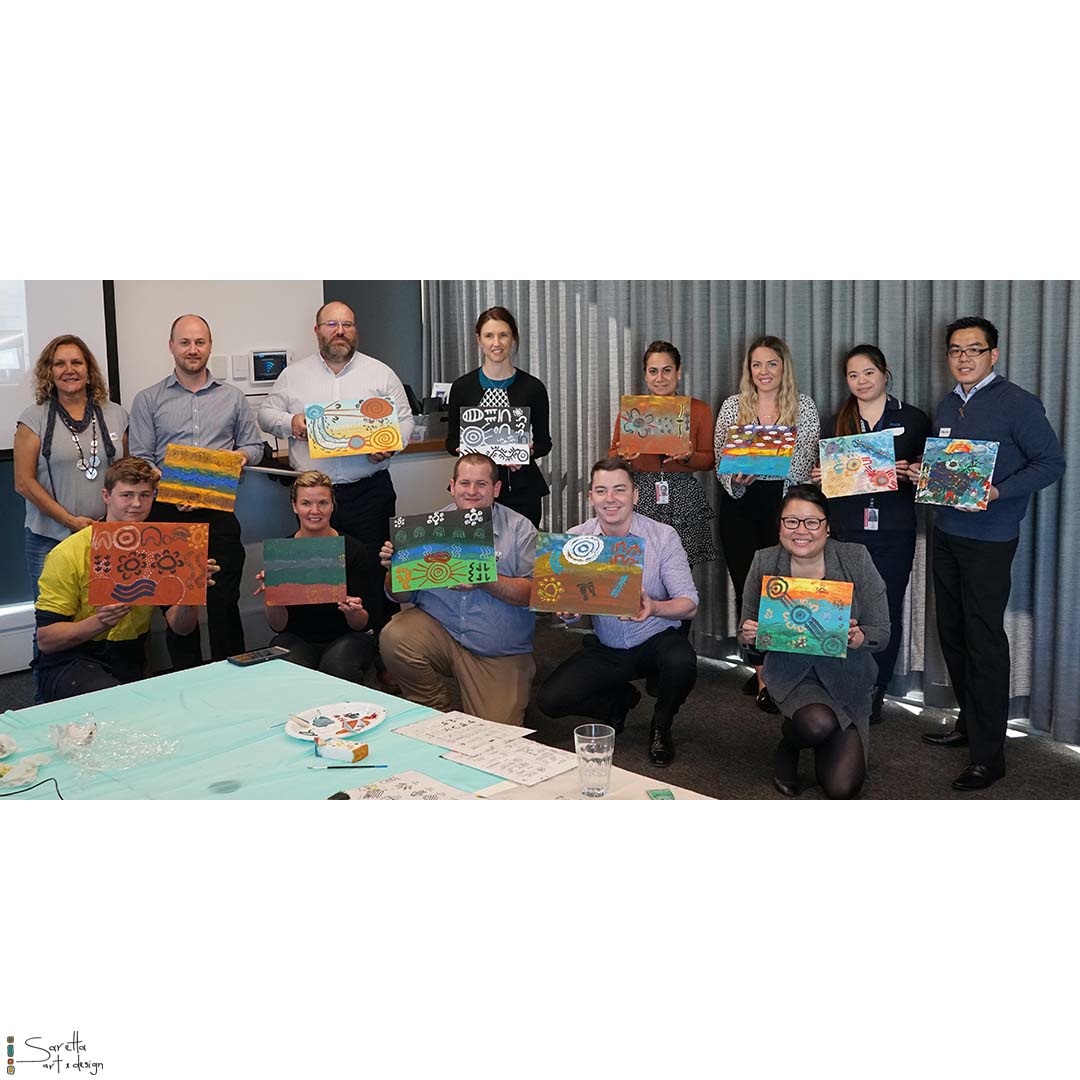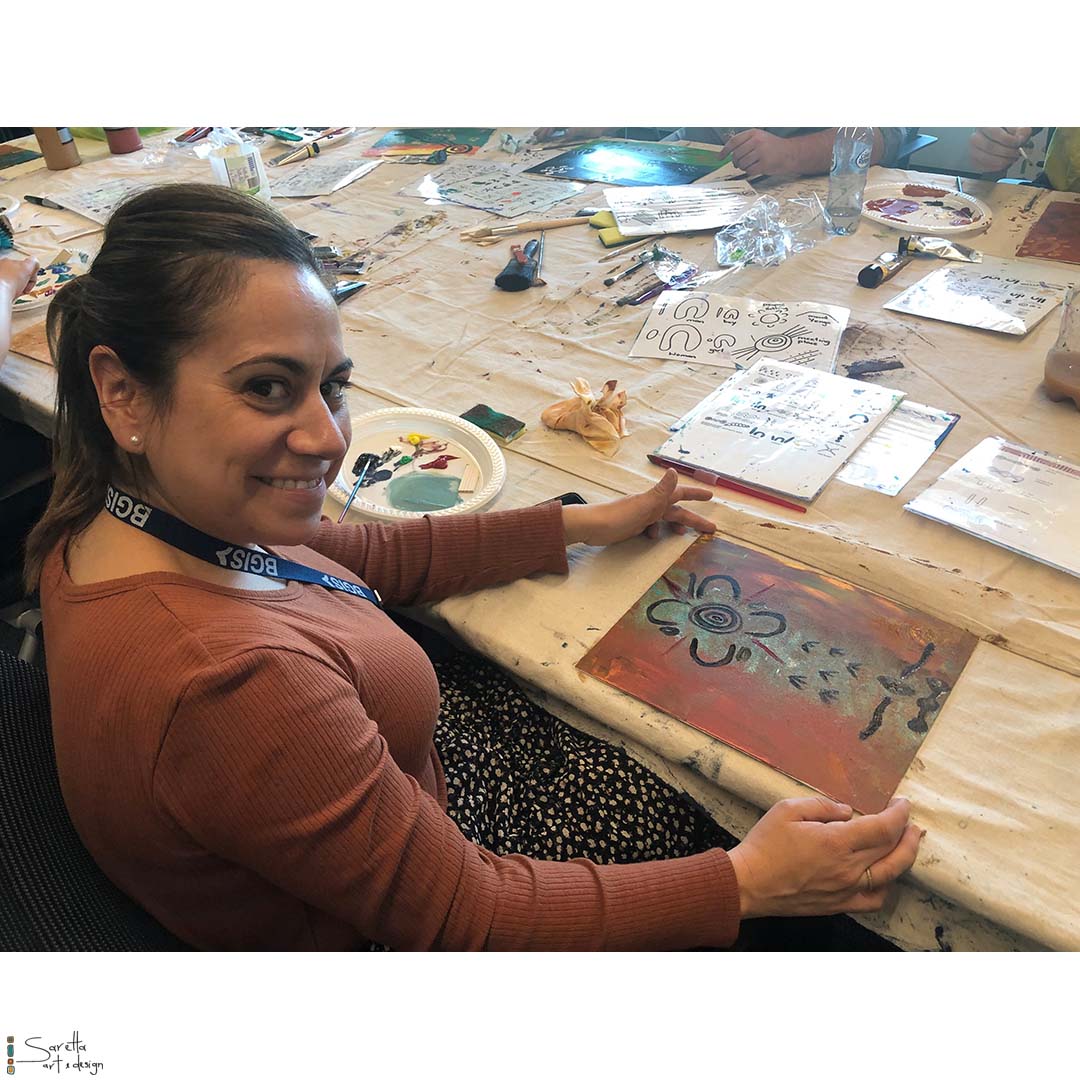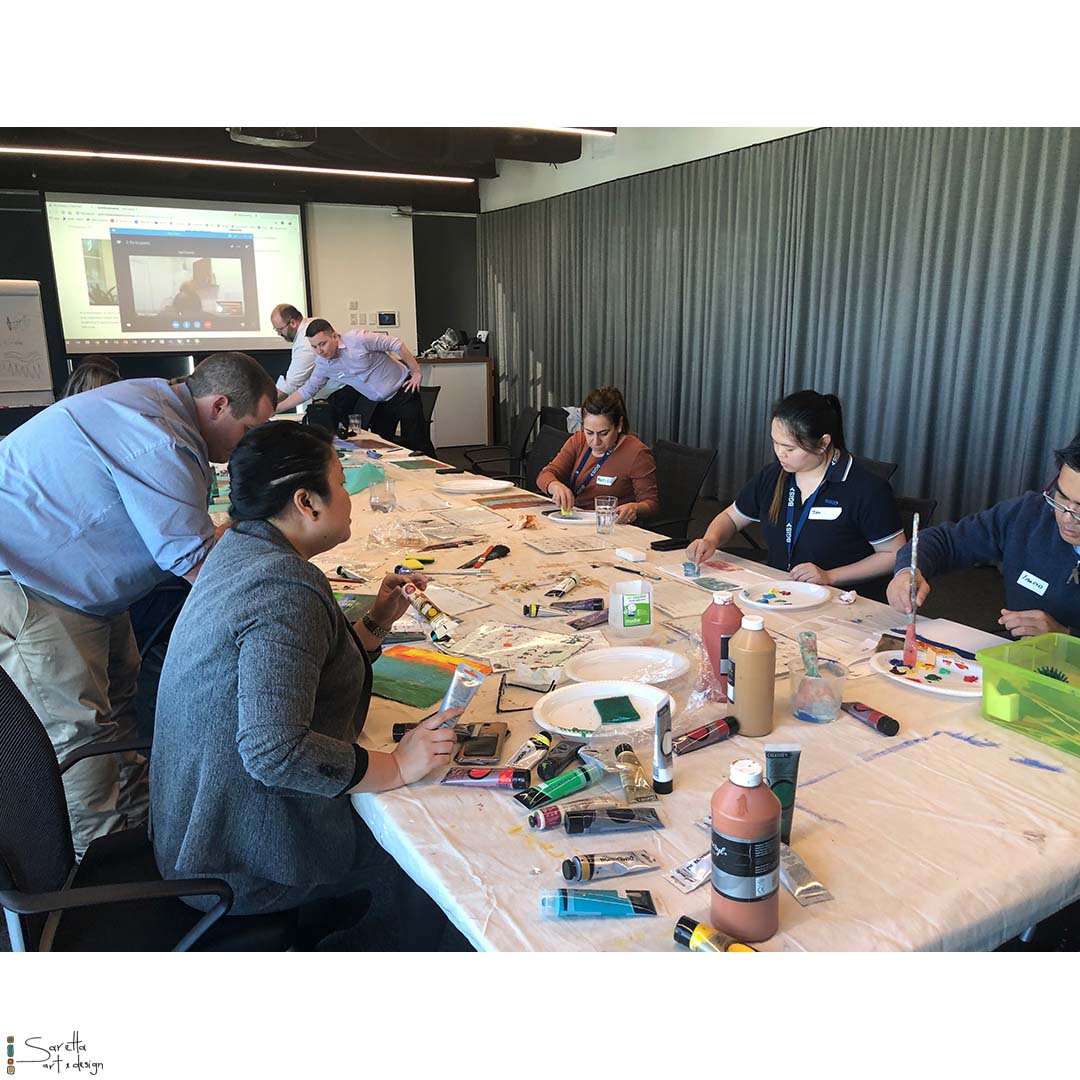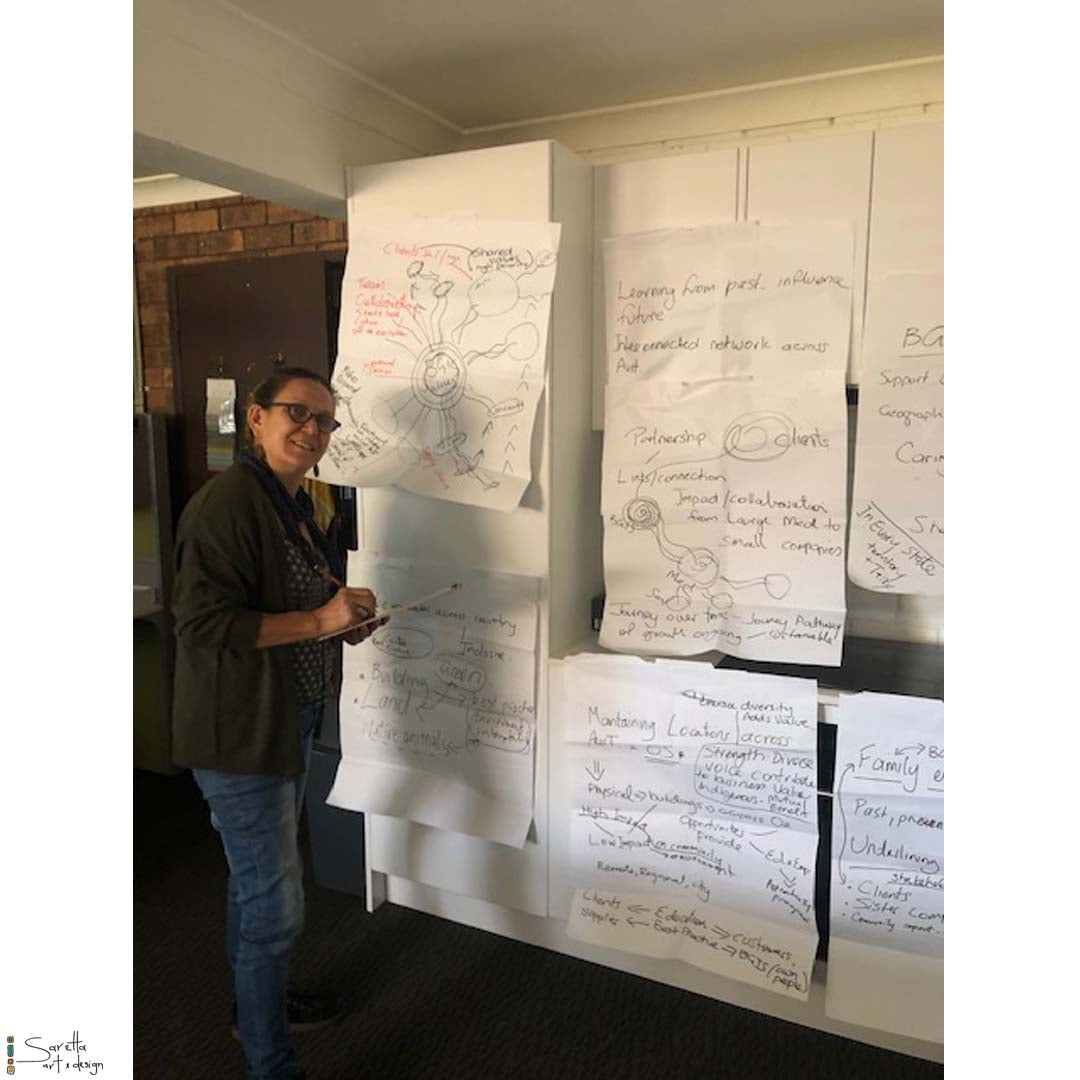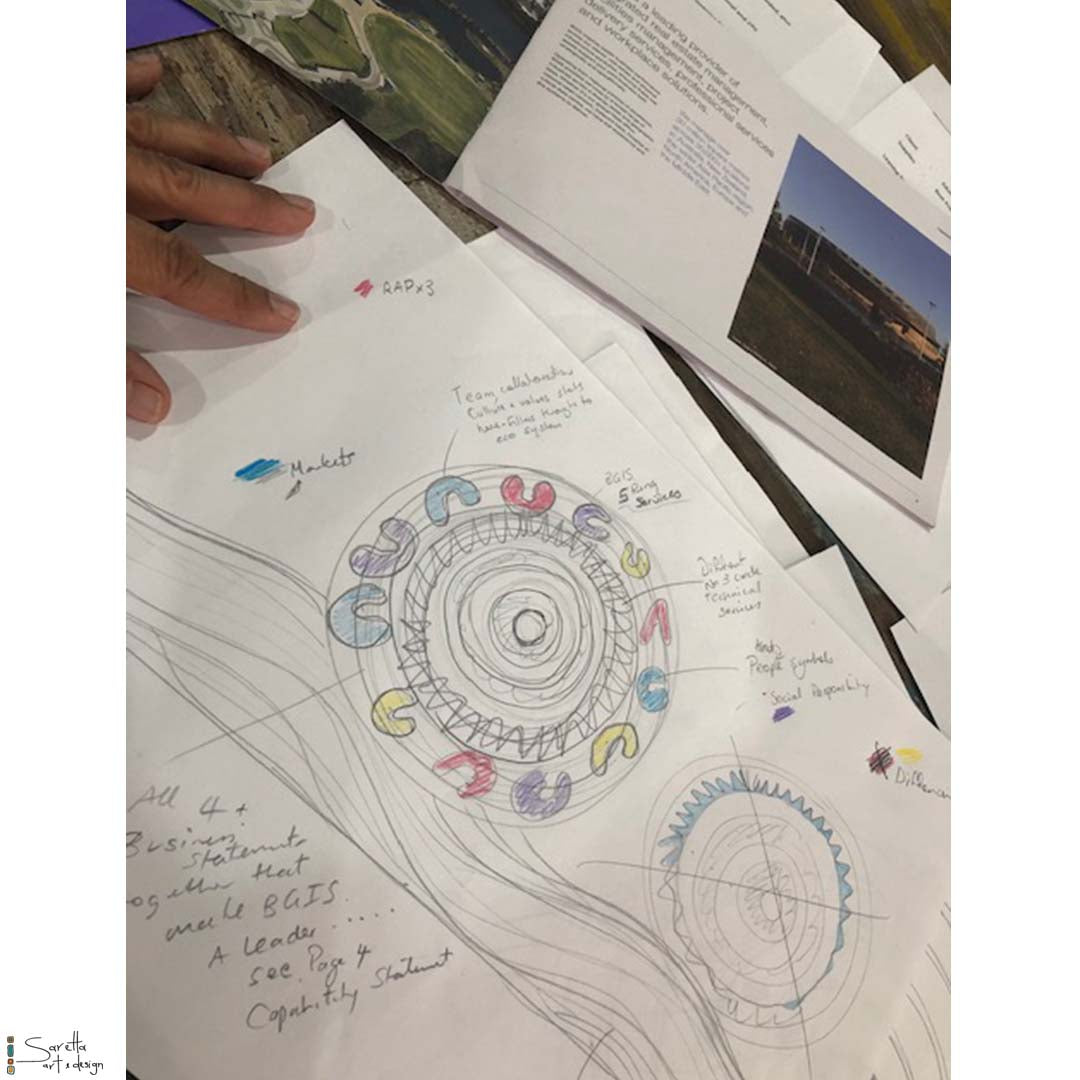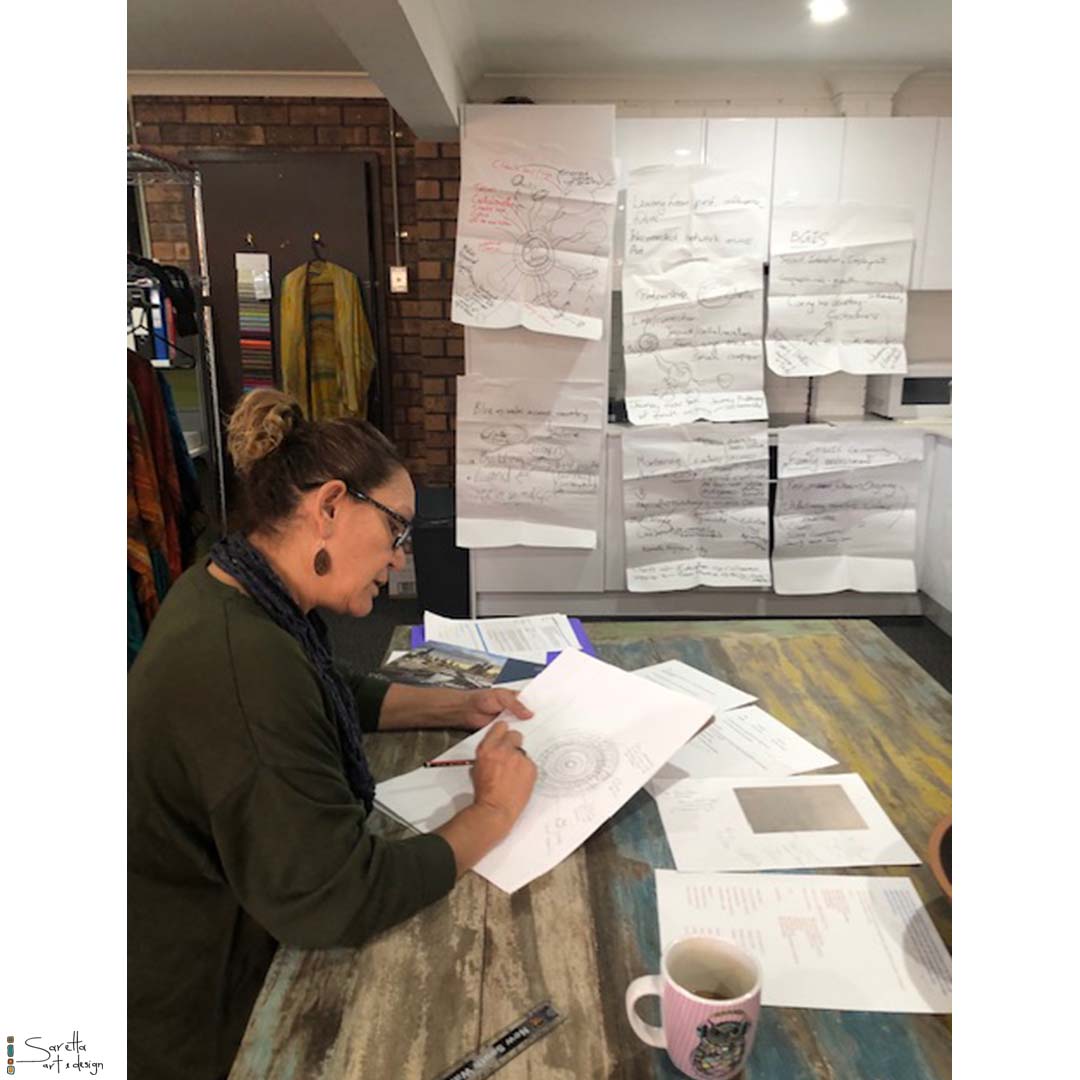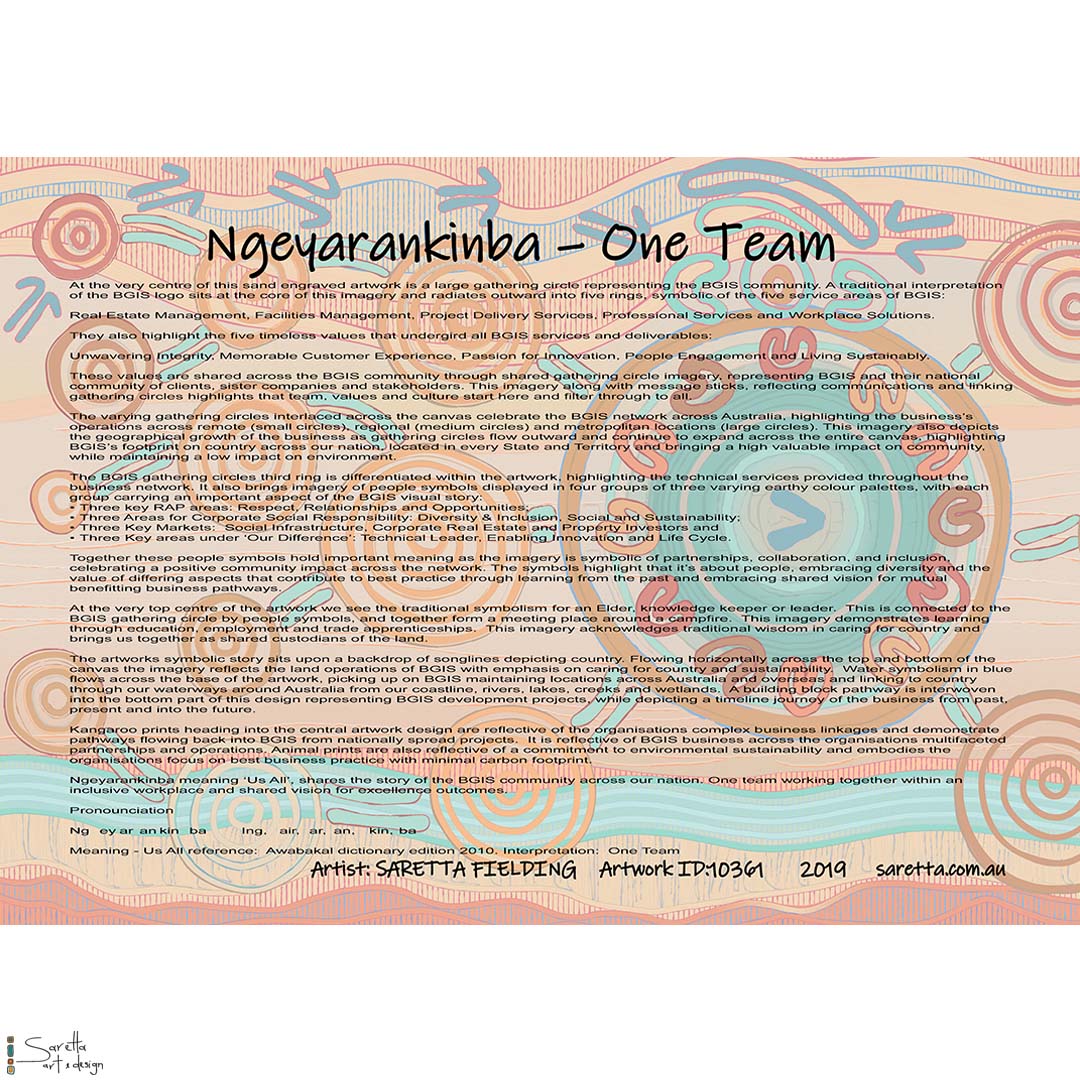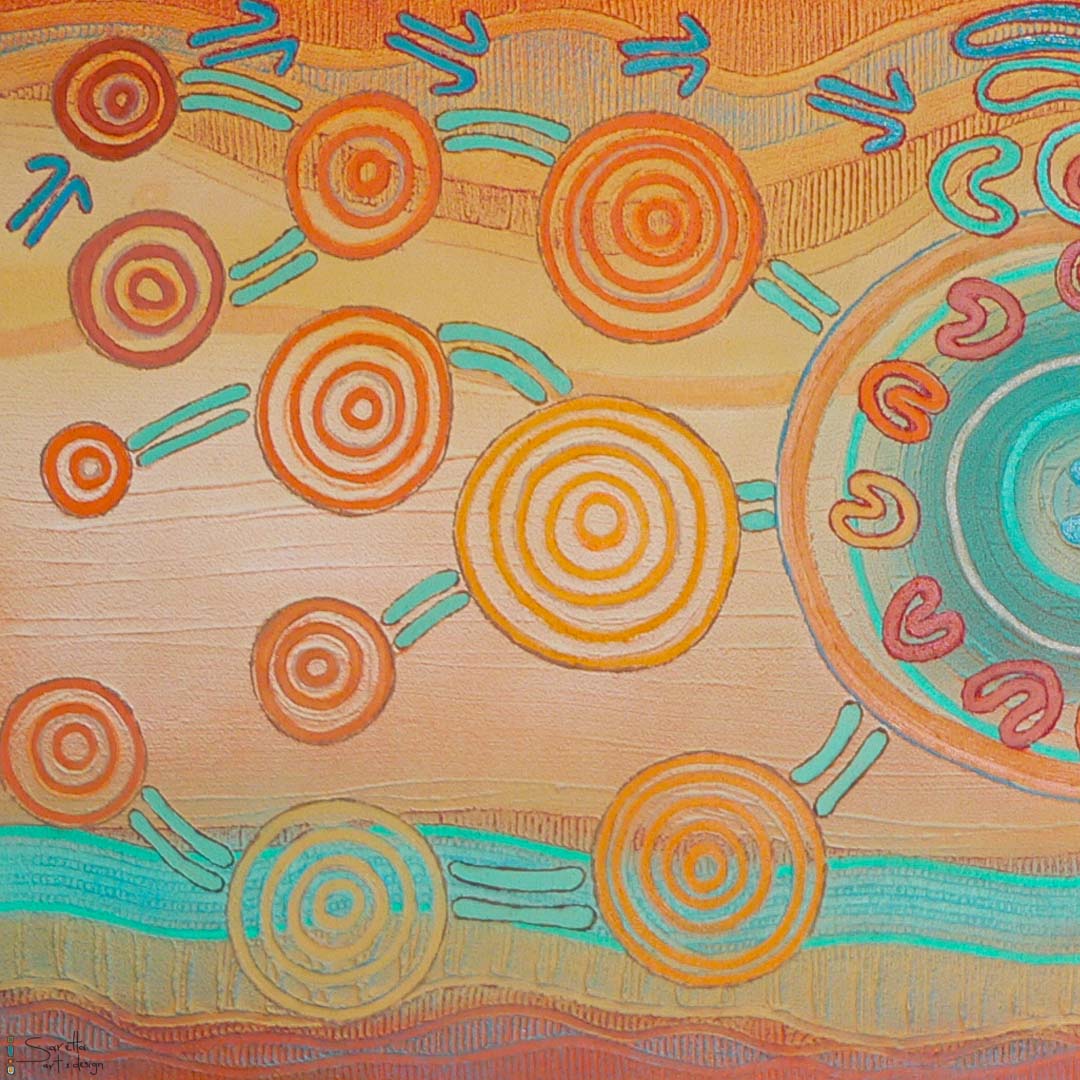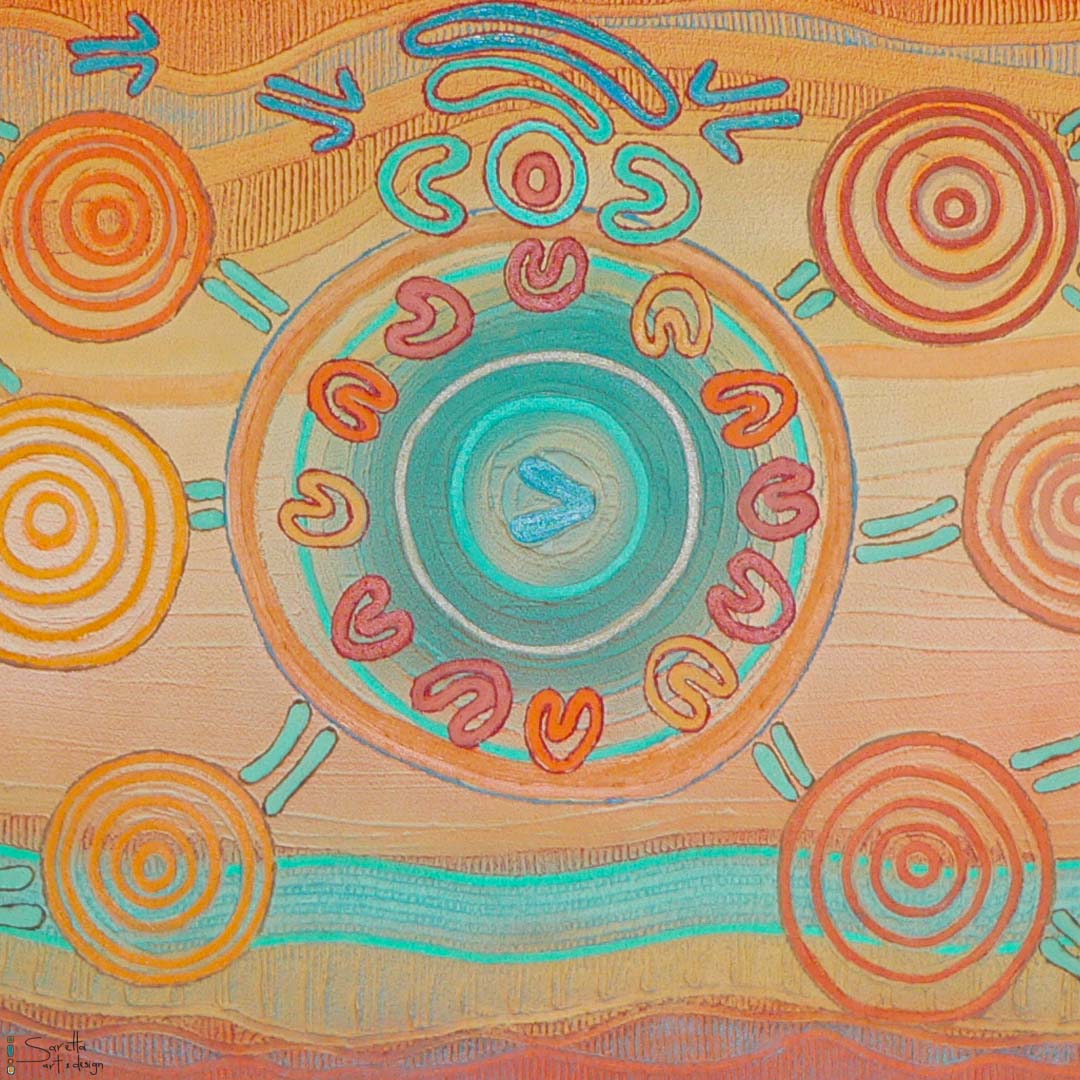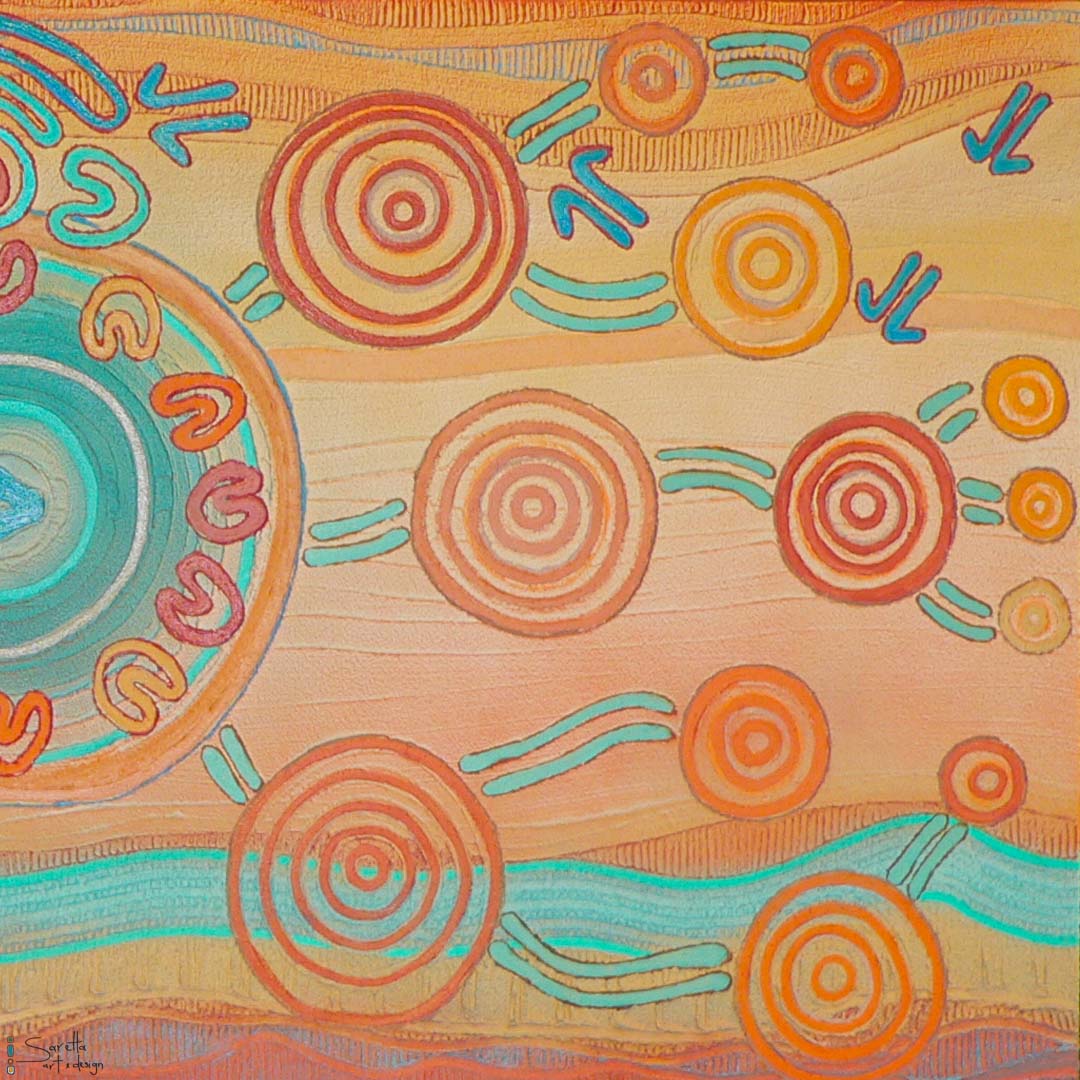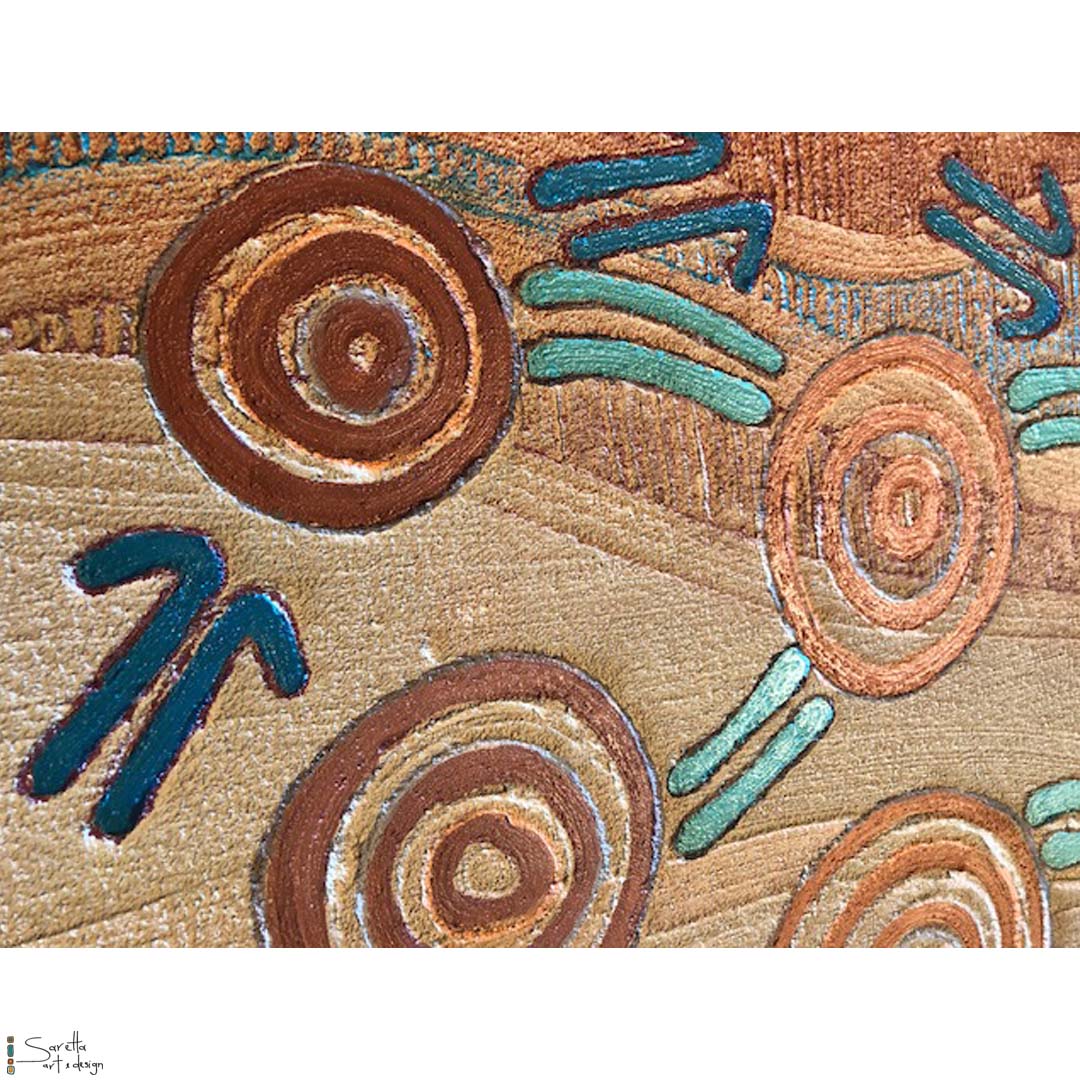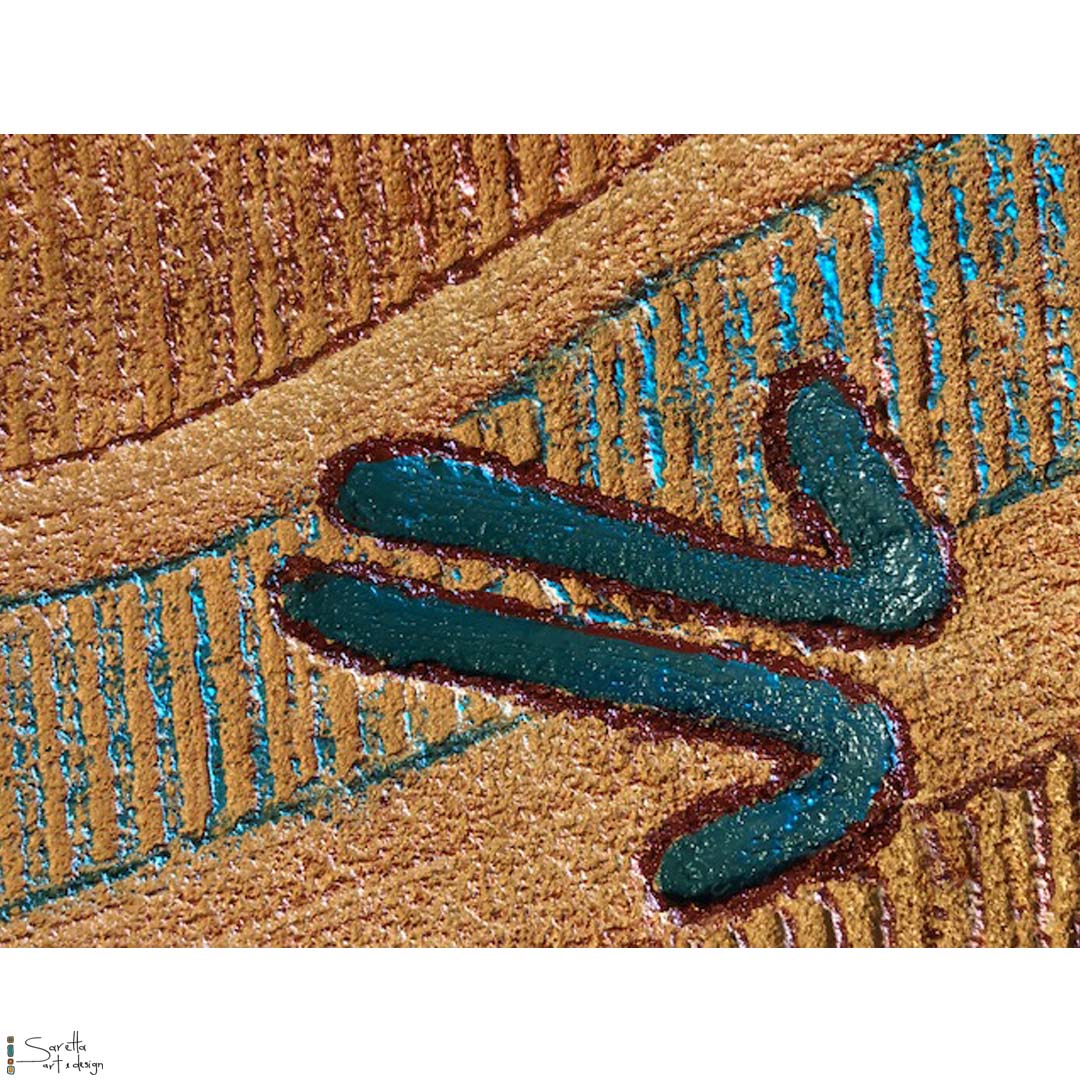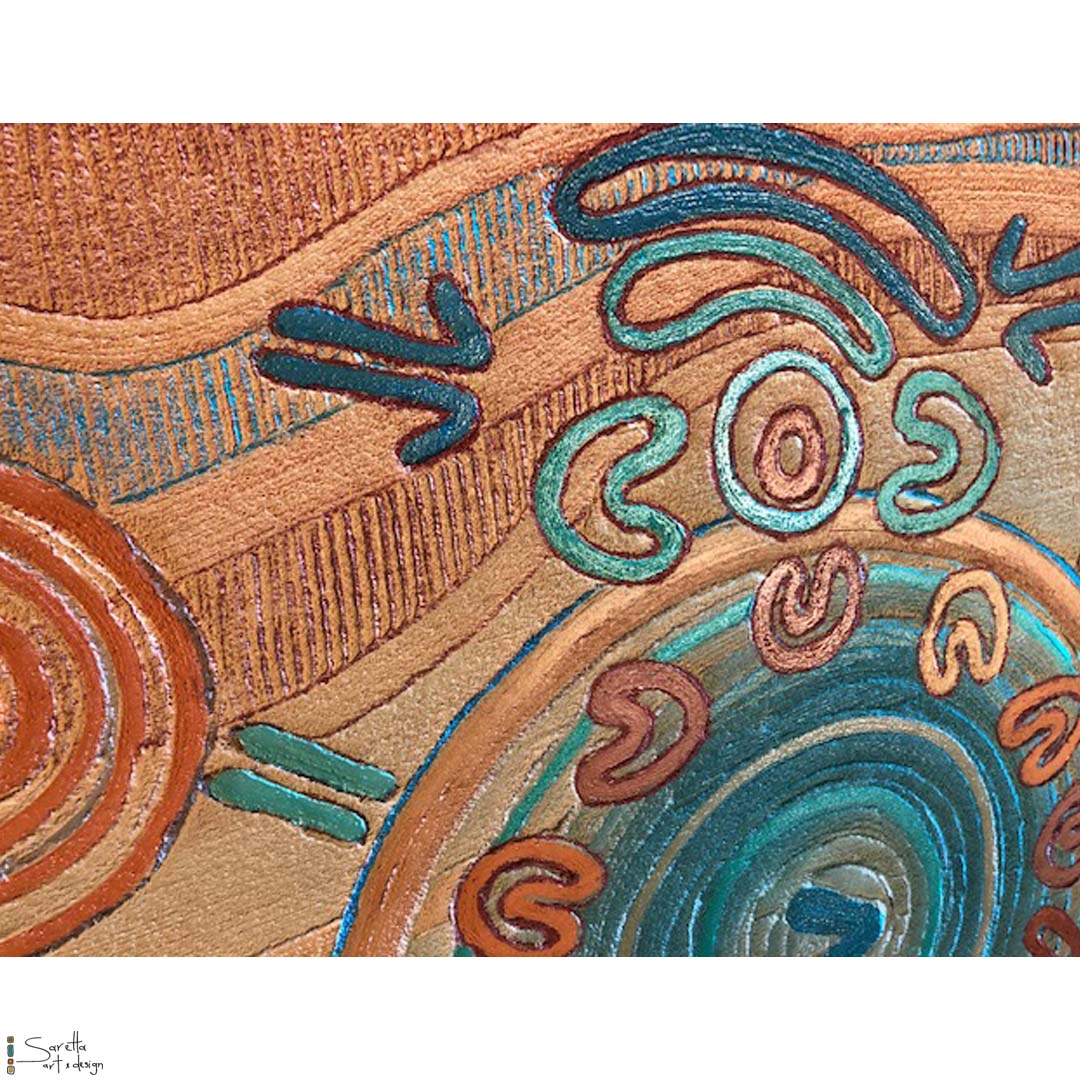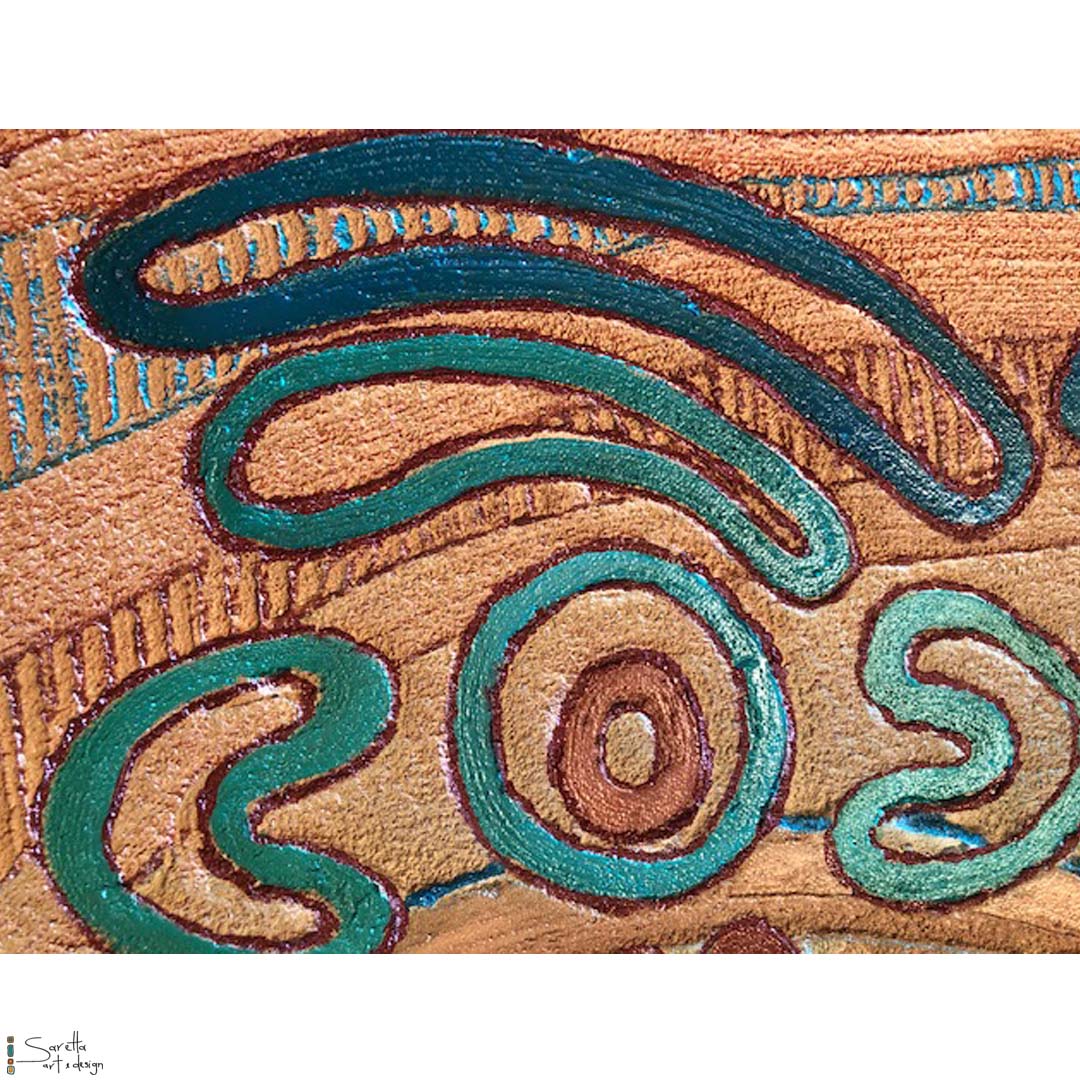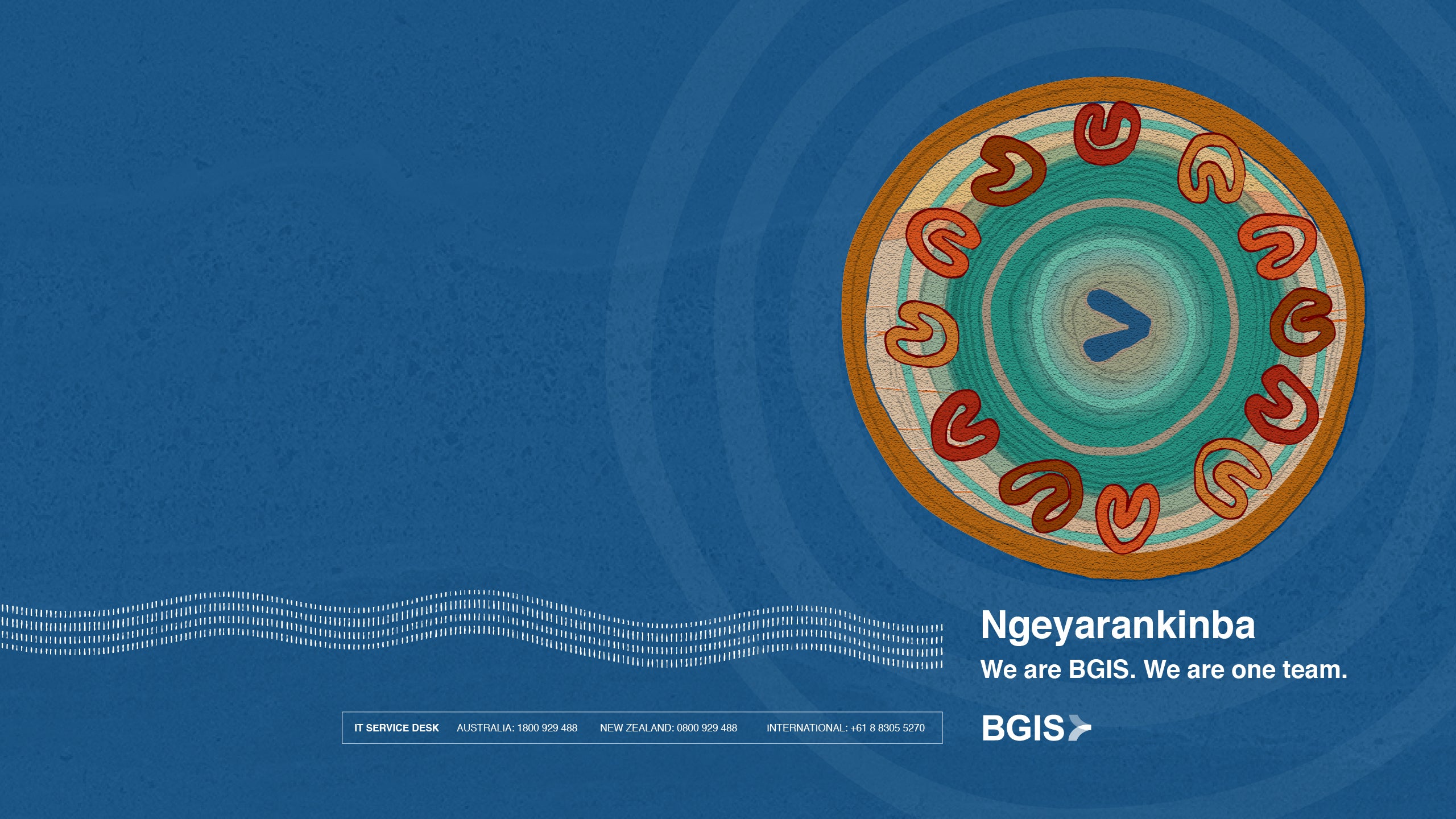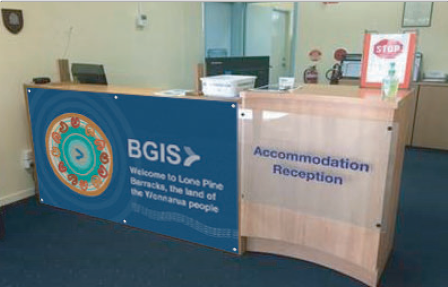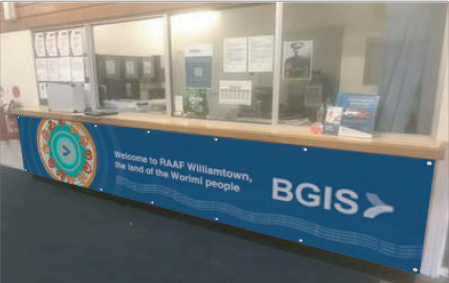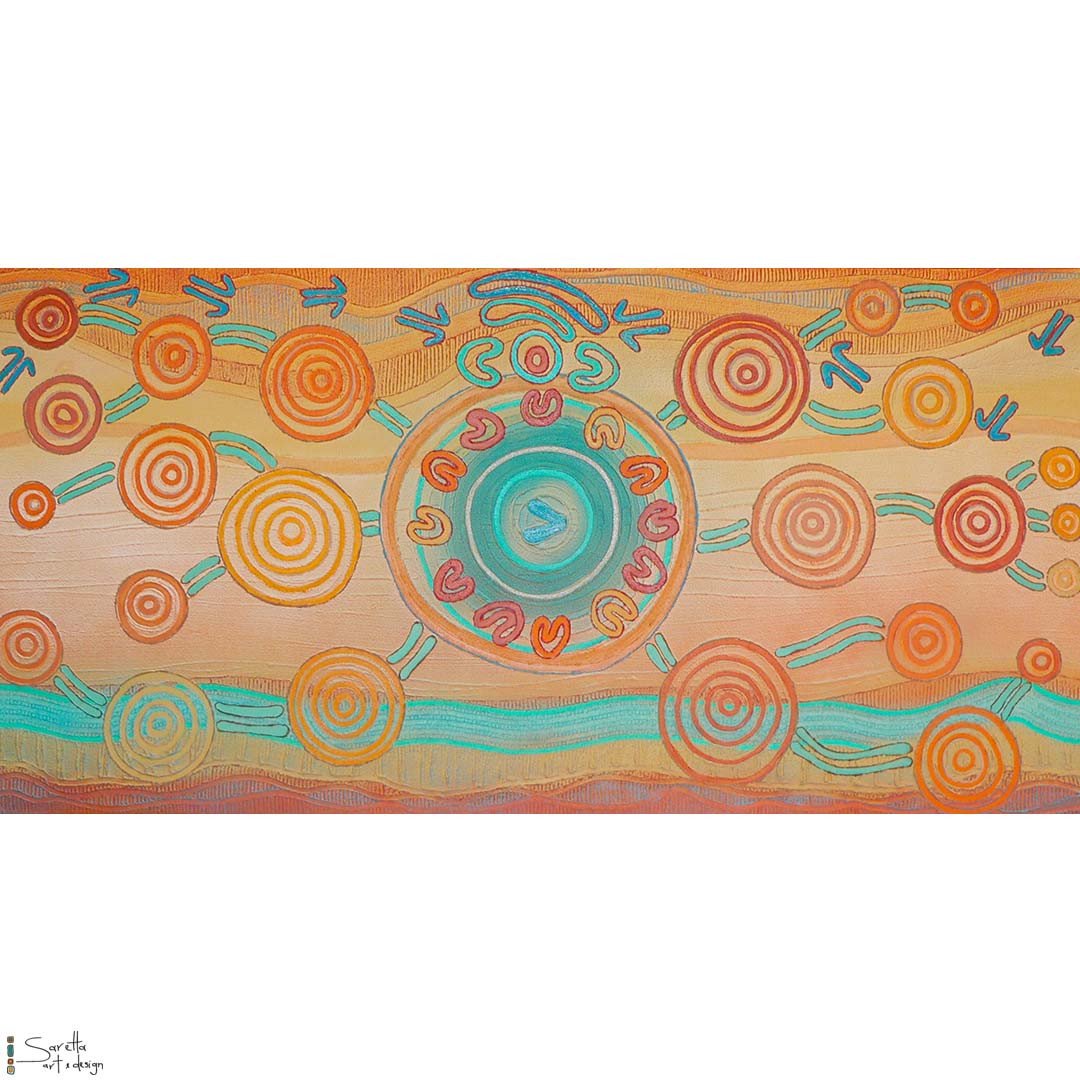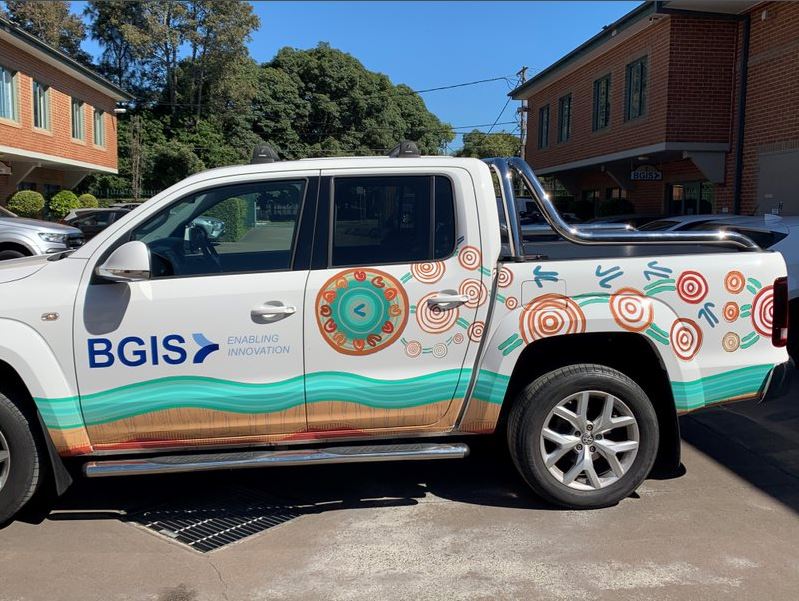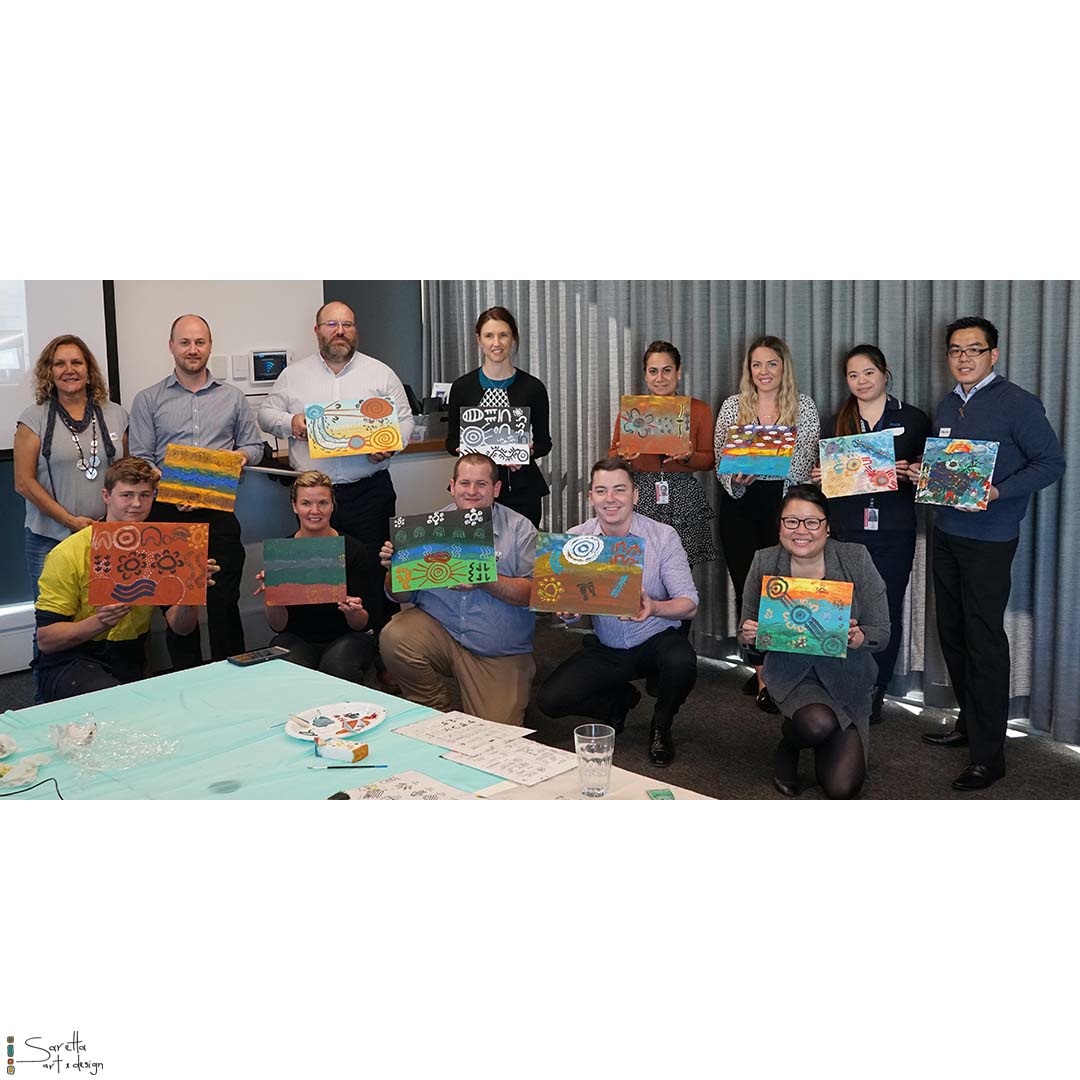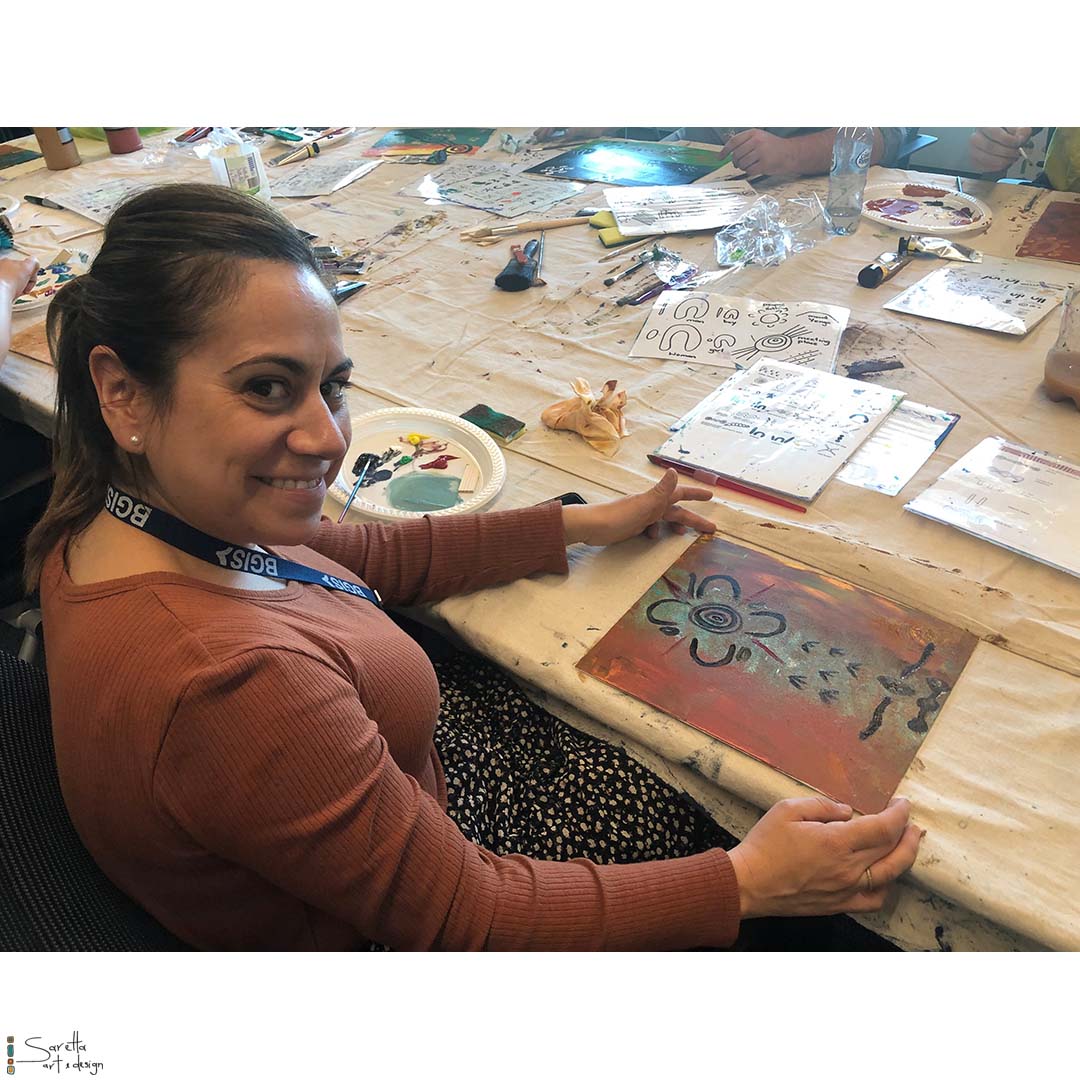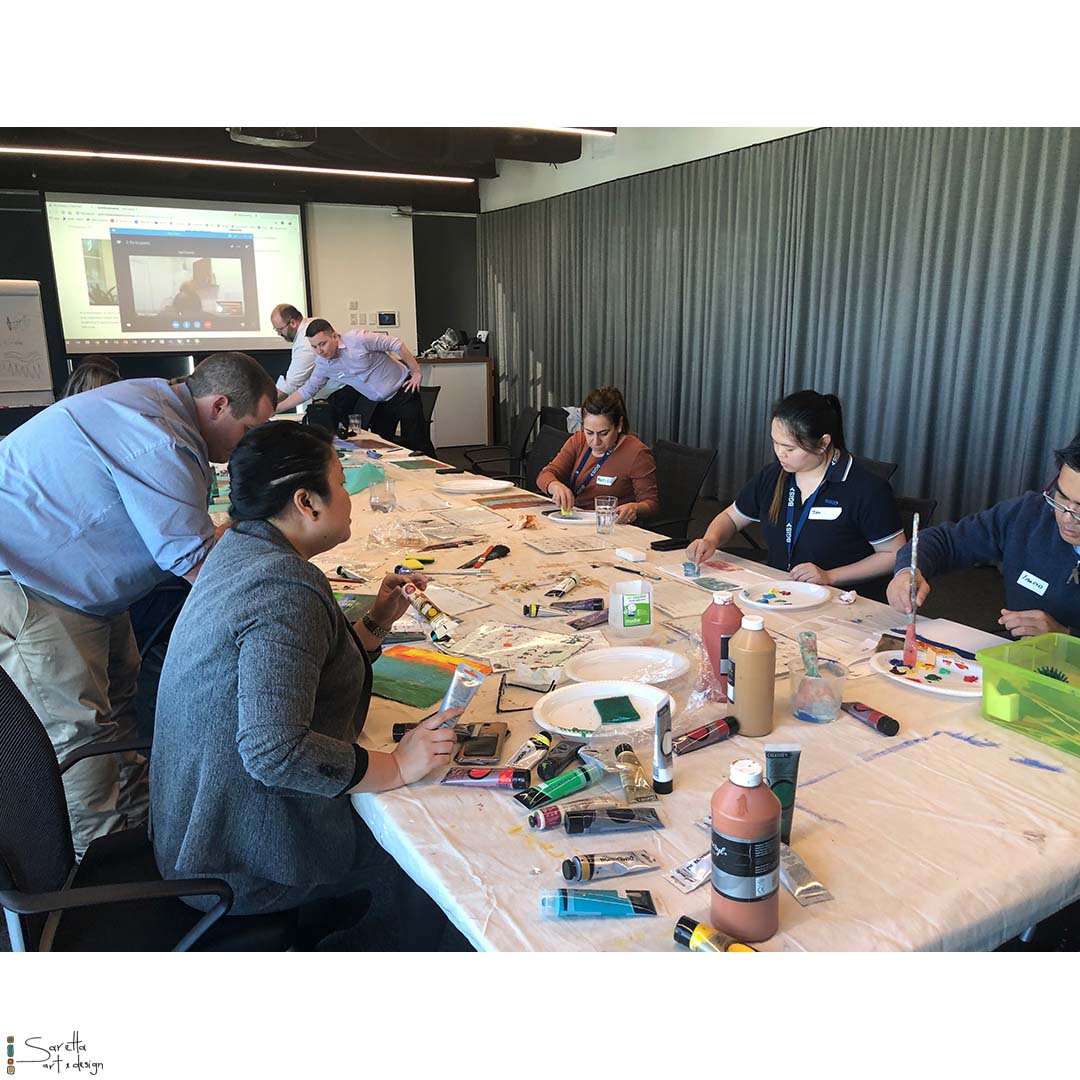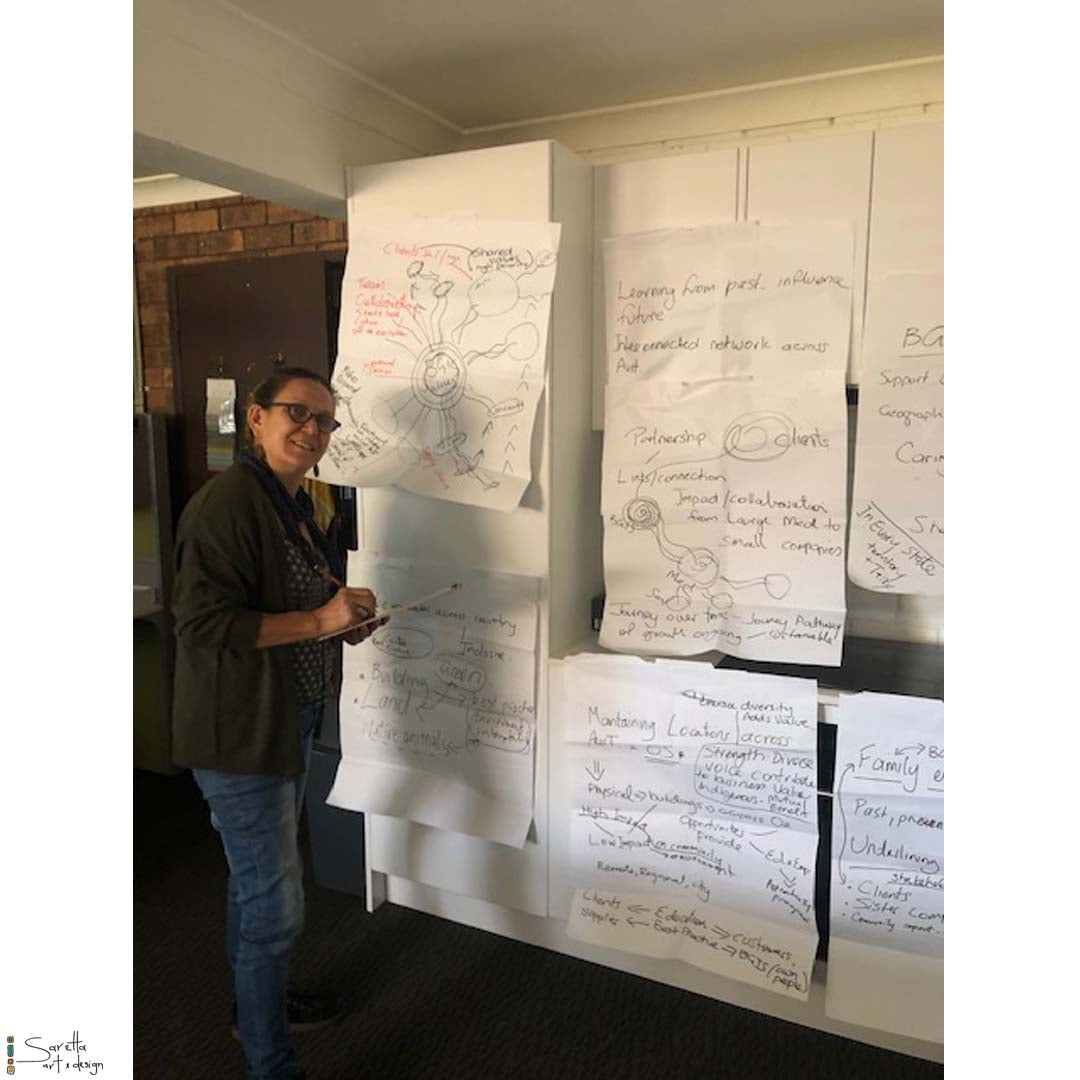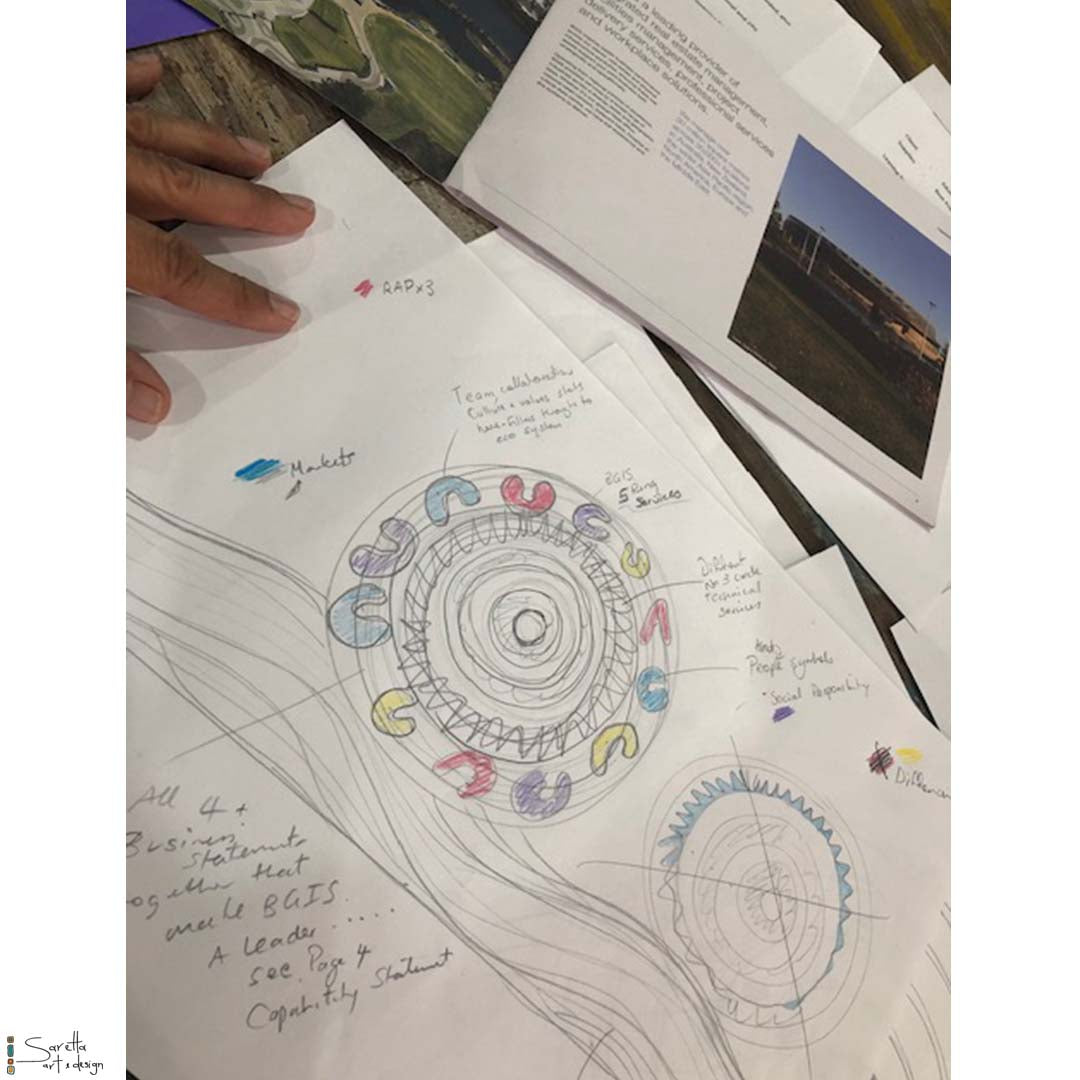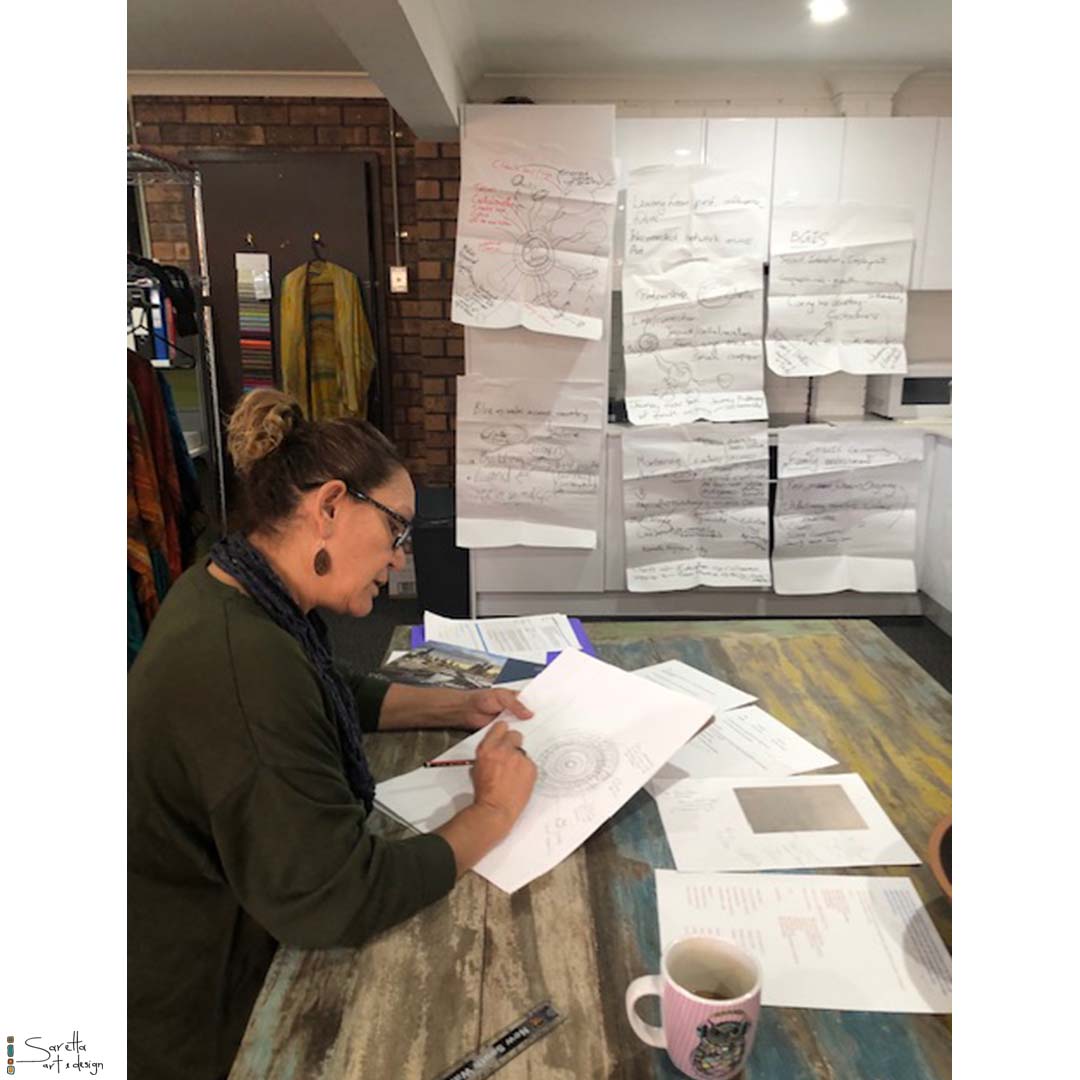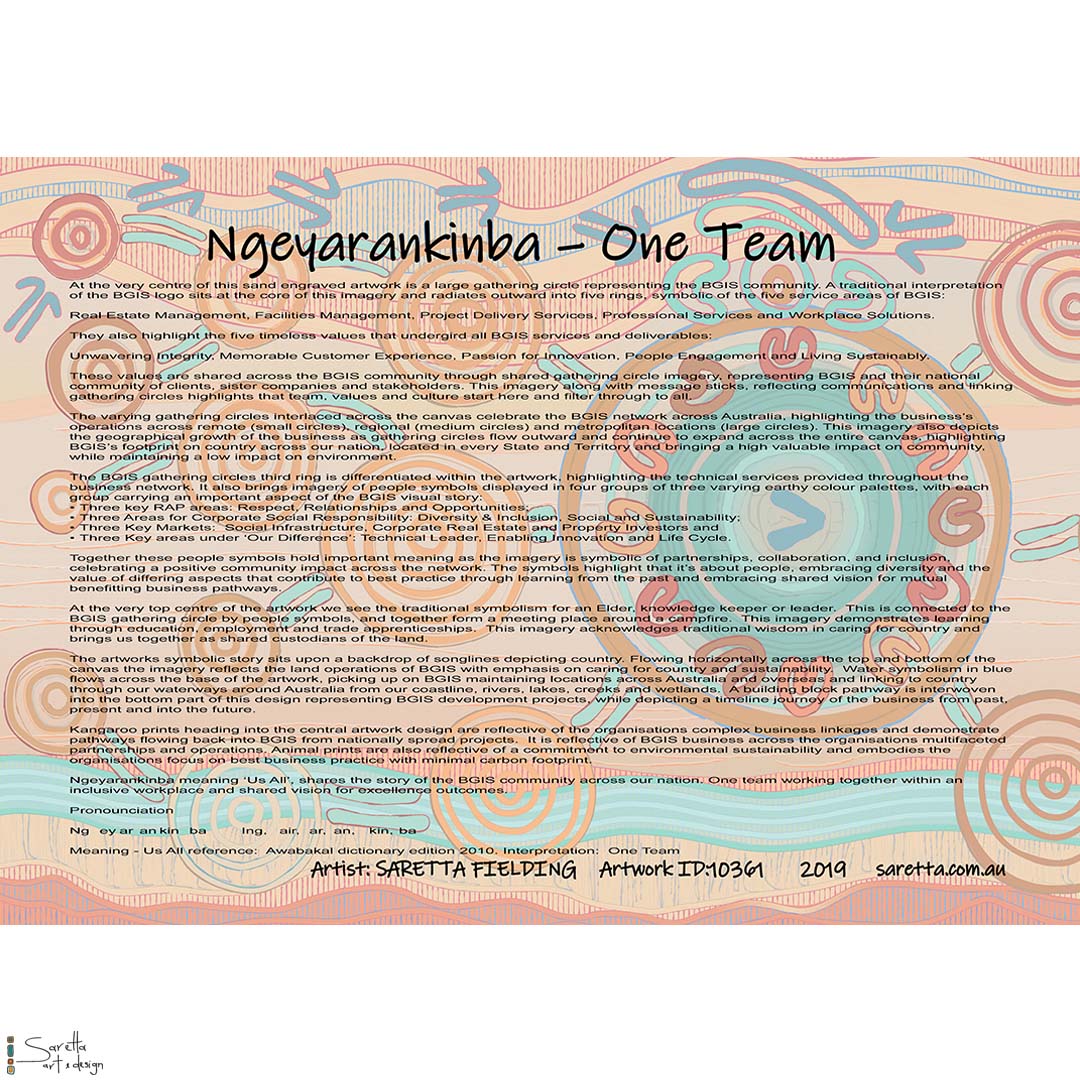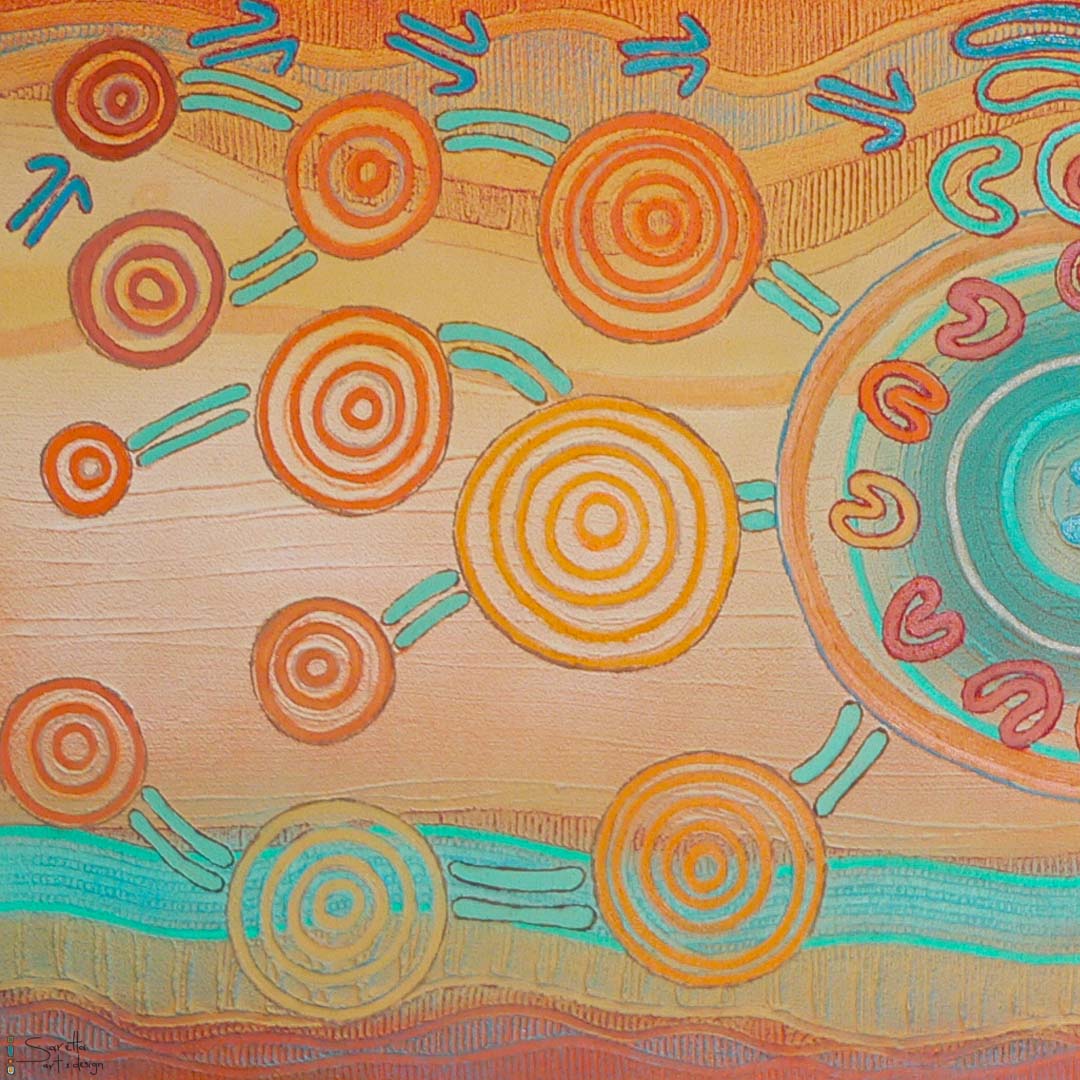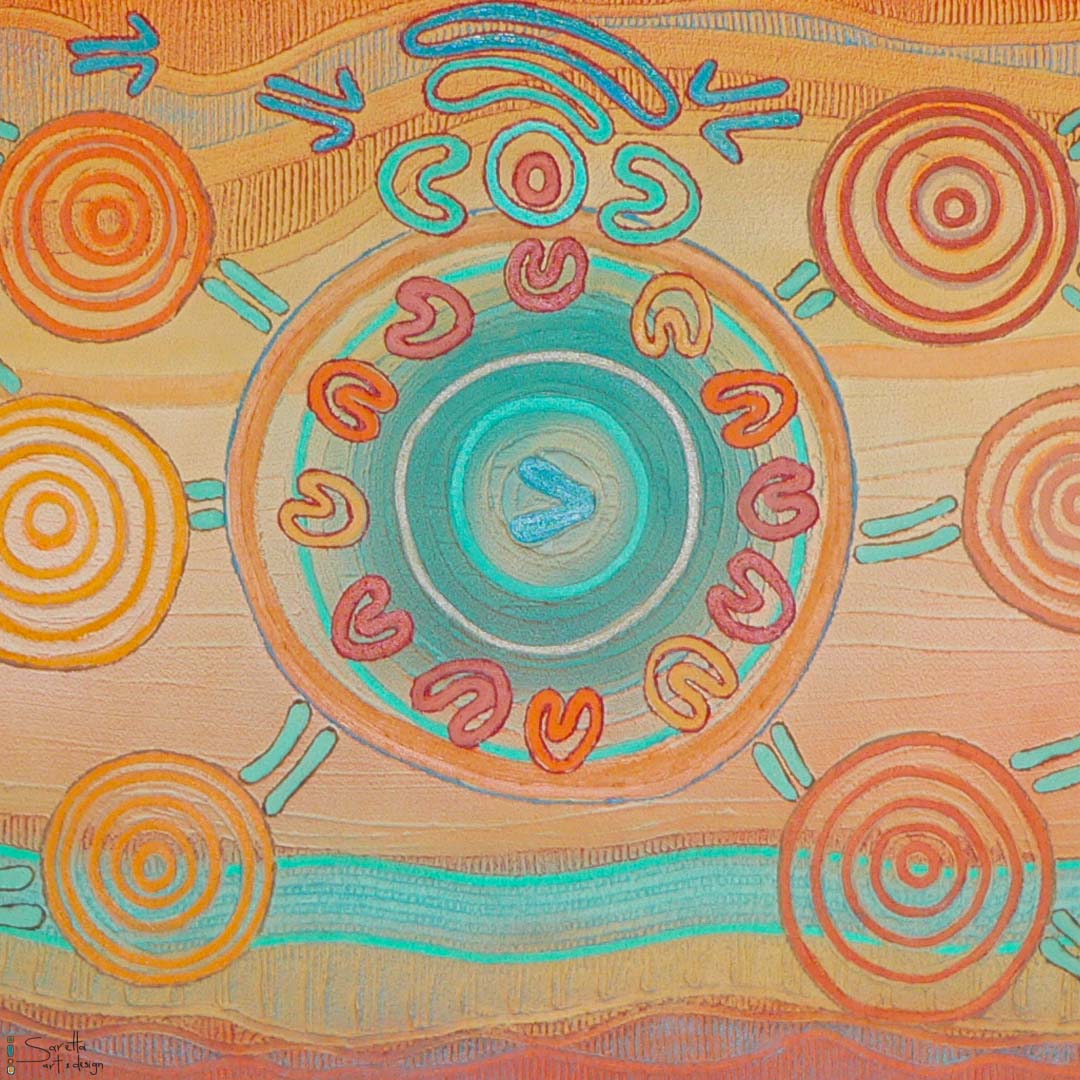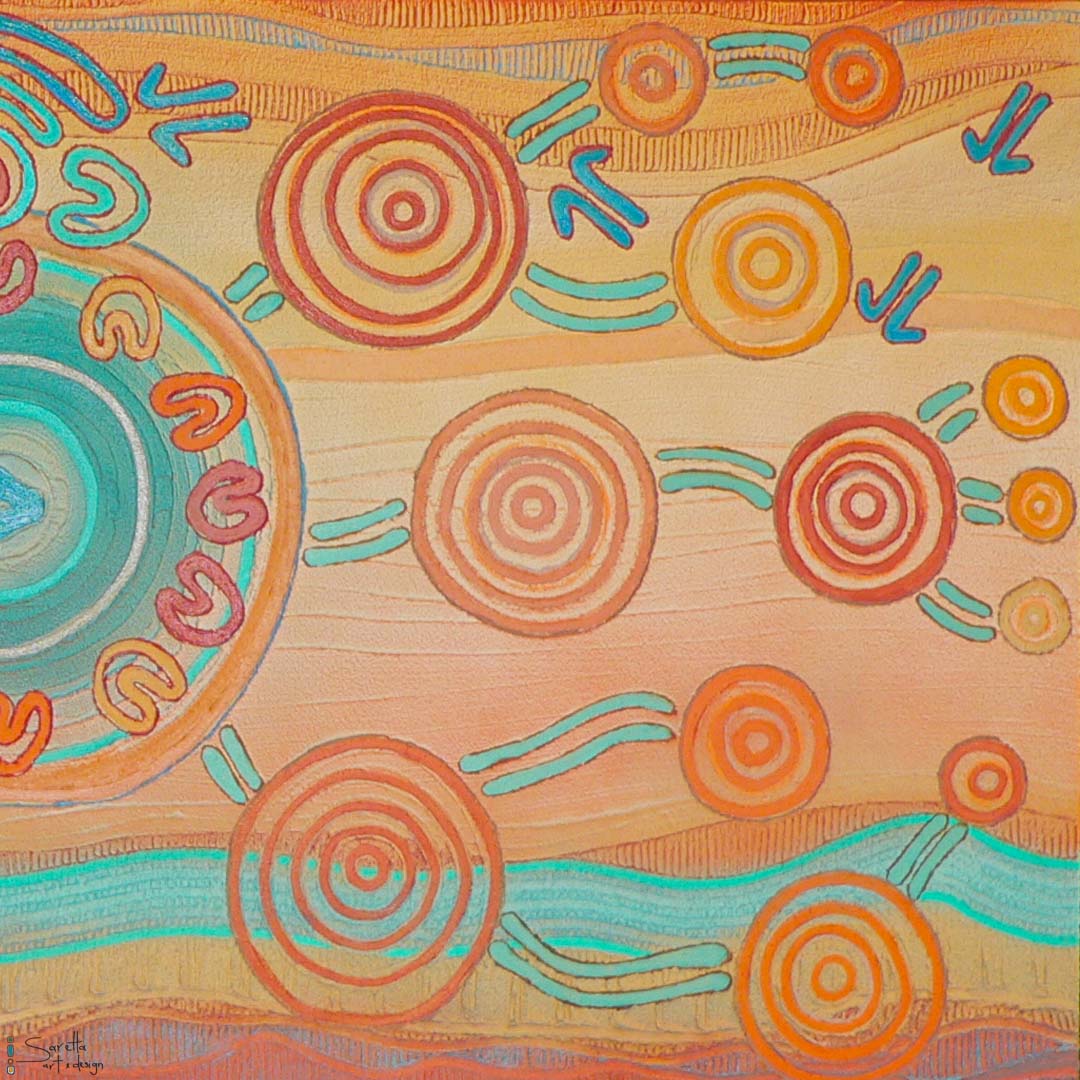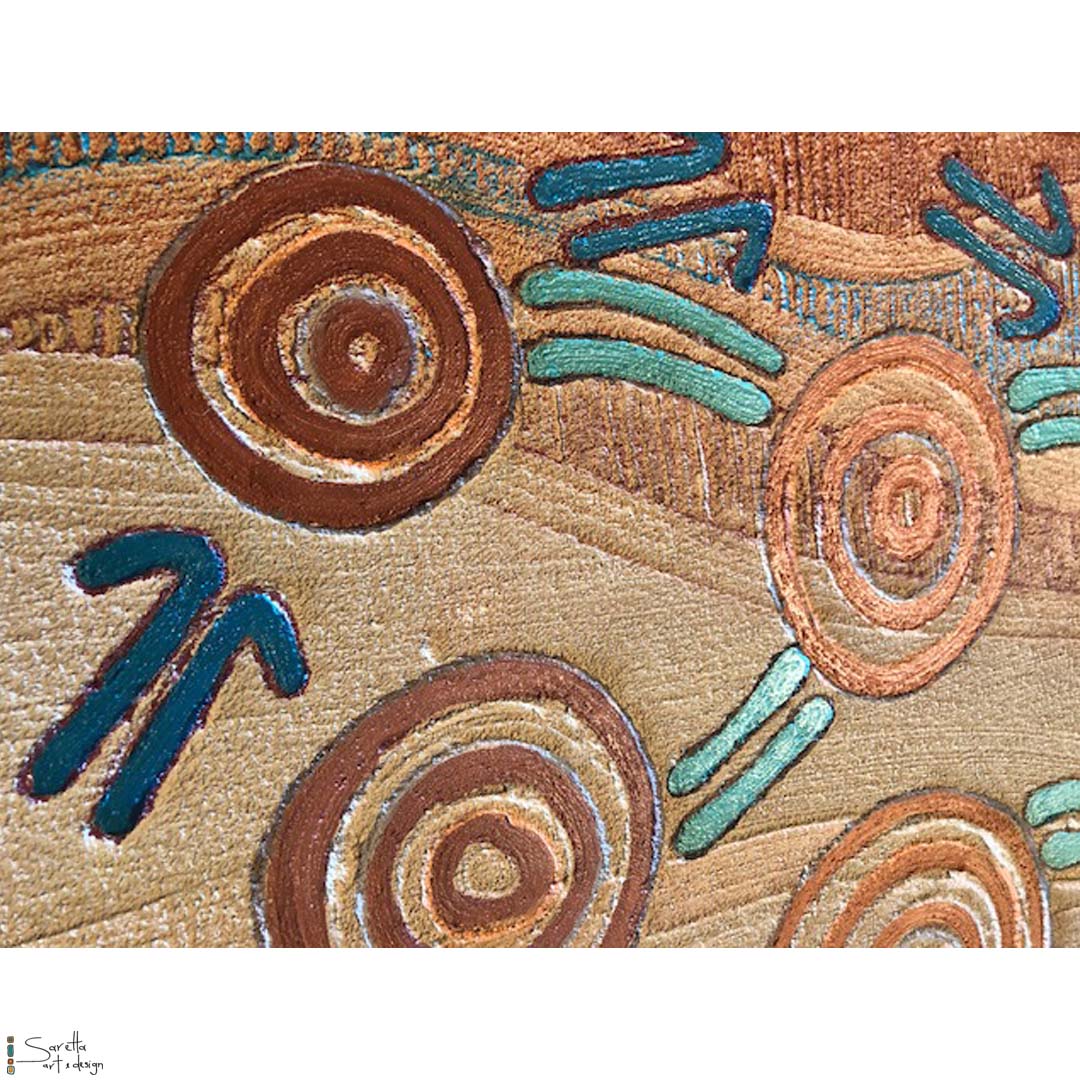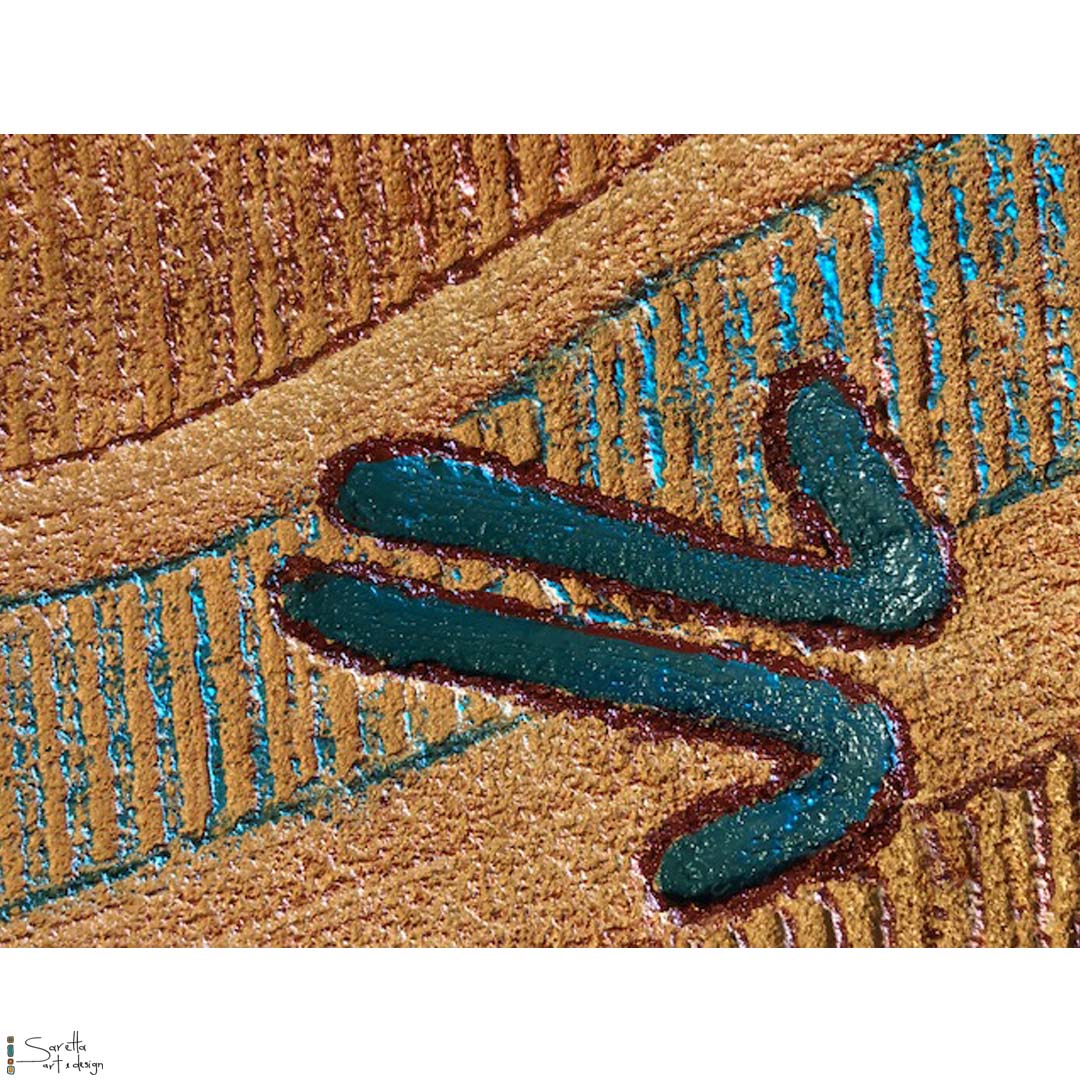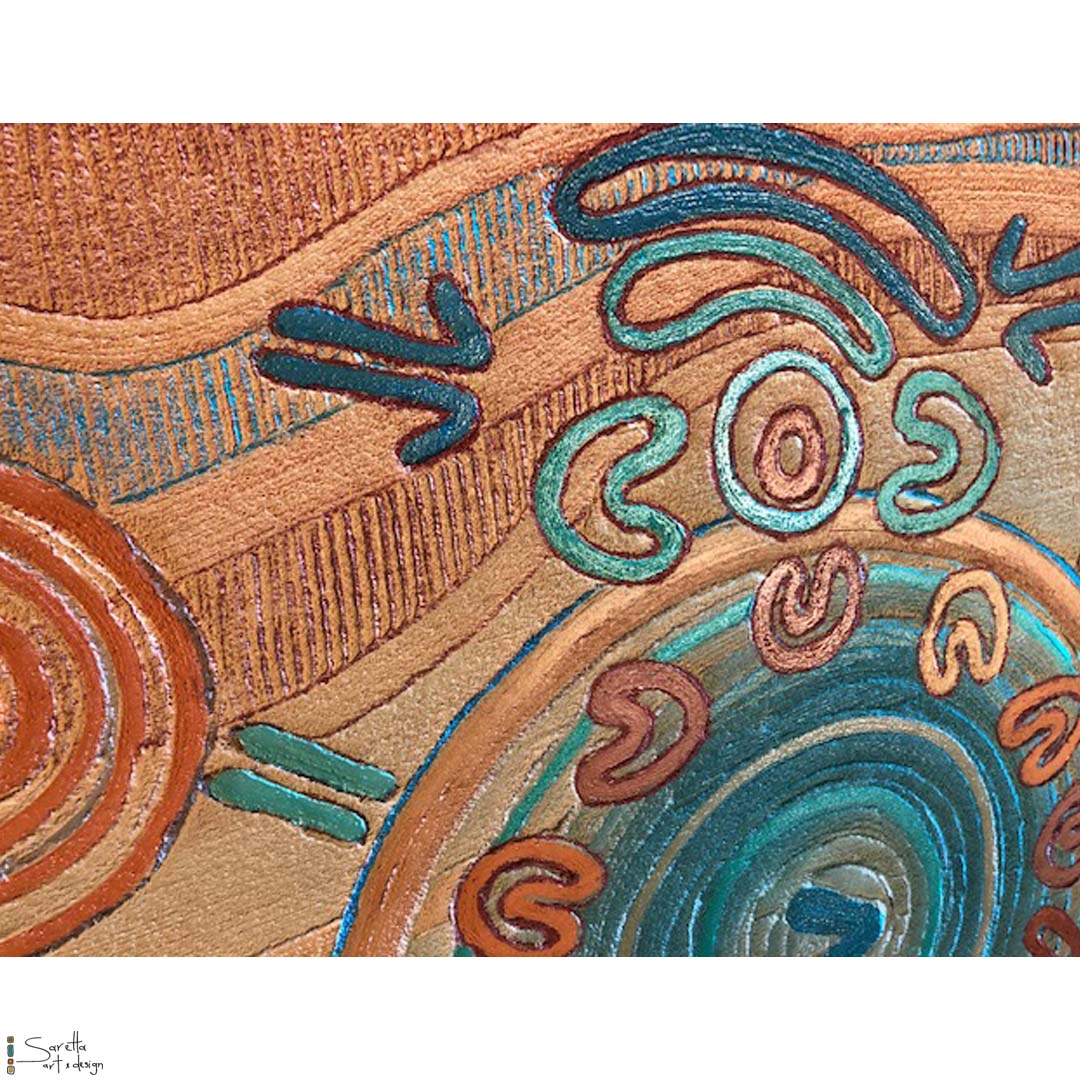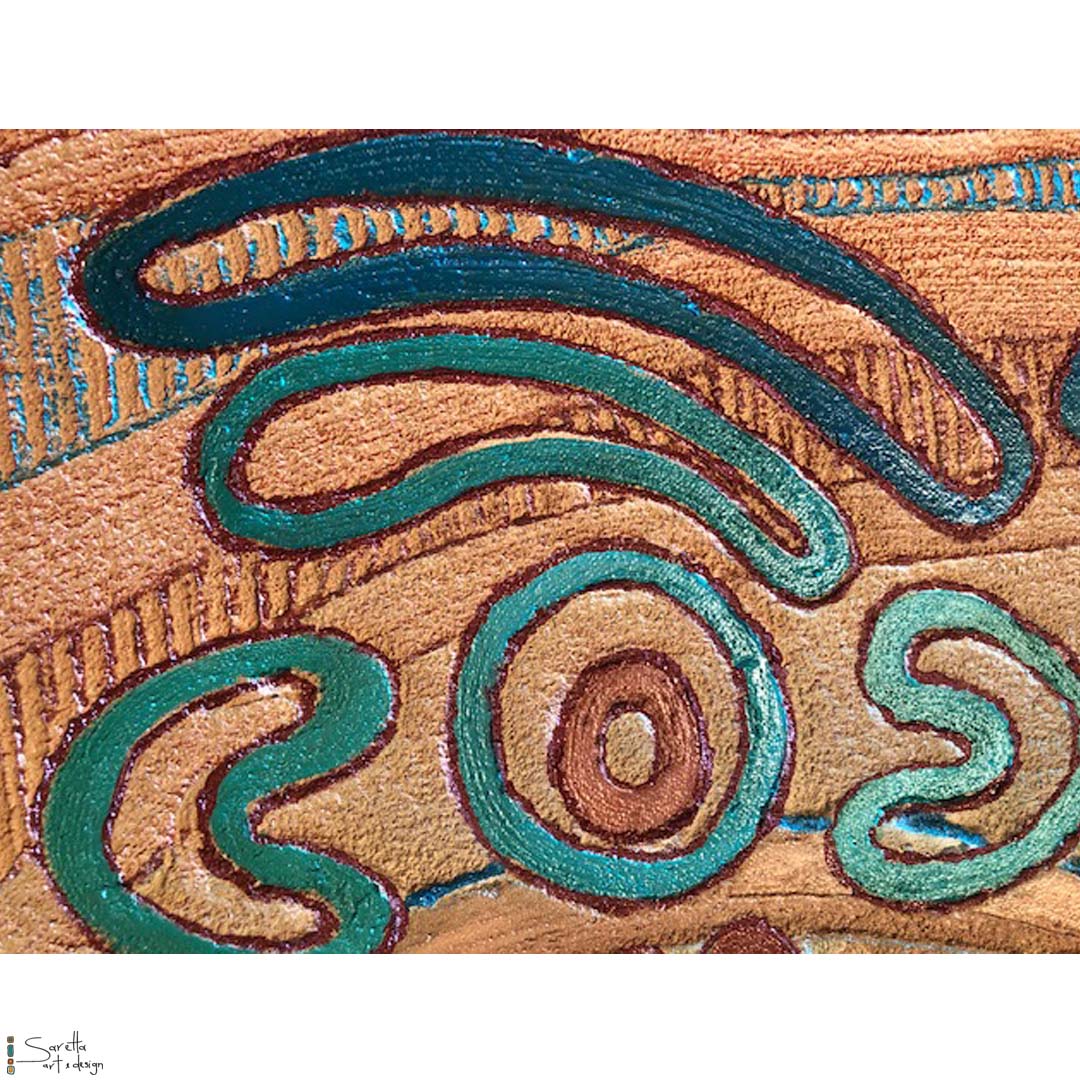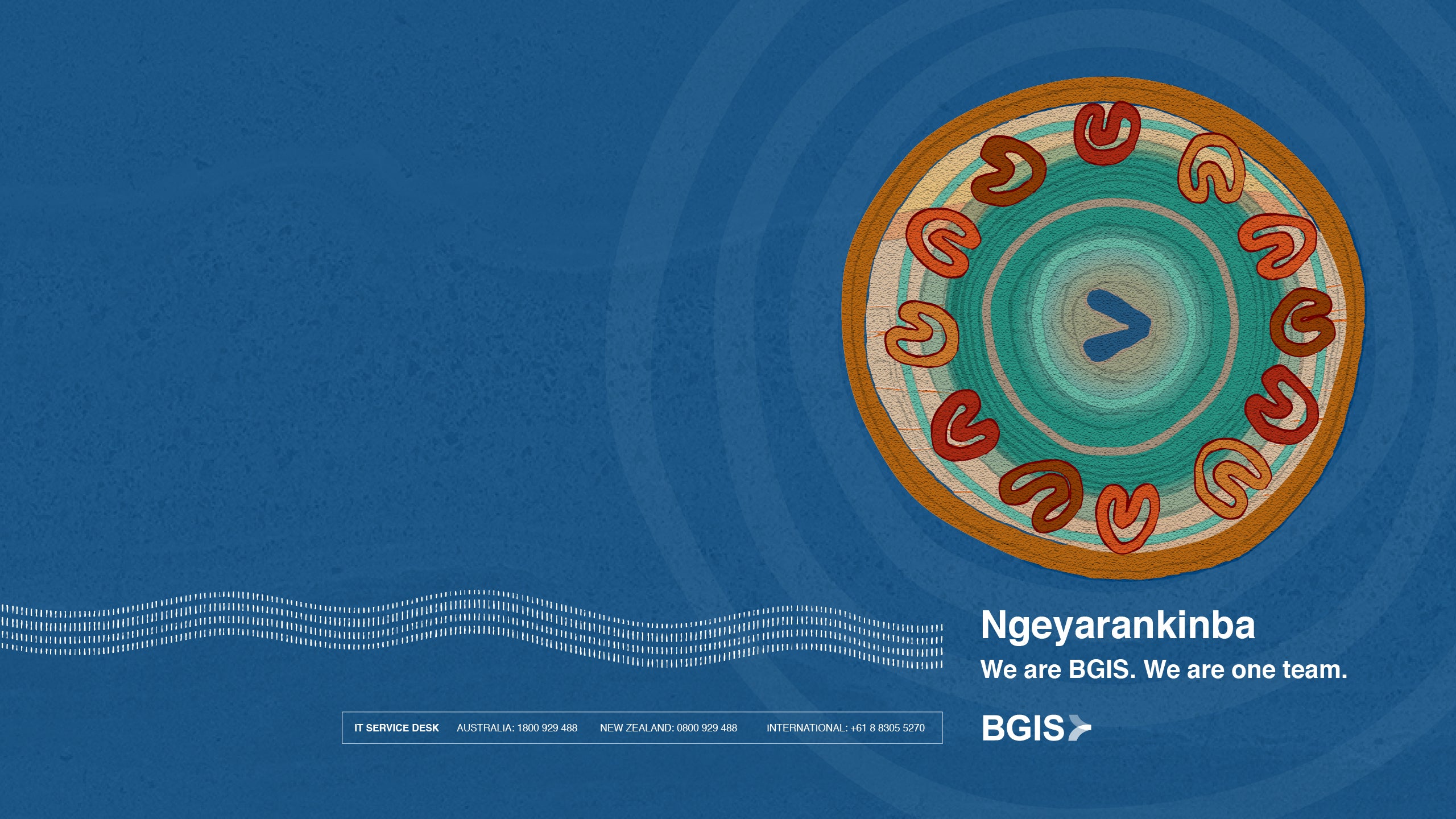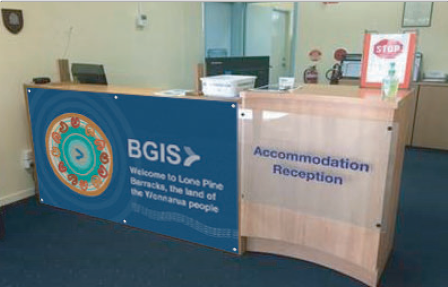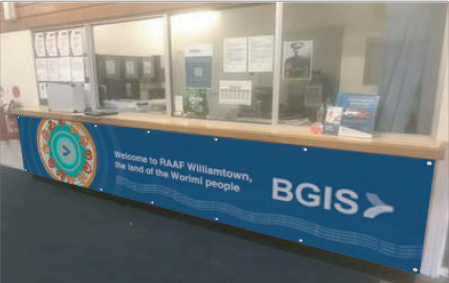 BGIS
Ngeyarankinba – One Team
At the very centre of this sand engraved artwork is a large gathering circle representing the BGIS community. A traditional interpretation of the BGIS logo sits at the core of this imagery and radiates outward into five rings, symbolic of the five service areas of BGIS: 
Real Estate Management,
Facilities Management,
Project Delivery Services,
Professional Services and
Workplace Solutions.
They also highlight the five timeless values that under-gird all BGIS services and deliverable: 
Unwavering Integrity,
Memorable Customer Experience,
Passion for Innovation
People Engagement and
Living Sustainably.
These values are shared across the BGIS community through shared gathering circle imagery, representing BGIS and their national community of clients, sister companies and stakeholders.
This imagery along with message sticks, reflecting communications and linking gathering circles highlights that team, values and culture start here and filter through to all. 
The varying gathering circles interlaced across the canvas celebrate the BGIS network across Australia, highlighting the business's operations across remote (small circles), regional (medium circles) and metropolitan locations (large circles). This imagery also depicts the geographical growth of the business as gathering circles flow outward and continue to expand across the entire canvas, highlighting BGIS's footprint on country across our nation, located in every State and Territory and bringing a high valuable impact on community, while maintaining a low impact on environment.
The BGIS gathering circles third ring is differentiated within the artwork, highlighting the technical services provided throughout the business network. It also brings imagery of people symbols displayed in four groups of three varying earthy colour palettes, with each group carrying an important aspect of the BGIS visual story:
Three key RAP areas: Respect, Relationships and Opportunities;
Three Areas for Corporate Social Responsibility: Diversity & Inclusion, Social and Sustainability;
Three Key Markets: Social Infrastructure, Corporate Real Estate and Property Investors and
Three Key areas under 'Our Difference': Technical Leader, Enabling Innovation and Life Cycle.
Together these people symbols hold important meaning as the imagery is symbolic of partnerships, collaboration, and inclusion, celebrating a positive community impact across the network. The symbols highlight that it's about people, embracing diversity and the value of differing aspects that contribute to best practice through learning from the past and embracing shared vision for mutual benefiting business pathways.
At the very top centre of the artwork we see the traditional symbolism for an Elder, knowledge keeper or leader.  This is connected to the BGIS gathering circle by people symbols, and together form a meeting place around a campfire.  This imagery demonstrates learning through education, employment and trade apprenticeships.  This imagery acknowledges traditional wisdom in caring for country and brings us together as shared custodians of the land.
The artworks symbolic story sits upon a backdrop of songlines depicting country.  Flowing horizontally across the top and bottom of the canvas the imagery reflects the land operations of BGIS with emphasis on caring for country and sustainability.  Water symbolism in blue flows across the base of the artwork, picking up on BGIS maintaining locations across Australia and overseas and linking to country through our waterways around Australia from our coastline, rivers, lakes, creeks and wetlands.  A building block pathway is interwoven into the bottom part of this design representing BGIS development projects, while depicting a timeline journey of the business from past, present and into the future.
Kangaroo prints heading into the central artwork design are reflective of the organisations complex business linkages and demonstrate pathways flowing back into BGIS from nationally spread projects.  It is reflective of BGIS business across the organisations multifaceted partnerships and operations. Animal prints are also reflective of a commitment to environmental sustainability and embodies the organisations focus on best business practice with minimal carbon footprint.
Ngeyarankinba meaning 'Us All', shares the story of the BGIS community across our nation. One team working together within an inclusive workplace and shared vision for excellence outcomes.
Pronunciation

Ng        ey        ar         an        kin       ba 
Ing,      air,       ar,        an,      kin,       ba
Meaning - Us All reference:  Awabakal dictionary edition 2010.
Interpretation:  One Team
Concept Overview
The creation of an Aboriginal fine artwork through a collaborative group workshop, leading to a visual story that celebrates BGIS's difference, commitment and journey of community engagement and reconciliation through an Innovate Reconciliation Action Plan.
At Saretta Art & Design we arepassionate about the opportunities RAP brings to our communities through working together around shared vision and honoured to be considered for this creative journey.  I enjoy the collaboration, when connecting directly with people and organisations to design and create culturally appropriate, respectful Aboriginal Artwork that acknowledges first nations people and celebrates community, collaboration and partnerships. 
Through visual design, vibrant colour palette and traditional story telling of symbolism in contemporary design, the artwork appeal will be widespread and invite the viewer to ponder and share in our unique and invaluable Indigenous culture, while learning more our BGIS's commitment to reconciliation and closing the gap.
Complimented by a multiskilled team, Saretta Art & Design Pty Ltd is equipped to delivery an excellent outcome across all aspects of the design and delivery of Fine Art public installations and can offer follow on services in graphic design and promotional requirements.
Our work ethic and philosophy are to operate and deliver excellence, with the creative journey only complete when deliverables meet the high expectation of our design team and are embraced and approved by our client.
STAGE 1 - Art Workshop
To present an Aboriginal Art Cultural Workshop to BGIS staff in Sydney that shares aboriginal art, storytelling and culture, alongside a specially designed component highlighting BGIS's story, Aboriginal community engagement and celebrating BGIS commitment for Reconciliation in an Australia that brings and gives equal opportunities to everyone.
The workshop will culminate in the creation of an Aboriginal fine artwork telling the organisations story across stakeholders, vision, values, footprint upon country and relationship to communities. The artwork will celebrate and share culture, welcoming and inviting all to participate and connect with our nations unique and invaluable first Nations people.  
Workshop Overview
Identity & Culture
Aboriginal Community & Art
Traditional & Contemporary Aboriginal Art
Aboriginal Art & Story Telling
Telling our Story Creating our visual story using Aboriginal symbolism – Individual Activity (produce an artwork)
Group development of BGIS fine artwork
During the workshop participants will put into practice the gained knowledge of storytelling through Aboriginal symbolism and art techniques, designing and painting their own artwork story. Design elements from artwork story element, staff collaboration and the organisations story will be developed into a design to be created into BGIS's fine artwork.
Inclusions
Research, development and presentation preparation
Workshop Presentation and group activities
Staff individual artworks telling their stories
Creation of draft concept elements and design ideas for fine artwork design inclusion.
STAGE 2 - Fine Artwork
Uniquely design and created, this highly textured Aboriginal fine artwork in sandstone engravings is reflective of traditional sand engravings seen across much of Australia.  The artwork storyline will present BGIS story across reconciliation, stakeholders, vision, values, footprint upon country and relationship to communities, celebrating share vision, collaboration and welcoming all.
The design will highlight a sound commitment to a reconciled Australia, and to building an organisation that integrates awareness and knowledge of Aboriginal and Torres Strait Islander peoples and culture into BGIS's business practices.
Inclusions
Artwork Size: 1800 x 900 mm                     
Acrylic wall mount:  Displaying an in-depth explanation of the artwork visual story
Artwork Package:  The art package includes Artist profile, testimonials and Biography
Certification:  Certificate of Authenticity
Medium:  Mixed medium on canvas
STAGE 3 - BGIS Digital Package
Taking your unique fine artwork to an amazing multi-purpose digital image that shares your story and connection to community in a format that is respectful in presentation and celebrates working together is the third stage of design development. 
We provide a wide range of imagery for use from the full artwork design reflecting texture and layering of fine artwork to a full suite of design elements/symbols/imagery as separate vectors files and presented in document ready usable imagery, provided in all file formats listed. 
This will allow for high quality image use to unlimited size of full artwork and all storyline elements/symbols/imagery across broad range of mediums.  A digital style guide will accompany the digital package in a user friendly, flexible guide for all communication needs.
Graphic Design Digital Package Inclusions:
A digital image of full artwork design reflecting texture and layering of fine artwork, including digital file of artwork elements/symbols and imagery for document use.
File package formats to be provided in:  JPEG, PDF and EPS
Style Guide Including:
Presentation providing examples of use of graphics across a range of document styles and product use.
Descriptions of elements and theme files
Digital text of full storyline and Artist Signature and Logo
STAGE 4 - Exclusive Copyright Ownership
Agreement giving Exclusive and Full Copyright Ownership of the fine artwork and digital design, including rights to reproduce Images for use on any determined marketing material, publication and/or stationery within the BGIS community engagement and RAP projects, exclusive of resale of items depicting artwork.
Shipping
Free post for orders over $75 with Sendle, otherwise it's from $9.70 from Australia Post.
Australia and Express post available at checkout.
Orders made by 2pm will be dispatched the same day from Toronto NSW 2283. Local Collection also available from Toronto NSW 2283.
International post available from AU$40
Returns
To be eligible for a return, your item must be unused and in the same condition that you received it. It must also be in the original packaging. Full refund provided if you're not happy.
To complete your return, we require a receipt or proof of purchase to be included with the returned item.
Refunds:
Once your return is received and inspected, we will send you an email to notify you that we have received your returned item. We will also notify you of the approval of your refund.
Once approved, then your refund will be processed, and a credit will automatically be applied to your credit card or original method of payment, within 7 days.
To return your product, you should mail your product to: PO Box 719 TORONTO NSW Australia 2283.
You will be responsible for paying for your own shipping costs for returning your item. Shipping costs are non-refundable. If you receive a refund, the cost of return shipping will be deducted from your refund.