The Actor, Deputy Lord Mayor, Academics & Students in Newcastle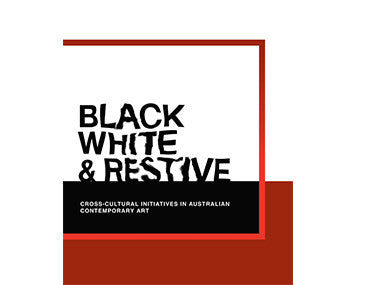 From the Aboriginal Art Directory website
Reconciliation Week starts this coming Friday, 27 May 2016, and the Newcastle Art Gallery (NAG) are running BLACK WHITE & RESTIVE which celebrates the work of over 60 artists and their cross-cultural art practices. It will be opened by the Deputy Lord Mayor of Newcastle, Councillor Jason Dunn, with guest speaker, Trevor Jamieson, acclaimed Australian actor.
The exhibition's narrative begins with Albert Namatjira and Rex Battarbee's creative exchange from the 1930s and surveys key works from the 1990s until 2015, including five large-scale collaborations. BLACK WHITE & RESTIVE also draws on Newcastle Art Gallery's collection of works by Gordon Bennett, Imants Tillers, Tim Johnson, Ildiko Kovacs, Danie Mellor, Margaret Preston and Tony Tuckson as well as the Gallery's significant holdings of Hermannsburg watercolours.
A community art project by the same name was also developed in response to BLACK WHITE & RESTIVE and is on now. This explores concepts of belonging, identity and place and brings together cross-cultural collaborations with artists, Newcastle Art Gallery staff, and students from around Newcastle and the Hunter region. It aims to teach both young and older artists to broaden their experience of contemporary Indigenous art, local culture and heritage - and also to encourage a visit the Gallery! The final works created during a series of workshops will be assembled and placed on display in the Gallery's SMART SPACE for visitors to experience. Four local artists, Saretta Fielding (Wonaruah) and UP&UP team (Shane Kennedy, Faith Curtis and Brad Russell) led the project.