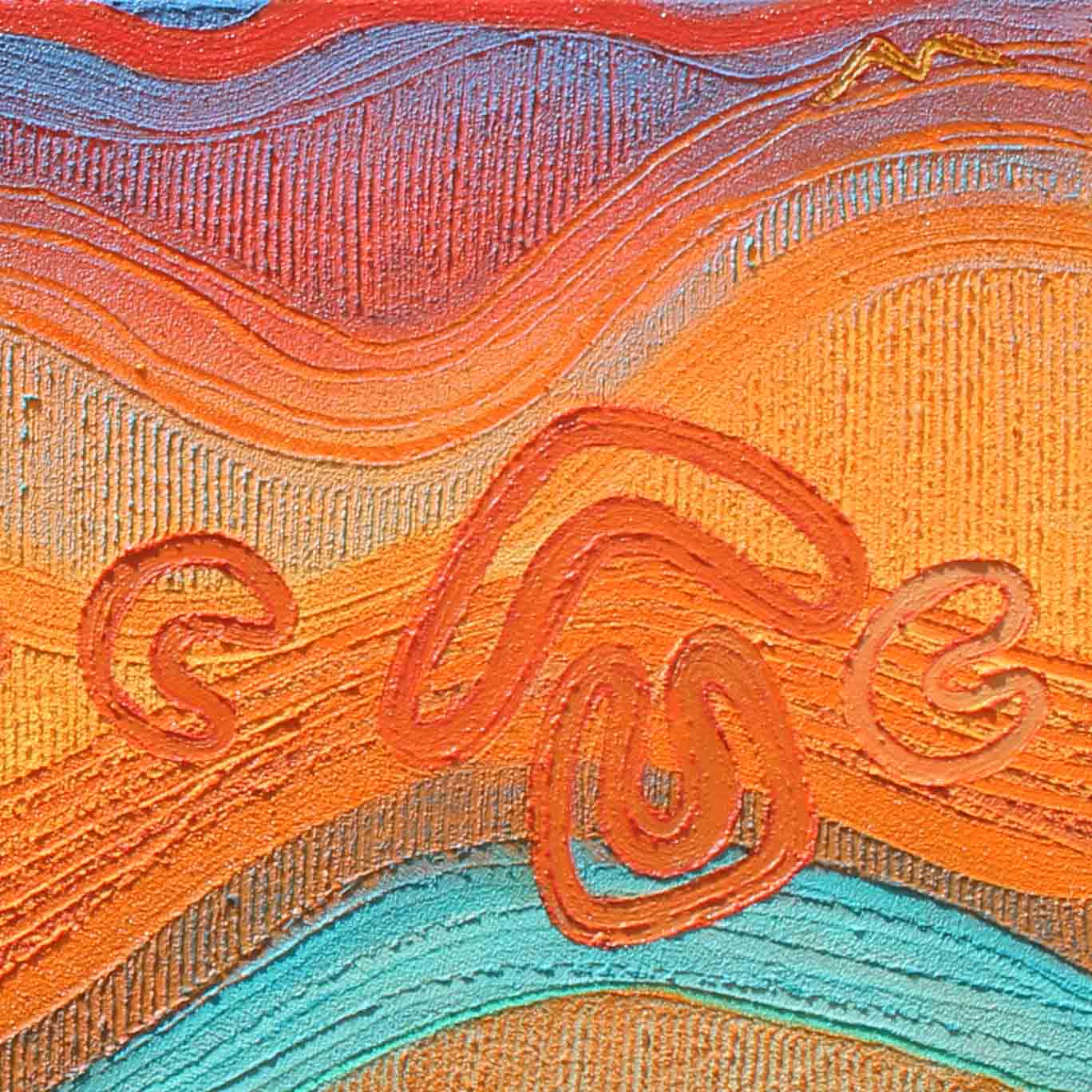 Witma Konara Malang – Building Community Together
This uniquely created artwork shares the story of disability Trust and their vision to create an inclusive world built on trust, respect and equality, where people with a disability live the life they choose. It brings a welcome to all through traditional symbolism and storytelling and acknowledges the Awabakal people as the custodians of the land upon which the organisation operates.
Moving across the canvas, the imagery brings three main themes highlighting the vision for trust, respect and equality through traditional people symbols.  These symbols flow from left to right along engraved pathways, reflecting the journey made together in a warm and supportive environment, where community connection and collaboration are highlighted and celebrated.
The first symbol of people to the left of the design shows connection and support provided through the Disability Trust family and the holistic support provided by the team.
The middle design central to the artwork depicts a gathering circle encompassed by six people symbols, this imagery depicts the Disability trust family across all stakeholders and partnership. While the six people design is significant, as it represents Disability Trust values and commitment to inclusion and choice that is built and sustained by six key focus areas being:
Respect and Equality 
Trust and Honesty 
Creativity and Innovation 
Adaptability and Flexibility 
Tenacity and Resilience 
Partnership and Collaboration
People symbols come together in the last design theme in the shape of a home, highlighting it's about people and celebrating the opportunity for community living and belonging through the Disability Trust community home initiative.  Highlighting the organisations purpose to partners with people and their communities to support life enhancing opportunities for everyone to live, work and belong in an inclusive world. 
The artwork backdrop shares songlines on country with flowing imagery bringing an acknowledgment to traditional owners, the Awabakal people, as the people of the hills and plains.  Mount Yengo is represented in the top left of the artwork, as the flat top mountain where Biami (God) stepped down when he created country, which is significant to Awabakal and other tribal groups across the region.  Engraved along the bottom of the artwork water imagery highlights the East Coast, Lake Macquarie and the Hunter River along with other waterways throughout the area.  Middens, discarded shell from feasting over thousands of years by Aboriginal people, found around our waterways are represented along the bottom of the design. 
Together people symbols flowing across the work bring a welcome to all and invite all to share in our rich and vibrant cultural heritage.